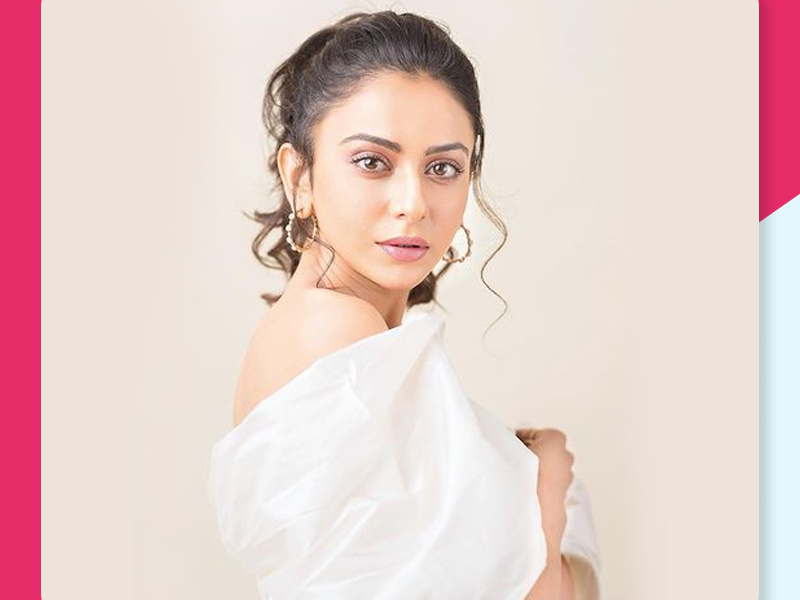 She is charming, spirited and gorgeous. Rakul Preet Singh is loved by her fans both for talent and her looks. A Delhi girl who made her way into the modeling world, she participated in the Miss India pageant and stood fifth. Undeterred she went on to win People's Choice Miss Indiatimes, Pantaloons Femina Miss Fresh Face, Femina Miss Talented, Femina Miss Beautiful Smile and Femina Miss Beautiful Eyes. But these accolades were all but milestones in her journey towards becoming a film star. And that journey started with Tamil and Telugu films. Bollywood was the next step. Rakul is now basking in the glory of her success.
But this fandom and star power has come at the back of hard work, sweat, and blood. A confessed foodie with low metabolism, Rakul has always had to watch her diet very carefully. She supplements that with back-breaking workouts that keep her in perfect shape. But that's not all, that superstar glow comes from beauty regimens that Rakul follows religiously.
So let's deep dive into Rakul Preet Singh's fitness, diet and beauty secrets.
Rakul Preet's Fitness
View this post on Instagram
For Rakul fitness comes before everything else. She says that working out makes her strong, fit and healthy. It is as important as taking a shower for her.
Rakul works out seven days a week. Her daily regimen consists of warm-up followed by cardio; strength training and cool down motions.
Rakul Preet Warm Up
Warming up is essential before any form of work out. It prepares the body by gradually increasing pulse rate and circulation. Rakul warms up those muscles with stationary as well as dynamic stretches for 7-10 minutes.
Rakul Preet's Cardio Workout
View this post on Instagram
Rakul says she often shocks her system with high-intensity cardio workouts like Kick Boxing, cycling, hitting the treadmill or skipping for 25 minutes.
Rakul Preet's Core Training
For strength training of core & lower limb strengthening Rakul trains with weights, sandbags, tires.
Lastly, Rakul cools off with Yoga for a full-body stretch
Rakul Preet Singh Diet Plan
View this post on Instagram
Rakul is very foodie. She loves to have a healthy and balanced diet. She sticks to homemade food and avoids binging outside. Even on days, she is on outdoor shoots, Rakul carries a small electric stove on which her boy cooks 'daal-chawal' for her.
Rakul is not averse to carbs which provide energy, help in burning fat and also contains necessary fatty acids, amino acids, fiber, B vitamins, micro minerals like selenium, zinc, chromium and many other nutrients.
She adds cereals, pulses, vegetables, salads to her diet in a balanced way. Besides this fruits are also the part of her daily consumption.
One thing that Rakul swears by, is that you cannot miss meals.
Rakul's morning starts with 2 glasses of warm water and a Bullet Coffee. Just so you know, bullet coffee is black coffee with some oil or butter. Rakul makes her bullet coffee with 5gm ghee. This is her pre-workout drink. Bullet coffee is known to maintain energy levels throughout the morning, prevent hunger and improve mental focus.
Breakfast: Post work out, Rakul has a breakfast of eggs and buckwheat rotis. Two-three whole eggs with vegetables and mushrooms
Lunch: Brown rice, with vegetables and some chicken or daal
Dinner: Salad, or fish and vegetables.
Alcohol: Rakul Preet Singh, does not consume alcohol, thus keeping those empty calories at bay.
Cheat Days: Rakul says that once a week a cheat day keeps one motivated.
Calorie Count: Rakul Preet is a confessed obsessive calorie counter. She can look at a plate of food and know exactly how many calories that is. She tries to keep her calorie count fixed, that way she knows she has to work extra hard if she has consumed more.
Rakul Preet Singh Beauty Secrets
Rakul loves to go for skincare with home-remedies. She uses besan, Haldi, honey and lemon which works wonders for her.
She uses cucumber and potato juice for eyes.
To replenish dull hair she uses hair mask prepared by adding egg white, bananas and curd.
A simple but crucial thing she follows religiously is to remove all makeup before going to bed and moisturizing and toning the skin.
Despite having a busy schedule Rakul manages to maintain a strict fitness and diet schedule. She keeps herself hydrated. The consistent effort she puts on her body is what has made her what she is today.
Read more articles on Exercise and Fitness