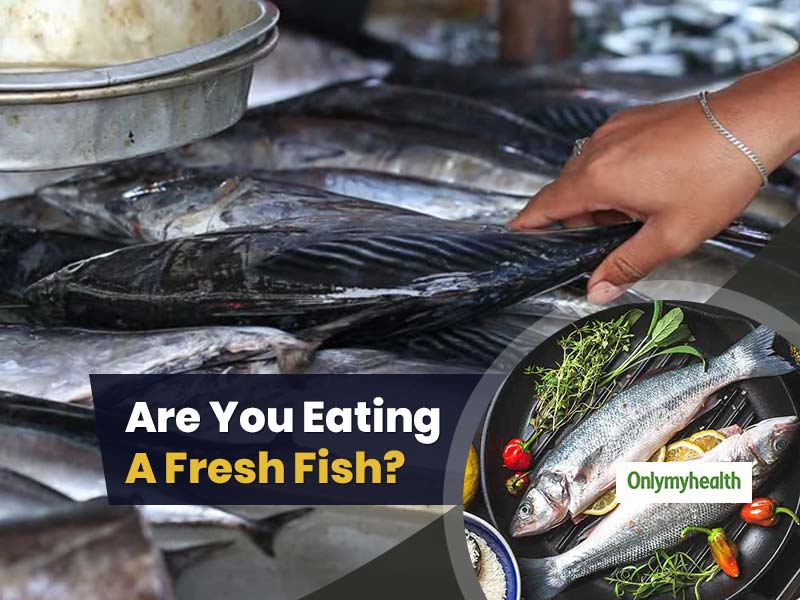 How do you prefer to buy fish? Do you go to the fish market and buy or you just walk into a supermarket for fish shopping? Fresh meat is good for health. Frozen meat is nowhere close to fresh meat when it comes to taste and nutritional benefits. But how to tell if you've bought a freshly-caught fish. It is not difficult to test the freshness of the fish, just some east steps are to be followed. Here's what the Food Safety and Standards Authority Of India (FSSAI) has suggested.
Testing your fish for freshness can take just 30 seconds and it can be performed by anyone. Perform this simple test the next time you're out to buy fish.

To know more Do-At-Home tests, visit https://t.co/v73x6A3XKU#DoAtHome @MoHFW_INDIA @drharshvardhan @ceo_fssai pic.twitter.com/SAIbSSU7Ai

— FSSAI (@fssaiindia) January 5, 2020
The ENT Test
Eyes(See)
1. Eyes of the fish- Eyes of a freshly-caught fish would be bright and clear. Always check that the eyes are neither red nor whitish. While red eyes signify stress at the time of getting caught, white eyes may mean that the fish is stale. Only the eyes of a Sea Bass are naturally opaque.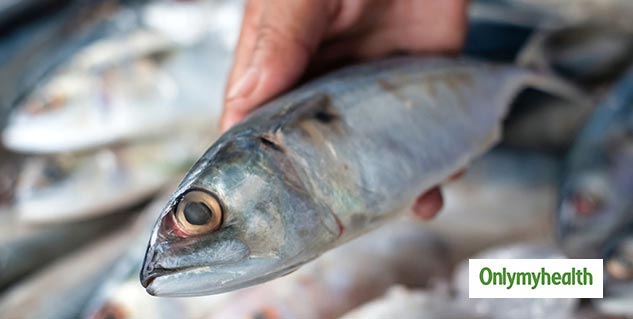 2. Gills- Bright red colored gills signify freshness. When you open a fish, check the color of the gills. Unfresh fishes have dark red or black gills.
3. Scales- The scales of fresh fish should look shiny. They shouldn't be dropping off, dull or patchy.
4. Fish Belly- If you find the belly of the fish to be bloated, this is a sure sign that the fish may have been long dead or may even be caught dead.
5. Fins and Tail- Fresh fishes have intact fins and tail just like the scales.
Also Read: A Bowl Of Coconut Fish Curry Guarantees Less Calories and More Taste
Smell(Nose)
Well, fresh fish doesn't smell like a fish! Surprising but true. A freshly caught fish smells more like ocean or water or cucumber, in short, it smells fresh and not fishy. It has a mild fragrance.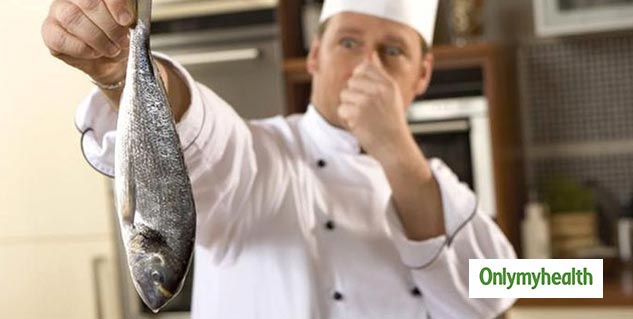 On the other hand, if a fish has a strong or sour odor, it is not fresh. Only an old fish has a pungent smell due to the release of the trimethylamine compound.
Touch
A fresh and good quality fish is shiny, wet, slippery or rubbery. You could feel the quality when you touch it. If the fish easily slips away from your hand, it is 100% fresh.
Do a press test to check the freshness of the fish. Press it and see if it stays firm. A fresh fish is firm and not lose, it guarantees freshness.
Also Read: Meat-Eating Myths: If You Think Meat Is Unhealthy, Then You Need To Read This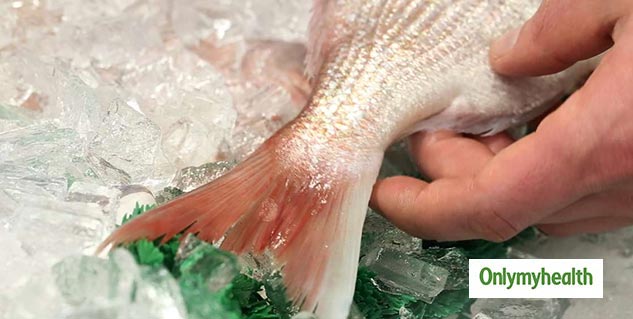 Other Steps To Perform
Apart from the above steps, here are a few other tests to affirm the freshness of the fish.
Check the color of the meat- only a cod has white meat, other fishes have pink or red meat.
Colour of the blood clots- even the blood clots around the bones of the fish can tell whether the fish is fresh. Fresh fish has bright red clots while an old fish has either dark red or black clots on the bones.
Read more articles in Healthy Diet