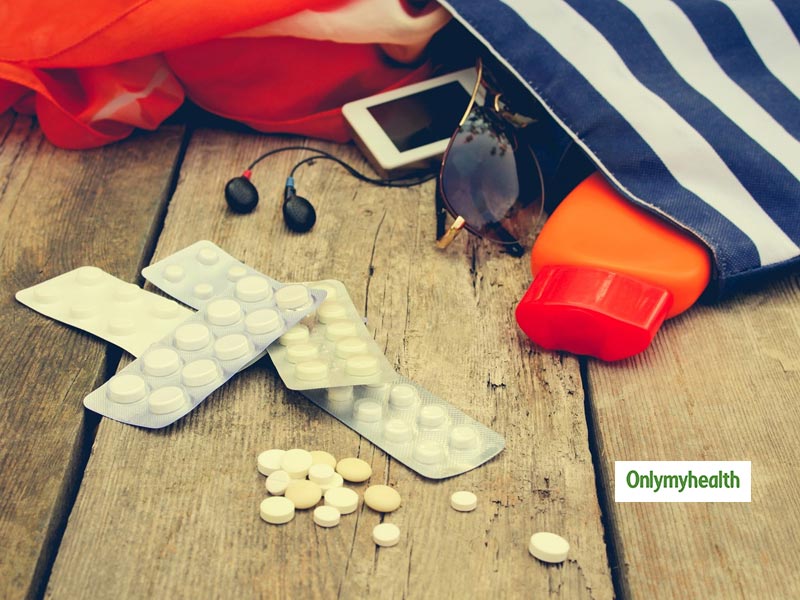 First aid kit is an essential that everybody should keep with them. It is not necessary that you keep anything and everything that a typical medical kit has but some essentials need to be there in your bag always. Band aids, pain killers, sanitizer, bandage, ointment, etc. are some of the must-haves in your vanity bag. Even when you are at work, these things can come to help whenever your office medical department run out of any of these.
Just a small pouch with basic medical items is what you should keep with you always. Here, we will help you build a personalized small, convenient and useful first-aid kit.
Why First Aid Kits Are Necessary?
First aid kits are usually used for treating these types of minor injuries:
• Stings
• Burns
• Abrasions (scrapes)
• Cuts
• Strains
• Splinters
• Sprains
• Mild pain
• Fever
• Nasal congestion
• Cough
• Skin problems
• Allergies
• Sore throat
• Cuts
• Gastrointestinal problems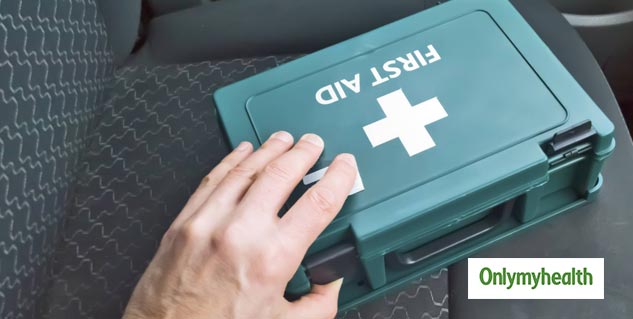 Ready-made first aid kits are commercially available, however, we will help you make a simple and inexpensive first aid kit all by yourself.
Also Read: 6 Safety Goals For Every Hospital To Improve Patient's Safety
How to Make a First Aid Kit
• Make sure your first aid kit is simple and easy to use. Stock it with multi-use items.
• A water-resistant, drop-proof container is best.
• Separate the compartments of wound supplies with that of medications.
Where to keep your first aid kit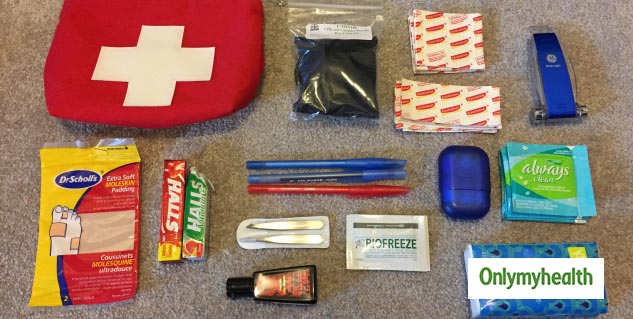 • The best place to keep your first aid kit in office is in HR's drawl.
• Make sure you keep all the stuff in a suitcase or a dry bag, depending on the place it is kept.
• All the employees must be informed about the items kept in the first-aid box and the right way of using them.
Also Read: World First Aid Day 2019: 5 Common First Aid Mistakes
How to Use a First Aid Kit
Make sure you know how to adequately use all of the items in your kit, in particular the medications. Train others in office to use the kit. You never know, you may be the one who needs first aid! Check the kit twice a year and substitute drugs which are expired. Keep the list of all the first aid items for emergency.
Checklist
Make sure you check the first aid kit once in every six months to make sure it is well equipped. This is because people may use the items and forget to tell the person in charge that the last item is gone. Your basic checklist must include:
• Latex gloves
• Bandages
• Tweezers
• Antiseptic ointment for wounds
• Wipes or solution for cleaning a wound
• Scissors
• Anesthetic spray or lotion
• Hand sanitizer and gloves
• Pain reliever
So, what are you waiting for? Remember, a mishappening will always come with silent whispers. Be prepared!
Read More on Miscellaneous