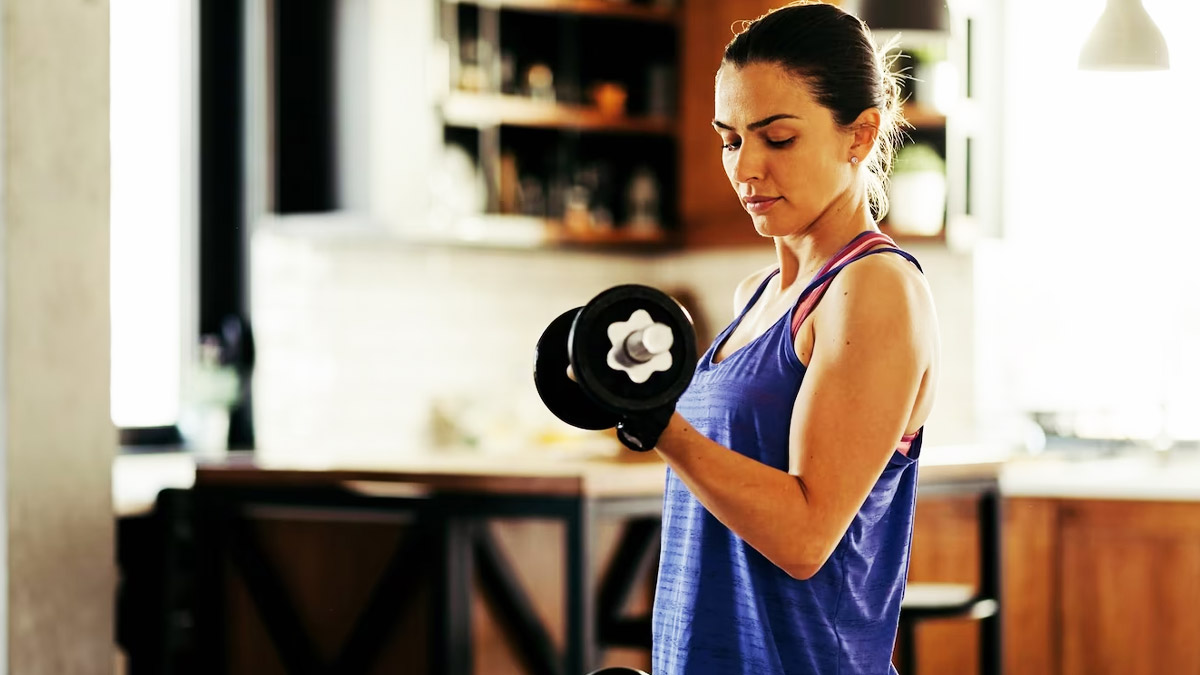 Did you know that a single dumbbell can be enough to achieve a full-body workout? Dumbbells are not just restricted to training your hands but can be used in various ways. You need to choose a weight that you can manage while exercising. Lifting weights challenge your body with more resistance than it is used to with, which helps you create lean muscle tissue and burn more calories. Remember to start with ease if you are new to working out or are returning from a break.
Exercises With Dumbbell For Full Body Workout
Here are five exercises you can try with dumbbells to train your whole body.
Goblet Squat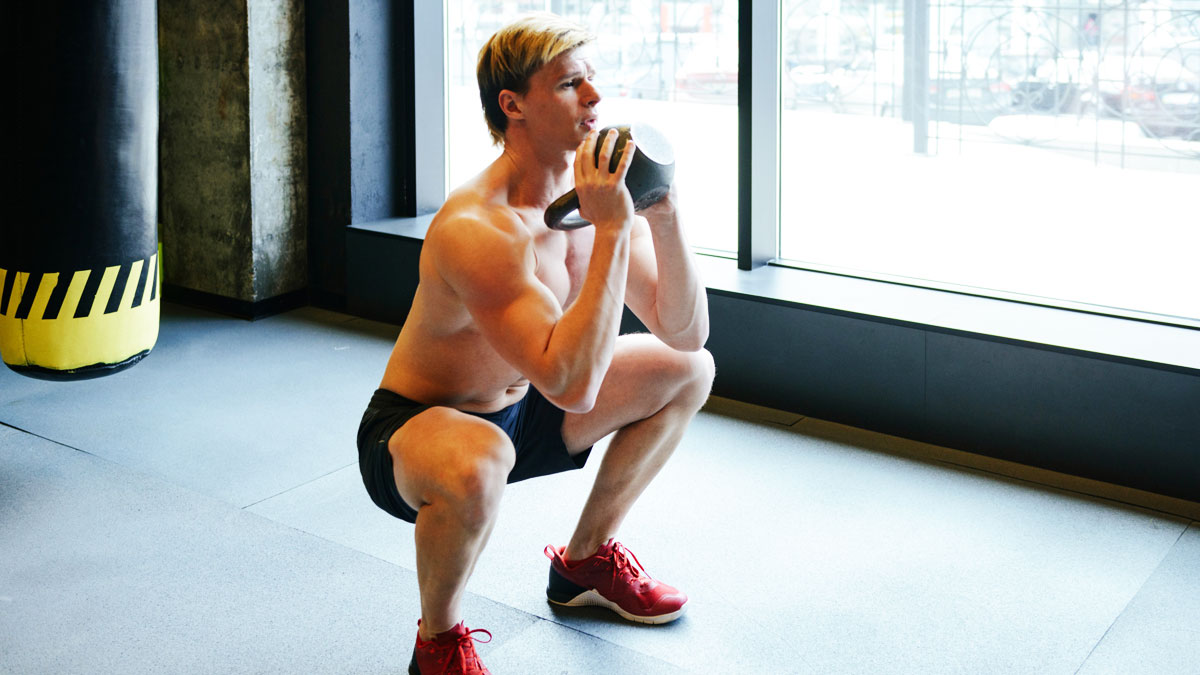 Step 1: Keep your feet hip-distance apart when standing. Each hand should cradle one end of the dumbbell as you hold it at chest level.
Step 2: Move your feet slightly apart, opening your hips at a comfortable squatting angle.
Step 3: Take a deep breath in as you hold this position, and squat down until your hips are just above your knees.
Step 4: Breathe out as you push through your feet to stand up again.
Side Lunge
Step 1: Stand straight while holding the dumbbell at your chest level.
Step 2: Extend your right foot into a side lunge. You should keep your left knee straight, bend your right knee and keep your hips behind you.
Step 3: Return to the starting position with the feet together by pressing off the right foot.
Step 4: Repeat this cycle with your left leg and keep alternating sides for about 60 seconds.
Also Read: 5 Bare Minimum Exercises You Need To Build Strength
Single Leg Deadlift
Step 1: Keep your feet together and hold a dumbbell by your side in your right hand.
Step 2: Now, shift the weight to your right leg. Keep your back straight and bend your right knee slightly.
Step 3: Tilt forward at the hips while pushing your butt back. Now, elevate your left leg straight behind your body as you lower the weight towards the floor.
Step 4: Keep your core tight and push through your right foot while standing.
Step 5: Squeeze your butt at the top as you pull the weight back up to the starting position.
Step 6: Don't put any weight on your left foot as you bring your left leg back to meet your right. Instead, just let your toes lightly tap the floor.
Step 7: Switch sides and repeat this eight to 12 times.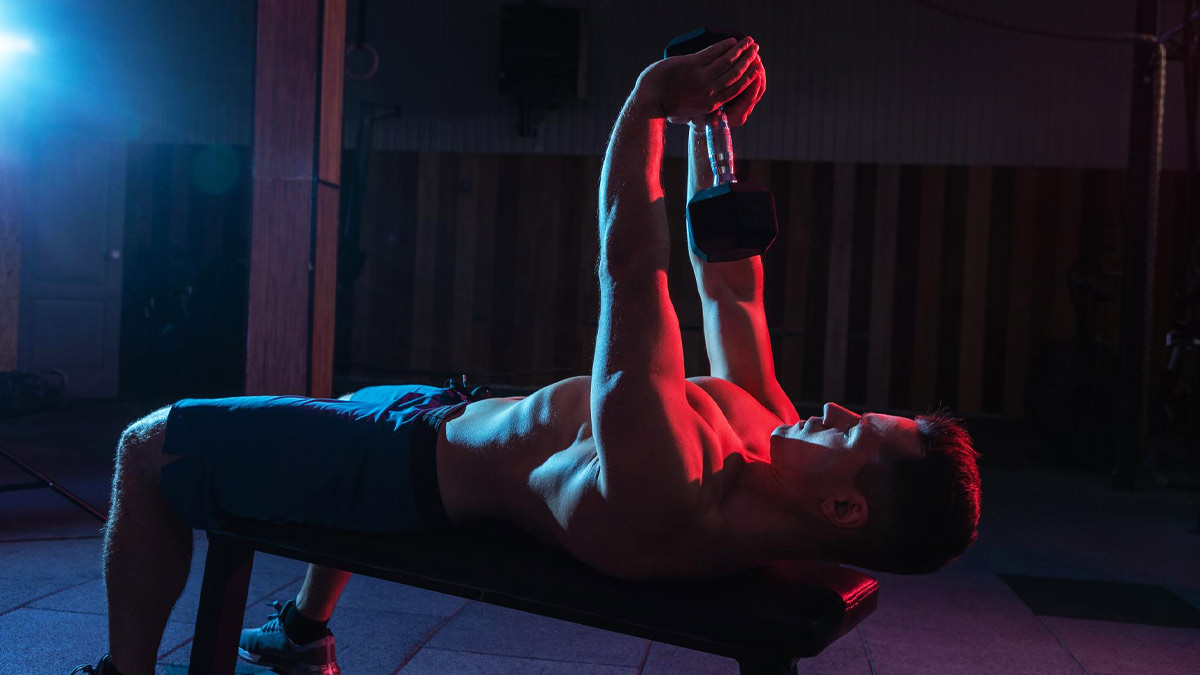 Dumbbell Pullover
Step 1: Firmly grasp the end of a single heavy dumbbell with both hands.
Step 2: Brace your core and drop the weight behind you with your elbows slightly bent.
Step 3: Now squeeze your back to lift the weight.
Step 4: Repeat this cycle for over 60 seconds.
Also Read: 7 Yoga Exercises That Can Help Shape Your Face And Jawline
Squat And Reach
Step 1: Stand tall with your feet hip-width apart. Rest the dumbbell on your shoulder.
Step 2: Squat down and raise the weight overhead as you contract your glutes to stand up.
Step 3: Keep doing this for 30 seconds and switch sides.
Takeaway
There are many other exercises other than these five that you can try with dumbbells. You should stop the workout if you witness any pain, as it may be injurious. It is better to practise these exercises under the guidance of a trainer so that they are performed correctly.