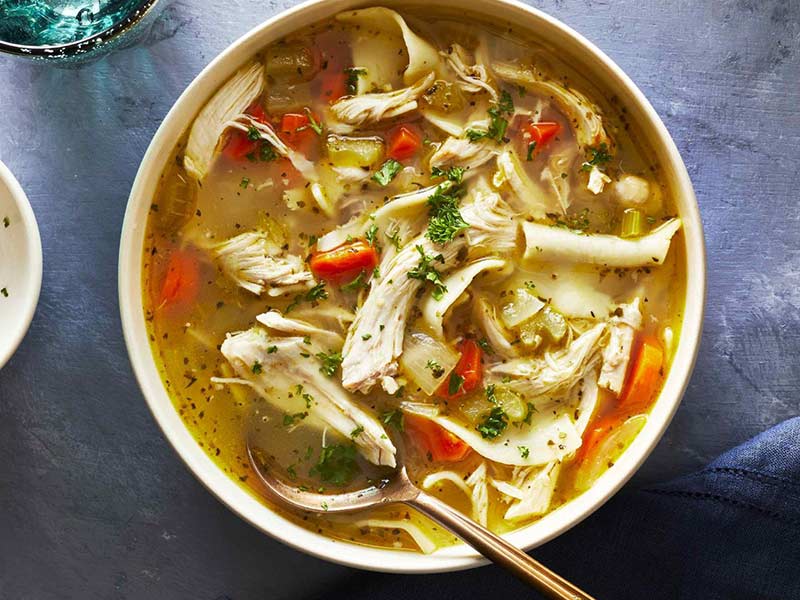 As the winter season arrives, it comes in with the joys of festivities and the wedding shenanigans. The chill in the season's air makes us grab a hot beverage and curl up in those cozy blankets. One thing that we all cannot resist in this season is slurping those hot and spicy soups. Where the winter season is the official soup season, who knows that your favourite soup can actually help you in shedding those extra inches. Well here's a word of caution that not all kinds of soups are going to aid weight loss and hence one needs to be very mindful while going in for a weight loss soup diet (diet for weight loss). Where we know that soups are loaded with nutrition, certain nutrients present in them can actually aid weight loss. Let's look at 5 different types of soup diets that can help you in weight loss with our expert Ms. Anam Golandaz, Clinical Dietician at Mumbai's Masina Hospital.
Image Credits- Eat this not that
Also Read: True Story: 12 YO Obese Child Suffering From Rare Disorder Gets Bariatric Surgery, Know Symptoms And More
#1. Bean Soup Diet
A filling soup that is a dietary wonder, bean soup diet is one of the most popular ones in the world of soups. This healthy soup diet will not just help you to lose weight or get leaner but also comes in with myriad health benefits. Rich in nutrients such as fiber, proteins, carbohydrates, antioxidants, vitamins, minerals and flavonoids, this soup is low in calories and high in nutrition. As this soup is rich in fiber it aids weight loss by giving you the feeling of fullness which cuts shorts upon overeating by canceling down your snacking. Moreover, bean soups are a rich source of protein which means increased metabolism and slow process of emptying the stomach that leads to the automatic reduction of calorie intake.
Adding in lean proteins such as chicken breast, poultry and meat along with fiber rich vegetables such as spinach can make your bean soup diet more effective. One thing that needs to be taken into consideration is that one must opt for soups that are low in sodium content. High sodium leads to water retention and high blood pressure that results in increased risk of heart attacks and kidney diseases.
A bean soup diet encourages people to consume this soup twice a day, that is for lunch and dinner. It also suggests that along with consuming the bean soup one must keep their diet calorie deficit which means limiting the intake of calorie dense food items.
#2. Chicken Soup Diet
Chicken soup is for the soup and we all are aware of it. A short term weight loss diet which would not just help you in shedding those extra kilos but will provide you with plenty of other health benefits as well. From strengthening immunity to reducing the risk of chronic diseases and from providing nutrients to strengthening the bones, chicken soup can do it all. S this soup and chicken on its own is said to be rich in protein which is an important nutrient when it comes to weight loss. Consumption of protein helps in losing weight fast ang getting the desired results by making you feel full for long and prevents you from binging on snacks and overeating. Due to its thermic effect, protein helps you in boosting the metabolic process and hence helps in burning more calories.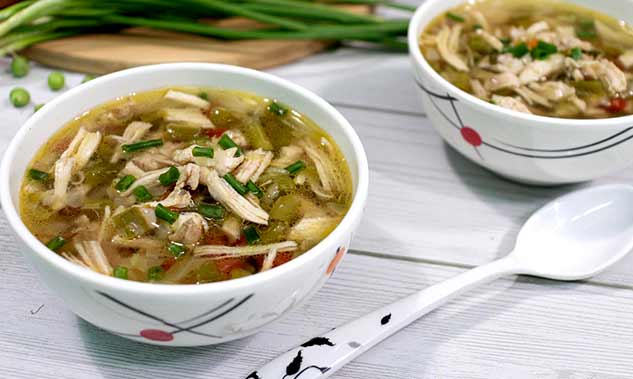 Image Credits- Recipes of Home
Also Read: 7 Reasons Why You Should Have Tomato Soup In Winters
A chicken soup diet is a short course diet of seven days during which a person is supposed to consume chicken broth soup around the clock except for breakfast. The morning meal or the breakfast can consist of any of these low calorie options such as fresh fruit, whole grain cereals, fat free cheese or non-fat yogurt.
#3. Broth based soup diet
A soup diet routine that generally lasts for about 7 to 14 days and claims that it can help a person to lose about 4 to 8 kgs of weight during this time. A broth based soup diet is free of cream or any kind of fatty components which means it consists of less calories. Low in calories this soup diet helps you to consume less calories throughout the day which means effective weight loss. Where these broth soups are clear soups with the presence of vegetables and lean proteins in it, it turns out to be a rich source of fiber and protein. These two nutrients are said to be very helpful in aiding weight loss as proteins help in fastening up the metabolic process and fiber is known to promote an overall fat loss by reducing a person's appetite. This reduced appetite helps in preventing overeating and hence keeps you on a calorie deficit.
In order to opt for a broth soup diet, one must simmer the protein components and vegetables really well. Some of the food items that are restricted on a broth soup diet are alcohol, dairy, sgar, grains, refined food and legumes.
#4. Cabbage Soup diet
A low calorie vegetable that comes in a wrap of leaves, cabbage is known for its several weight loss benefits. This healthy vegetable is jam packed with the goodness of vitamin C, helps in keeping your heart healthy, aids digestion, helps in lowering the cholesterol levels and controls blood pressure. Where this vegetable provides so many benefits to your health, who knew that it would be helpful in losing weight and moreover can take a form of delicious soup. Going on a cabbage soup diet helps in effective weight loss as it is low in calories and high in fiber. As you fill up yourself with low calorie food items, it helps you to stay full for longer and prevents overeating and binging.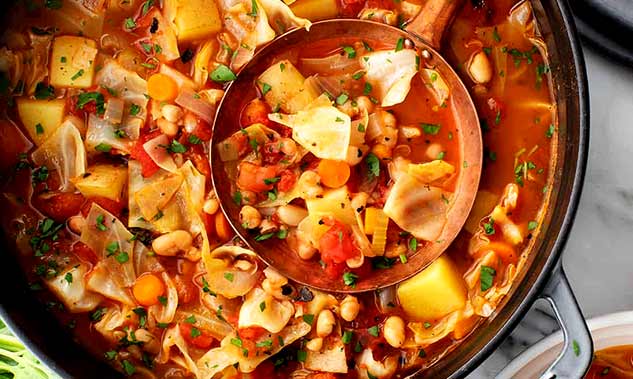 Image Credits- Love & Lemons
In order to follow a cabbage soup diet one can consume some other low calorie foods along with it such as green leafy vegetables and skim milk.
#5. Keto Soup diet
One diet that has taken up the social media trends for a long time and hence is something that we all have heard about. Ketogenic diet is a low calorie and low carb diet that claims to reduce about 4 kgs of weight within 10 days. As this soup diet is low in calories and high in proteins, it limits your calorie intake to a large extent. In order to opt a keto soup diet for weight loss, follow the same breakfast routine for a period of 7 days which includes eggs, bacon, sugar free coffee and avocados. Apart from this breakfast routine, one must stick to keto soups the entire day.
With inputs from Ms. Anam Golandaz, Clinical Dietician at Mumbai's Masina Hospital.