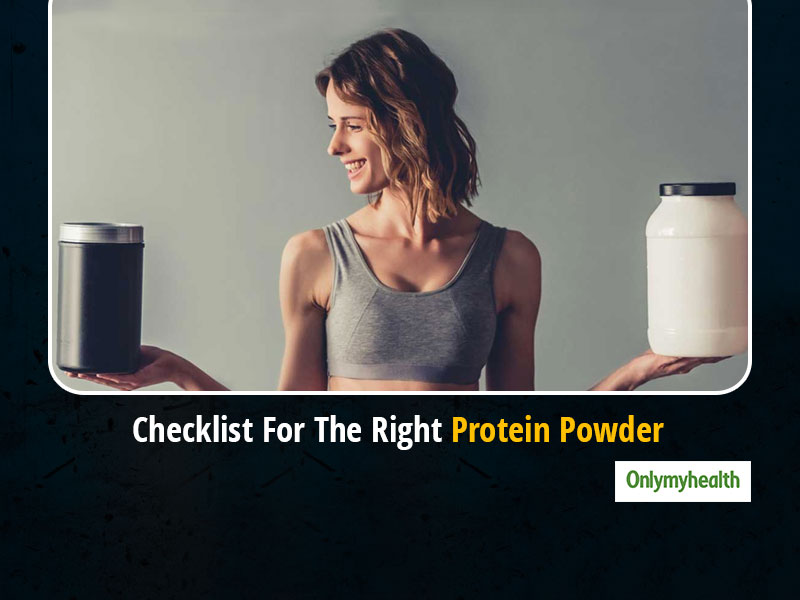 Many people have lost muscles while resting at home in the lockdown, some of you have also made a resolution to get those six pack abs and many of you are trying to gain weight. In all these circumstances, protein is an utmost nutrition but choosing the right one for you is certainly the key. A sports nutrition discussion is incomplete without Protein powder. And if you are a Sports Clinician like me it goes without saying that protein supplements or protein powders is not a part of every consultation. This article is too short to discuss how much protein you will need and what supplements you need for body building and some of them have already been discussed in my previous column. If you are looking for a protein powder which is safe, legal, meet your requirements and also is within the budget, this article is for you.
Also Read: Know-Why Protein Is Essential For A Good Muscle Health?
Depending on what you are looking for Protein powders comes in different forms- Whey Protein which is a high biological value protein which get quickly digested. It comes in concentrate (which is 70%-80% protein by weight with very small amount of BCAA and it is cheaper than whey protein isloate. Whey Protein Isolate which is a powder with usually 90% protein in weight and has very less carbohydrates and fat. No wonder it is more expensive to buy. There is also Whey Protein Hydrolysate- Which is made from whey protein concentrate and whey protein isolate and has further major absorption. Personally, I think this is a waste.
Casein: Casein is also a type of protein which is found highest in milk. Casein is an excellent protein for muscle recovery post workout. And so is a glass of milk. I suggest if you consume a glass of milk and 30gm almonds post workout is extremely beneficial than buy a casein powder.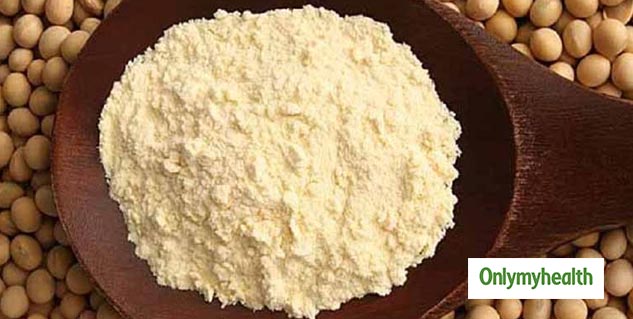 Soy Protein: This is also an easily digested protein and is derived from soy. You will find mostly in protein bars and as added to protein supplement.
Egg Albumin powders: These are the dehydrated egg whites are also available in the market. They are more expensive than whey and casein protein as they are fat and carbohydrate free. If you are strict on your budget, I suggest consuming 5 egg whites a day works cheaper than a protein powder. Approximately, 5 eggs will cost Rs 25 a day as compared to Rs 300 a day for egg albumin powder.
Search for Powders along with your needs
I am not going to endorse a brand here because there are many available across the stores but what you need to see is whether you want to build muscles, lose weight, increase protein in your diet because you are a vegan or a vegetarian, have kidney issues, need low sugar in the diet or a protein powder which fits within your BUDGET. Some points to follow:
Whenever you are looking for muscle building or a six-pack ab choose a protein powder which is of high biological value like whey proteins isolate, whey protein concentrate.
If you want to lose weight, choose powders with no added sugars. You do not need to choose performance supplements like BCAA etc because you are not considering muscle growth or body building, you want to lose weight here.
If you are a vegetarian and you wish to increase your uptake of protein, certainly you will not look for BCAA or creatine or carnitine, instead choose 100% plant-based proteins like soy protein or pea protein or hemp protein or any milk protein like whey or milk proteins.
If you have diabetes, then choose protein powders with no added sugars and only (5-15 gms of carbohydrates in 1 scoop of protein powder)- Best is to use any plant-based protein powder.
People with renal issues must not consume any protein powder addition to their natural diet without clinical investigation and consultation.
If you have any gastro intolerances like lactose intolerance or irritable bowel syndrome choose powders which do not contain lactose, artificial sweeteners.
You need to know If it safe for you, whether your protein supplement is legal and if it is effective.
Look for following approvals
USDA, FSSAI, WADA, SNAP, Informed Sports, ASADA- there are some of the government bodies who have regulated that the products in the market are meeting the standard. You can also go onto WADA – world anti-doping association website or download an application on your phone to ensure the ingredients mentioned on the label are safe for consumption.
TABLE: Please find your traffic guide light for a supplement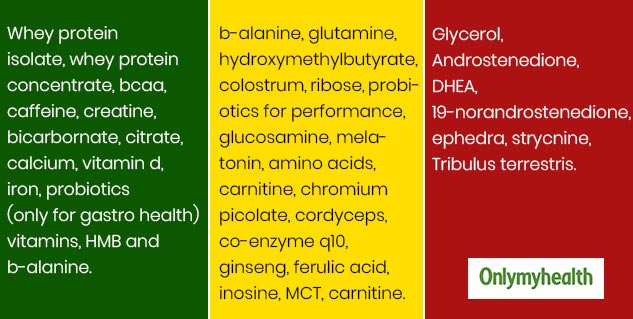 Green lights are allowed to consume if it is labelled on the container and most of the products will label these because they are approved by WADA and are also safe marketing strategies for them.
Yellow lights ingredients are the products which companies label them on the package to show they have benefits but these ingredients have no significant benefits. It is a waste and an expense to your budget. Companies might be label on the product to show that it will provide you additional benefits but there is not enough evidence to their claims. So, discard these products. You may be driven to buy these supplements thinking they may provide an advantage but before you buy as for a "good evidence" base information from the seller. I am not going against the brand, certainly feel free to choose a product within the same brand but not with these ingredients.
Also Read: Is Protein Difficult To Digest? This Study Busts Myth That Prevails In Most Indian Households
Red Lights - If you have heard your parents scream that protein supplements are bad for you. They are probably talking about these ingredients which are not only banned by the Federal government but are also life threatening if it is consumed in excess. These are also the ingredients which gives supplement industry a bad name. They are often not labelled on the package- why would they, they are banned after all. Anabolic steroids- most likely they will not be mentioned on the label but any word which ends with "one" and "ol" at the end is a steroid and it should not be consumed. These ingredients will not only make you dope positive if you are competing a sport but are also detrimental to your health.
I am not saying that supplements are bad for you, make sure they are worth your spending. Ensure that they meet the purpose, effective, safe and legal for you.
Read more articles on Healthy Diet