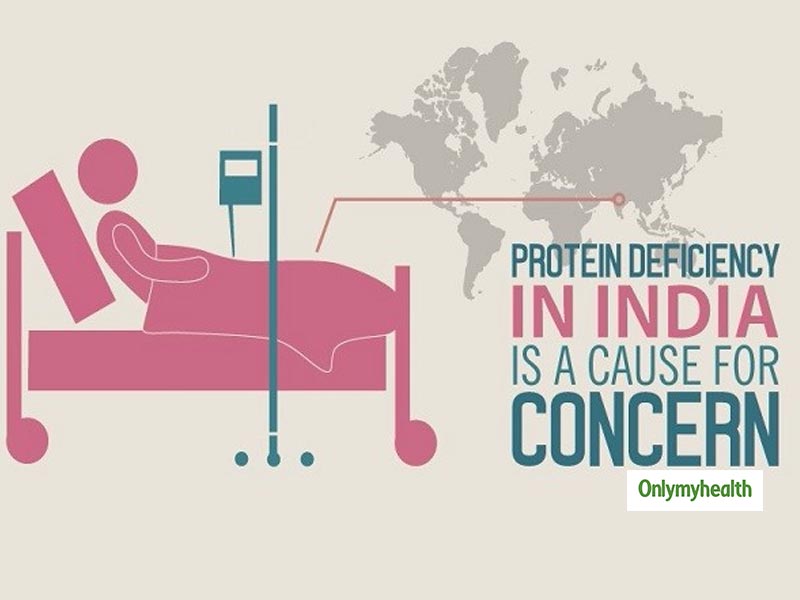 We all want to exercise every day, look fit, and have no aches and pains in the body. Protein, also said to be the building block, is found in the cells, tissues, bones, blood, hormones etc. Protein is essential for body composition and development. Proteins include carbon, hydrogen, oxygen and nitrogen elements. Hence, any wear and tear in the body can be corrected with a proper protein diet. And, if you thought that Indian homes are the best when it comes to naturally supplementing the body with protein, then this study certainly busts the bubble for us. In a recent survey undertaken by a nationwide public health awareness initiative, Right For Protein, it was understood that only 3 per cent of the participants understood the real role of protein in our daily lives.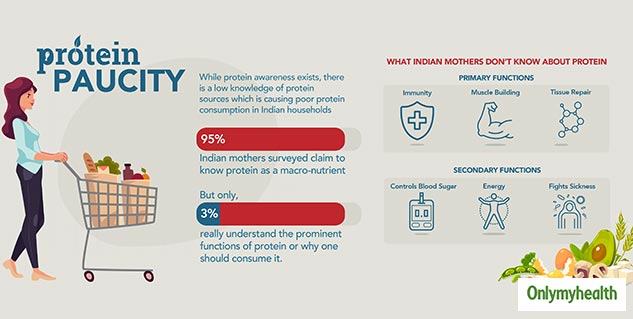 Also Read: Proteins To Boost Resistance To Flu-Like Symptoms. Know Its Role In Boosting Immunity
Misunderstandings And Protein Intake
The study included a survey by the research agency, Nielsen, that had 2,142 mothers across 16 Indian cities, which gave out a worrying trend about wrong understanding of protein. As per the study, 95 per cent of mothers thought protein only to be a macronutrient, and 3 per cent understand what protein does for the body. The audience in mini metro cities had a very poor understanding of protein. The glaring fact here was the majority of the women did not think of associating health concerns with lack of protein in daily diet. Dr Jagmeet Madan, Eminent Nutrition Expert, and National President, Indian Dietetics Association, Supporter of the Right To Protein Initiative explain, "In our country, adequate-protein consumption has been a rather under-debated issue when it comes to general discourse on food and nutrients. Very few studies have been published recently that provide insights about the consumption patterns about this 'major building block' of our lives.
Watch Video: Why & How Should We Take Protein In Our Diet
Myths About Protein Intake
Just when we thought that our Indian households are apt for a healthy balanced meal. Such inputs from various research agencies do give us the real perspective behind the rising protein deficiencies and a compromised immunity. Some myths about protein intake that we mostly hear are:
Difficult to Digest: Some believe that protein is difficult to digest, hence should not be a part of your meal at nights.
Only For Body Builders: Some say that protein helps in building muscles, hence should only be more in the diet of those who ate building muscles.
Vitamin Is More Important: Some feel that having more protein will lead to weight gain, and those on a weight loss spree with have more vitamins and carbs than proteins.
Protein Deficiency Does Not Have Side Effects: A lot of people do not attribute the many health concerns that one can get due to deficiency of protein in the body. Some health concerns that surface due to lack of protein in the body, include: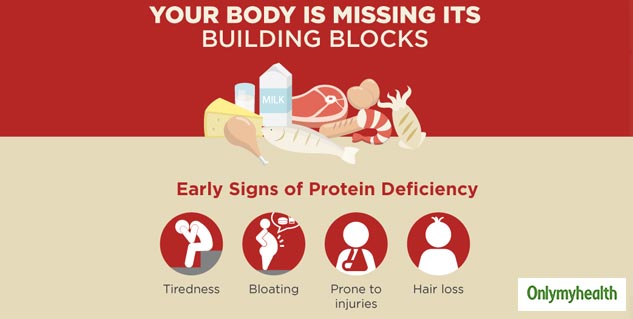 Less Knowledge About Protein Foods: Majority of the mothers did not know the most common sources of plant-or-animal-based protein and failed to correctly identify 8 of 11 protein-rich food items presented to them.
One Bowl Of Dal Is Enough Protein: It is the biggest myth that having dal in every meal, or one bowl of dal with each meal is enough to fulfil your protein requirement.
Importance Of Protein In Diet
It is necessary to have the required amount of protein in the food. If all the essential amino acids are present in a protein, then this protein is called an ideal or complete protein. Proteins derived from animals such as meat, fish, poultry, eggs, milk etc. fall into this category. If essential amino acids are not found in the protein, then this protein is called incomplete protein. The study shows that although 95% of Indian mothers surveyed claim to know protein as a macronutrient, only 3% of the population really understand the prominent functions of protein or why one should consume it daily. Dr Suresh Itapu, Nutraceutical Expert, and Director, NutriTech India said, "The Protein Paradox study, reiterates the importance of building a general protein understanding and awareness in India and feels that everyone should take corrective measures to improve quality protein intake.
Also Read: Are Protein Bars Actually Good For Health? Explains Nutritionist Swati Bathwal
Hence, the need of the hour is to understand the critical protein-rich foods and to add the same in daily diet to keep safe from a compromised immunity. Some protein-rich foods that one must include in their diet:
Spinach: A cup of chopped spinach leaves contains 5 grams of protein. It also contains iron which is right for your bones and eyes.
Tofu: 1 cup of tofu contains 10 grams of protein. You can eat this antioxidant and apt-functional food for breakfast, lunch and dinner.
Quinoa: One cup contains 8 grams of protein. You can also add vegetables to it and eat it as a snack.
Chickpea: 1 cup boiled chickpeas contains 16 grams of protein, which gives energy to the body and also fulfils the deficiency of protein.
Asparagus: A cup of asparagus contains 5-6 grams of protein and is also a good source of vitamin B and folate.
Read more articles on Healthy Diet