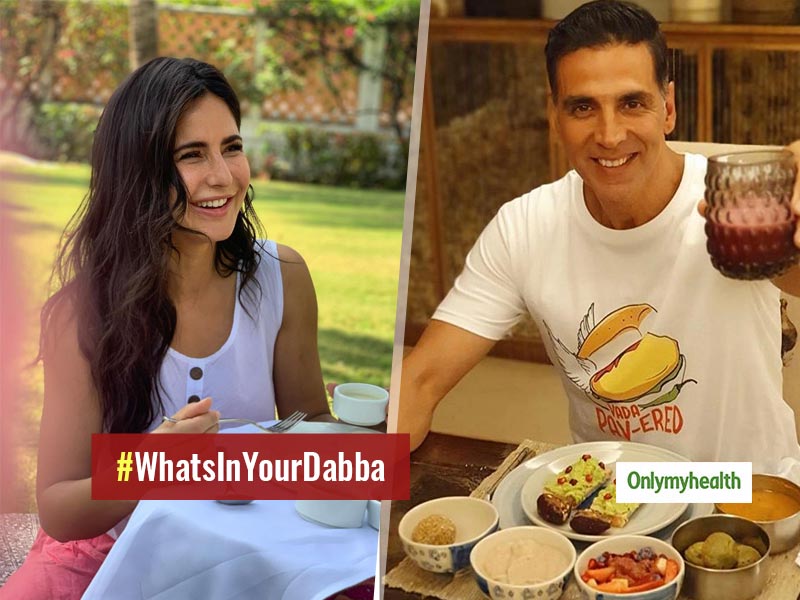 What goes inside glows out. Skin is the display of our eating habits. Our nutritional intake decides the fate of our skin. Be it acne or rashes popping up, in some ways directly or indirectly is connected to the types of the meal we eat. Clean eating is the trendiest diet currently. We can often see people posting " what's in their Dabba?" on Instagram. We often keep a track over what our favourite celebs are eating to look extremely adorable. This challenge was recently taken by various actors and actresses, out of which we have segregated your favourite filmstars.
Katrina Kaif
Katrina has never failed to leave everyone in awe through her extremely flawless skin. let us peep into her 'Dabba' so that we could decode the actual reason behind her 'tube-light' skin. Katrina says, her mother is a believer in healthy eating habits. She inspires Katrina to hop on to a healthy breakfast every day. Katrina adores idlis whenever she is looking for breakfast options. To add a healthy touch to it and make them fluffier she adds yogurt to it. She likes to have these idlis along with spinach, tomato, beetroot, and plain coconut chutneys. She also confessed that she isn't afraid of consuming rice. The normal constituents of her idli are urad dal and rice.
Also read: Happy Birthday Sidharth Malhotra: The Handsome Hunk's Diet And Fitness Regime Decoded
Akshay Kumar
The gracious hunk of bollywood, Akshay Kumar is all set to take the "what's in my Dabba?" challenge. Akshay said that eating healthy is not just something he practices for looking good, rather it is a part of his life. He loves eating clean food with a lot of nutritional content into it. Akshay posted a picture that was full of food items that would flush his body with amazing nutrients. Onboard he had avocado toast garnished with pomegranate, to which also mentioned that how health it is due to the high protein content. The next item was chia pudding which is one of his favorite eating snacks. One unknown power pack drink was also there in his hand, though he didn't disclose its ingridients we believe it must be a highly nutritious drink.
Bhumi Pednekar
Bhumi was nominated by Akshay Kumar. Bhumi posted that she has traveled a long journey when it comes to losing weight and looking fit. As per her post, she revealed that it was Akshay Kumar who had inspired her to stay fit. Her 'Dabba' was full of mouth-watering food yet keeping in mind the nutritional contents. Her Dabba had avocado and chicken salad, almond flour roti, some chicken curry, stir-fried mushrooms, and tofu isabgol Tikki.
Sonali Bendre
The superwomen Sonali believes that "we are. what we eat", having said that she quoted 'my mantra is not to measure my food, rather see what I eat.' Sonali posted a smiling picture holding a big glass bowl full of the traditional Maharashtrian Sabudana Khichdi - with sweet potato & without Sabudana.
Also read: Sonali Bendre opens up about her battle with cancer: "I never thought I would Die"
Malaika Arora
Malaika has pledged to turn vegan. She posted a small video in which she was eating her meal. In that video, she told me that she can't just hop on any healthy food item because of been vegan and have to be very specific while deciding what to take for the meal. Malaika had Zucchini noodles with red bell pepper sauce, in detail of which she also elaborated her secret recipe.
Read more articles on Healthy Diet