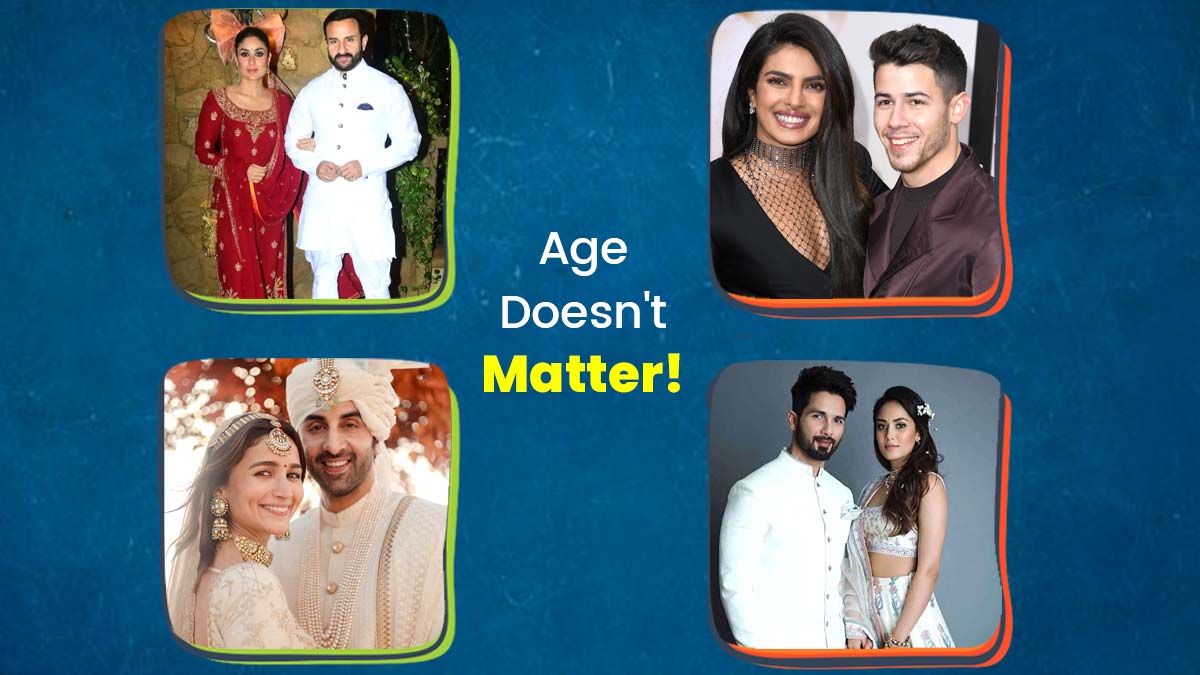 Age is just a number! This is a popular saying that not only fits individuals who defy their age but also couples who seem to have a great compatibility despite massive age gap. It is said that a couple shouldn't have a big age difference as they are highly likely to have psychological and behavioral differences too. But that is not the case always. Some couples have better equation than others which means, exceptions are always there. In this article, we have listed 9 B-Town couples having 10+ years of age gap. You can take inspiration from them to ignore age as a factor for a stable and successful marriage.
Alia Bhatt- Ranbir Kapoor (10 years)
The most fresh example of a fairytale love story is of Alia and Ranbir. She crushed on him as a kid and little did she know, her teenage crush would be her forever partner! Alia ranbir age difference of 10 years couldn't stop them from falling in love and marrying.
View this post on Instagram
Priyanka Chopra- Nick Jonas (10 years)
Their wedding was talk of the town not just because it was an inter-faith relationship but also because Priyanka being 10 years elder to Nick! They broke all stereotypes and got married to a lavish wedding in Jodhpur. Recently, they welcomed their daughter through surrogacy which speaks of their love and commitment towards each other.
View this post on Instagram
Shahid Kapoor- Mira Kapoor (13 years)
When Shahid and Mira's wedding was announced, people went in absolute shock because of the massive age difference between the couple. They got brutally trolled for the same. However, when you see them both together, you cannot tell that they have an age difference of 13 years! Mira was just 21 when she married Shahid, 34 years.
View this post on Instagram
Kareena Kapoor Khan- Saif Ali Khan (11 years)
This royal pataudi couple is an example for many reasons! They look so much in love and always radiate a fresh vibe as if they have just got married! Saif was earlier married to Amrita Singh who was 12 years older to him and had two kids together. After 8 years of divorce, Saif found love again in Kareena who was 11 years younger to him! They met during a film shoot and fell in love. They have two adorable sons who are paparazzi's favourite.
View this post on Instagram
Sanjay Dutt- Manyata Dutt (19 Years)
The 'unlucky in love' man found his forever love in Manyata and we are all aware of their eternal love story just like the former's parents Sunil Dutt and Nargis who had a inter-religion marriage and set examples for all. Manyata stood by Sanjay during the toughest time when he was imprisoned and helped him beat cancer as well. They have a massive age gap of 19 years!
View this post on Instagram
Ritesh Deshmukh- Genelia D'Souza (9 Years)
Did you know Ritesh is 9 years older to Genelia? Not many people know this because they look so young and lovable! Yes, the duo met during their first film and have been inseparable since then. None of them have had relationships before and surprisingly, their relationship has never been under the scanner for any controversy or affairs! They define true love in every aspect.
View this post on Instagram
Milind Soman and Ankita Konwar (26 years)
Did you remember the backlash Milind Soman received after he introduced then girlfriend and now wife Ankita Konwar to the world? It was because the duo has 26 years of age gap! Milind was 52 when he married Ankita(26 years). They have been quite vocal about their love and seriousness. Standing like a rock, the couple has made it to the hearts of public who have now accepted the couple with open arms.
View this post on Instagram
Dilip Kumar- Saira Banu (23 years)
Any eternal love saga is incomplete without mentioning the iconic couple Dilip Kumar and Saira Banu. They truly defined the meaning of love by staying with each other forever until Dilip Kumar's demise. Dilip Kumar was 23 years older to Saira and they enjoyed a blissful marriage of 54 years! This is what true love looks like.
Hema Malini- Dharmendra (13 years)
View this post on Instagram
There were so many ups and downs in this couple's love life but they fought through it. Dharmendra ji was already married and had 2 sons but he couldn't stop himself from falling in love with dreamgirl Hema Malini who is 13 years younger to him.
These are just nine but there are plenty of such bollywood couple who got married neglecting the age gap. This shows that no matter of the age difference, a couple can live happily ever after.