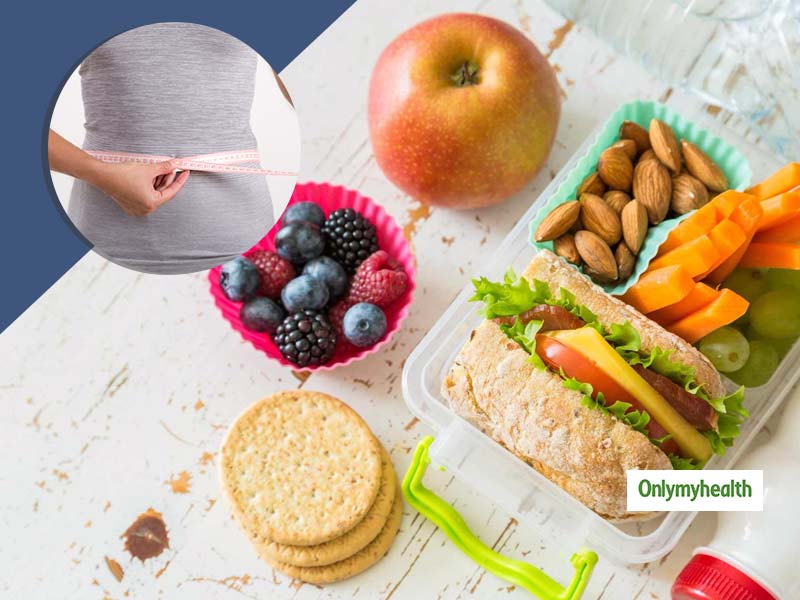 Weirdest Food Combos That Help In Weight Loss without going gym
Food combinations that help you lose weight: Adequate food is necessary to keep the bodyweight under control. You may find this thing a little strange, but there are many facts to prove it right. If you eat some food at regular intervals throughout the day, then you can easily control the weight. Do you know that digestion is even better with anti-inflammatory elements present in cucumber and ginger (which helps in relieving pain)? Here we are providing some food combinations that will help keep the stomach full, and you will not worry about too many calories. Know which food items are these.
Almond + Soya Milk
According to a research published in the European Journal of Clinical Nutrition, eating 43 grams of roasted almonds every day reduces appetite, along with sufficient amounts of vitamin E and monosaturated (good) fat without increasing weight. The best alternative to non-dairy milk is soy milk. Soya milk, made from nutrient-rich soybeans, contains a lot of protein. Besides, it contains essential fatty acids for the body, all kinds of vitamins and minerals. Instead of consuming extra-saturated fat and cholesterol-rich cow or buffalo milk, drinking soy milk provides balanced nutrition to the body.
Ragi + Paprika
Ragi has a lower amount of natural fat than other grains. The fat present in it falls under the category of unsaturated fat. For those who are trying to lose weight, ragi is a better option, which is more healthy than wheat or rice. Ragi also contains amino acids, known as tryptophan, which helps in reducing the quantity of food. At the same time, particles in paprika, known as capsaicin, help reduce weight by burning fat.
Also read: Eid al-Adha 2020: Delicious and Healthy Stevia-Sweetened Recipes
Green Tea + Mint
Green tea contains antioxidants called catechins, which control fat-boosting cells. Besides, it also increases the ability of the liver to convert fat into energy. Drinking a cup of green tea after dinner is beneficial. Its fresh taste controls your craving, as well as reduces desire towards sweet things. Studies have shown that peppermint is helpful in calming gastrointestinal problems, allowing the intestine to do its job efficiently. In simple words, it keeps the body functioning smoothly and naturally.
Fruits + Citrus Fruits
The best way to get rid of harmful toxins in the body is to drink plenty of water. By drinking only 6 to 8 glasses of water every day, the body will remain hydrated, as well as the vital parts of the body will be able to function well. The best way is to mix lemon juice with lukewarm water (as soon as you wake up in the morning), drink it on an empty stomach. You can also add mint to it. This will help in the digestion process. Eat fruits like watermelon, raspberries and apples.
Also read: Belly Fat Cutter: Get Rid Of Excess Weight And Fat With 7-Hour Long Sleep
Kabuli Chana + Olive Kabuli Chana
Nutrient and soluble fibre present in Kabuli Chana + Olive Kabuli Chana make it a complete food to keep the weight balanced. This releases the appetite-suppressing hormone cholecystokinin, which makes you feel full. Kabuli chana mixes easily with extra virgin olive oil. This may increase the level of serotonin.
Almonds + Cranberries
Nutrient-rich almonds contain vitamin E antioxidants, fibre, protein, magnesium, calcium, and appetite control. The stomach feels full due to its intake. Cranberries, on the other hand, contain vitamin C and fibre. Evening snacks can be made from these two, which can be a good and healthy alternative to the traditional breakfast.
Spinach + Avocado
Make a cup of spinach a part of daily food. It is a low calorie and carb green leafy vegetable, which is an excellent choice for dieters. Similarly, avocado is rich in fibre and good fat. It also contains less sugar than other fresh fruits. Avocados contain more than 75% of fat unsaturated, which makes them an excellent alternative to high saturated fat (bad fat) foods. Consuming both of these is beneficial for health.
Cayenne + Chicken
Protein-rich foods such as chicken not only satisfy hunger but will make you feel full by eating a little. It is easier to burn fat by adding red chilli powder. Capsaicin, the element present in red pepper, helps in suppressing the appetite and converting food into energy inside the body. This reduces belly fat rapidly.
Read more articles on Weight Management