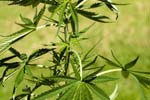 Bhang: Discover the several health benefits of Bhang and its consequences before gulping down a few glasses.
Preparations spring in different parts of the country when Holi is just around the corner. Of all the things that Holi is about, the most important is bhang, the absence of which can leave the celebrations incomplete. So much for drinking bhang and its aftermath, what goes unnoticed is the fact that drinking bhang has several benefits.
[Read : How to Make Bhang Lassi]

Relieves Depression, Stress, Anxiety

Bhang has been for ages used in the Ayurvedic treatments ever since the herb was discovered by humans to relieve stress and anxiety. It is this property of the herb that has got it to be used medically as an intoxicant. It also treats depression by correcting the chemical imbalance in the brain.


Relieves Pain

The intoxicant that Bhang is, it reduces pain by soothing the nerves.


Cures Digestive Problems & Weight Gain

If taken in the right quantity, bhang can cure dysentery, phlegm etc and quicken digestion, thereby inducing weight loss. In several parts of the country, people drink bhang before the main meal in moderate amounts as they believe that the drink not only enhances the taste of the food but also quickens and improves digestion.

Soothes Problems Related to Ageing

Bhang can treat several medical problems that affect a person as he/she ages such as arthritis, multiple sclerosis, etc.

Treats Skin Problems

Application of a paste made out of bhang leaves can help cure chapped and rough skin.

Cures Everyday Health Problems

Bhang treats several everyday ailments like vomiting, nausea, fever, sunstroke, etc.

Effects of Bhang Overdose

Having talked about the benefits of Bhang, one must not overlook the fact that the benefits of Bhang surface only if it is taken in moderate amounts. If taken in excess, bhang can pump the heart rate up, cause psychosis and blood pressure. Here are a few tips that you must keep in mind before and when consuming bhang.

[Read: Tips to Deal with Bhang Hangovers]

• Never consume bhang on empty stomach. Munch on some food such as snacks before consuming bhang.
• Never mix bhang with alcohol.
• Keep bhang-laced drinks as well as snacks away from children.
• Avoid it completely if you suffer from heart problems, have high blood pressure or have nerve diseases.
Read more articles on Home Remedies