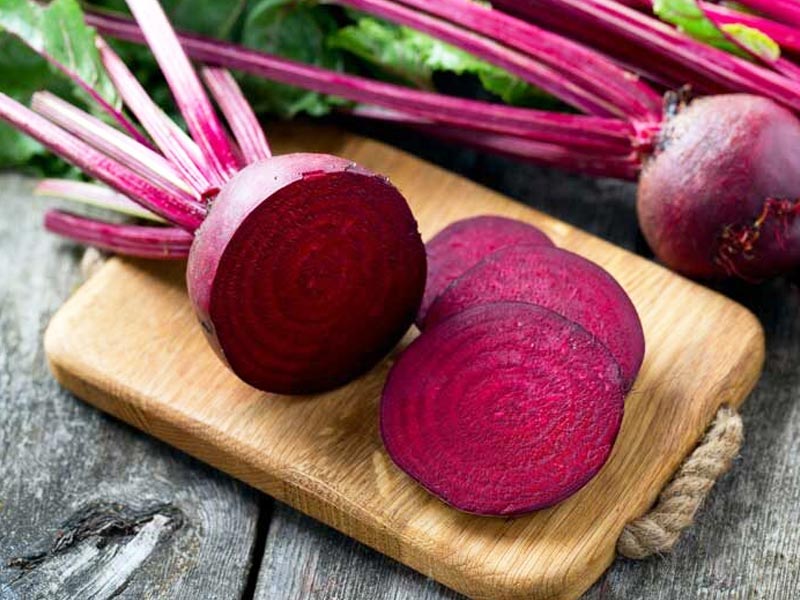 Remember that highly pigmented vegetable that you used to fake blood with when you were young? Well it can be way too useful than just helping children with their pranks. Beet is a popular root which is used in almost every part of the world and games with many health benefits. Packed with the goodness of plenty of minerals, vitamins, antioxidants and bioactive compounds the health benefits of beetroot ranges from reducing inflammation to improving digestive health. Without further ado let us jump into the article and learn about 7 health benefits of eating beetroot and some delicious recipes.
Nutritional Value Of Beetroot
Rich in several vitamins and minerals, consuming beetroot in the form of salads, juice or even cutlets can be very beneficial and will help you to keep diseases at bay. Here is the nutritional value found in a 100 grams serving of cooked beets.
1.7 grams of Proteins
0.2 grams of Fats
44 Calories
2 grams of Fiber
20% Folate I
3% Vitamin B6
6% Vitamin C
6% Magnesium
4% Phosphorus
9% Potassium
16% Manganese
4% Iron
Here's what Nutritionist Shilpa Joshi, Registered Dietitian in Mumbai Diet and Health Center has to say about this superfood: "Beetroots are a rich source of carbohydrates, have a good amount of fiber and micronutrients in it but unlike a lot of people think it does not have any amount of iron content in them. Moreover you can choose any other green leafy vegetables to compensate for the iron deficiency in your body."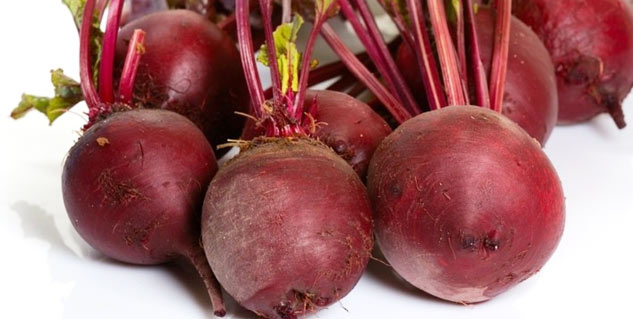 Also Read: Taking Nutritional Supplements Can Improve Your Brain Functions: Study
Health Benefits of Beetroot
1. Helps to reduce inflammation
Rich in the anti-inflammatory properties, betalains is the compound which gives beetroot its rich red pigment. Along with betalains, beetroot has an abundance of nitrates in it which also works as an anti-inflammatory compound and helps to reduce inflammation by removing harmful compounds from the bloodstream. The presence of the betalains and nitrates complements each other and helps with inflammatory conditions such as fibromyalgia and rheumatoid arthritis.
2. Controls Blood Pressure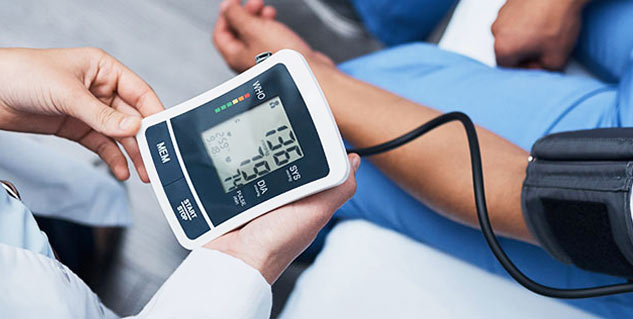 Rich in nitrates, beetroot helps in lowering blood pressure by converting the dietary nitrates into nitric oxide which dilates the blood vessels and as a result improves blood flow and helps in lowering the blood pressure. The beetroot has a stronger effect on the systolic blood pressure as compared to the diastolic blood pressure. To understand it in simple words, systolic blood pressure is when your heart contracts whereas diastolic blood pressure is when the pressure on the heart is relaxed. By lowering the blood pressure beetroots help to prevent the risk of diseases such as strokes, heart failure, heart attacks and other heart diseases which are the leading cause of deaths worldwide and are caused due to high blood pressure.
3. Boots Stamina
Beetroots are said to boost up your stamina while exercising as the nitrate content in beetroots raises the nitric oxide levels in your body which leads to increased blood flow, strengthens muscle contraction and makes exercising and other physical activities less tiring for you.
4. Helps Prevent Cancer
Beetroots have the potential to stop the unhealthy growth of cancer cells due to its anti-inflammatory and antioxidant nature. The antioxidants in beetroot helps to prevent cancer and other inflammatory conditions by reducing the oxidative stress. Apart from that, beetroot inhibits carcinogen formation and increases the production of body enzymes and immune cells which helps to fight cancer.
5. Supports Brain Health
With increasing age the cognitive and mental health starts to decline and can lead to conditions like dementia, which is a syndrome where there is a decline in memory, behavior and thinking with decline in ability to perform daily activities. The reason behind this is the reduced supply of blood flow and oxygen to the brain. Beetroots are rich in nitrates and can hence help to open up the blood vessels in the body and increase the blood flow and oxygen supply to your brain. After consuming beetroots the blood flow is increased in the frontal lobes and prevents dementia and other cognitive conditions as the frontal lobe area of the brain is the region these diseases are associated with.
6. Aids weight Loss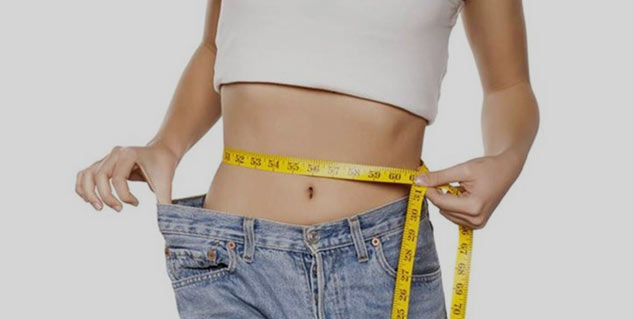 Low in calories and high in water content beets can surely be your best friend if you are someone who is trying to reduce weight. As beetroots also contain moderate amounts of protein and fiber it promotes weight loss by making you feel full and reduced appetite which would prevent you from overeating and bringing those unhealthy snacks.
7. Protects Liver
Packed with the goodness of Vitamin A and Vitamin B beetroot has the potential to prevent your liver from oxidative stress and any kind of inflammation. Along with this beetroot also enhances the liver's ability to remove or eliminate the toxins from the body. Beetroot extract can help to minimize the damage caused by any kind of liver injury.
Also read: Avoid And Eat These 5 Foods To Prevent Liver Damage Due To An Unhealthy Lifestyle
Beetroot Recipes to Include in Your Diet
Eating vegetables in the form of salad can be pretty boring sometimes and that is why we have got you 3 delicious and fun beetroot recipes for you to make that would be loved by everyone.
1. Beetroot Kanji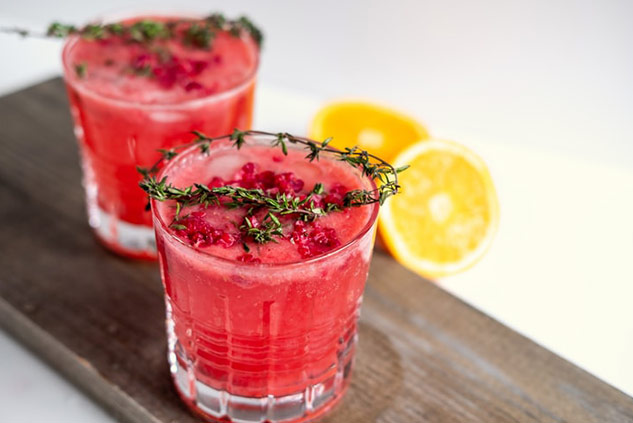 A very popular and delicious north indian beetroot drink that you can enjoy Bto boost up your immune system.
Ingredients
2 beetroots
5 medium sized carrots
8 cups of water
2 teaspoons of red chilli powder
2 tablespoons of mustard seeds
Salt to taste
Method
Rinse the beetroots and carrots thoroughly.
Peel them well and chop into 2 inch long sticks.
Boil the water and let it cool.
In a ceramic jar add beetroots, carrots, salt, yellow mustard and red chilli powder.
Mix the ingredients well and keep the jar in the open to sun dry for 1-2 days to make sure that it is fermented well.
Once fermented add water to your kanji and serve by garnishing with a few mint leaves
2. Beetroot Poriyal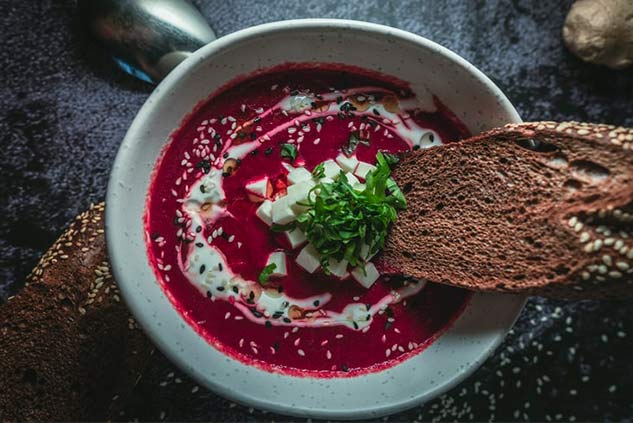 A tasty south Indian dish made with beetroots, coconut and spices.
Ingredients
2 cups of finely chopped beetroot
2-4 tablespoons of freshly grated coconut
2 tablespoons of coconut oil
1 chopped green chilli
10-12 curry leaves
1 teaspoon black mustard seeds
1 teaspoon urad dal
1 pinch asafoetida
Salt
Water
Method
Heat 2 tablespoons of coconut oil in a pan and add mustard seeds to it.
As the mustard seeds crackle add urad dal to it and cook until it turns golden.
Add green chilli, asafoetida and curry leaves to this and mix well.
Now add chopped beetroot to this and mix it well
Add in salt and ⅓ rd cup of water to this and give it a nice stir.
Cover the pan with a lid and cook till the beetroot becomes soft and tender.
Finally add freshly grated coconut on top and give it a nice mix.
Also Read: Post Workout Drink: Know Why Beetroot Juice Is Considered Best After Workout
3. Beetroot Cutlets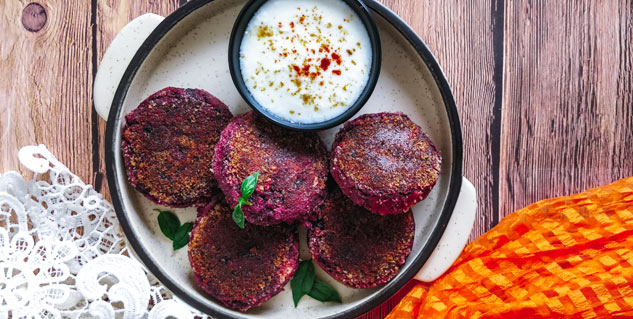 Who wouldn't love some delicious beetroot cutlets packed with so many health benefits of a rainy evening? An easy recipe to follow that would make a perfect snack which will help you to get all the health benefits and to satisfy that evening hunger.
Ingredients
1 large beetroot
2 large potatoes
2 medium carrots
3 tablespoons of roasted peanuts
1 inch finely chopped ginger
1 finely chopped green chilli
½ teaspoon garam masala
¼ teaspoon red chilli powder
Salt to taste
⅓ rd cup breadcrumbs
¼ teaspoon sugar
Oil for frying
3 tablespoons of all purpose flour
6 tablespoons of water
Method
Clean and rinse all the vegetables thoroughly.
In a pressure add vegetables, ¼ teaspoon of salt and water to cover the veggies.
Pressure cook this at a medium flame for about 15 minutes for 6-7 whistles.
Heat a small pan and add roasted peanuts to it.
Cook the peanuts till they become crunchy.
Peel off your boiled vegetables and mash them in a bowl.
Add all the spices to the bowl and mix everything well.
In a separate bowl prepare a paste of flour and water.
Take a small portion of beetroot mix and start giving it the shape of cutlets.
Coate these cutlets with flour mix and bread crumbs.
Heat the oil in a pan and deep fry these cutlets until they turn golden brown.
Note- You can always chose to shallow fry or air fry these cutlets to make them healthier according to your own preference
With inputs from Nutritionist Shilpa Joshi, Registered Dietitian in Mumbai Diet and Health Center
Read more in Healthy Diet