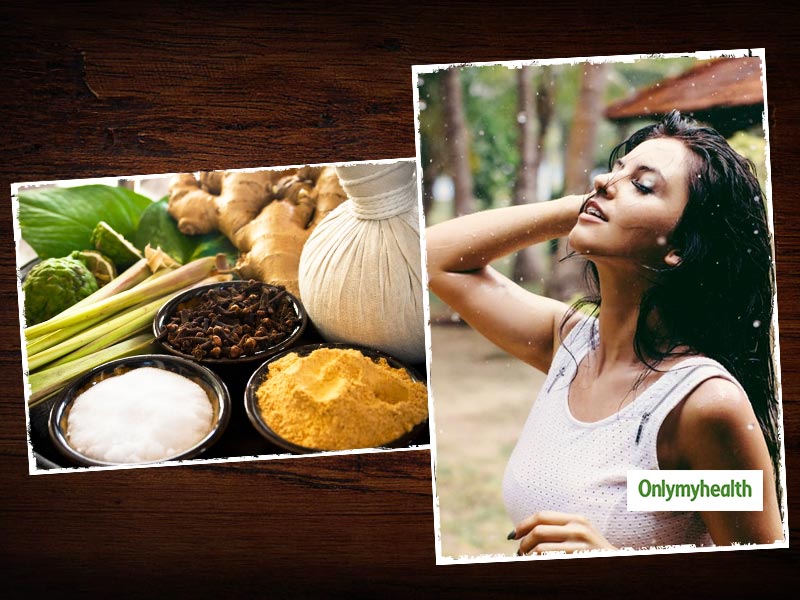 How to keep hair healthy in monsoon? The fact that monsoon nourishes every living being on Earth can't be denied but along with it comes a lot of humidity. The heightened moisture in the air makes your hair flat and its texture dull. The humid climate increases hair problems like excessive stickiness, dandruff, and hair fall. The problem can't be left alone without any solution as it will only make the situation worse. Therefore, to maintain healthy hair during monsoon, one must take some effective measures.
Here are a few ayurvedic tips that will help you maintain healthy hair during monsoon:
Aloe vera is the perfect natural herb to add some shine to your dull hair during the storm. You can make a hair pack from the jelly of an aloe vera leaf and apply it to your hair. Please keep it for an hour and then wash it off with your regular shampoo. It helps soothe frizzy hair, provides relief from an itchy scalp, restores the pH balance, and even fights bacterial growth on your scalp.
This season may offer you various temptations in the form of pakoras and other deep-fried items. Try not to indulge your taste buds too much into massive, high in acid, sour (pickles, chutneys, chillies, yoghurt, curry, etc.) and salty foods as they promote water retention, indigestion, hyperacidity and bloating.
A clean bowel movement is imperative for healthy skin and hair. To regularize your bowel movement, you can take Triphala powder at bedtime every night, with warm water or milk. Also, include prunes, figs and raisins in your diet.
To combat the dandruff issue, you can boil lemon juice, margosa (neem) leaves in water and curd, and use it to your hair and roots three times a week before washing it off.
Mix gooseberry digestive powder (amla churana), ferric oxide calx (mandur bhasma), and the leaves and flowers of hibiscus in an iron vessel. Leave overnight. In the morning, apply to your hair 3 hours before having a bath. You will see a noticeable difference in hair loss.
Two teaspoons of mayonnaise mixed with one avocado pulp is an excellent hair mask that is rich in vitamin A and E. It reduces split ends and encourages new hair growth. For more significant benefit, give steam to your hair half an hour after applying this pack. Steam allows the nutrients to reach the roots and opens up the pores, thereby providing complete nourishment.
To make your locks shiny and soft, you can take a ripe banana, add two teaspoons of milk to it and grind it in a mixer. Then mix Multani-mitti (Fuller's Earth), honey and chopped mint leaves to this paste and apply it on your hair. Banana and honey are natural moisturisers that will keep your hair soft and shiny. Mint leaves help to treat dandruff and prevent the scalp infection-free.
To moisturize your dry and frizzy locks naturally, you can soak reetha (soapnut), amla and shikakai in one-fourth cup of water overnight and boil this mixture in the morning until it reduces to half. Then add a teaspoon each of mustard oil and aloe vera gel and cooks further. When it gets thicker, add little gram flour and apply the paste on your hair. Wash off with water after a few hours. This ayurvedic home remedy will help prevent hair fall and promote healthy hair growth.
(The article has been medically reviewed by Dr Partap Chauhan, Director, Jiva Ayurveda)
Read more articles on Ayurveda