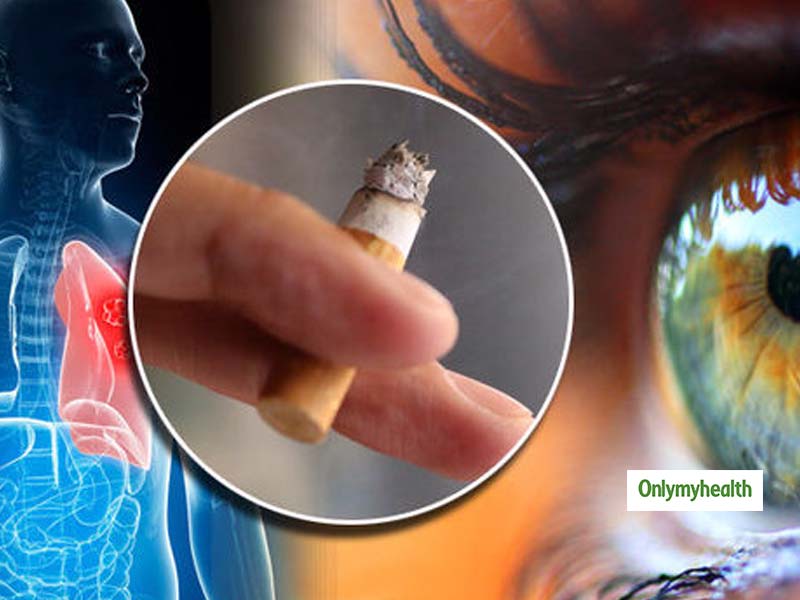 We all know how harmful tobacco is to our health, but still, we do not resist taking it. Many people think that consumption of tobacco only causes cancer of the mouth or lungs, but it is not so. Did you know that tobacco consumptions can itself be a reason for 9 different types of cancers? As a part of the campaign run by Onlymyhealth for No Tobacco Day 2020, we have our experts talk about the various aspects of cancers that happen due to tobacco consumption. Dr Shuchin Bajaj, Founder & Director, Ujala Cygnus Healthcare Services, explains that chewing and smoking tobacco is a known risk factor for many infections and increases the severity of respiratory diseases. "This harmful substance enhances the risk factor of various noncommunicable diseases, including diabetes, cardiovascular diseases, respiratory diseases, etc. All these conditions make one more prone to pandemic situations like COVID-19. Therefore, it's strongly recommended that smokers should opt for nicotine replacement therapies, such as gum and patches, which are designed to help quit tobacco," added Dr Bajaj.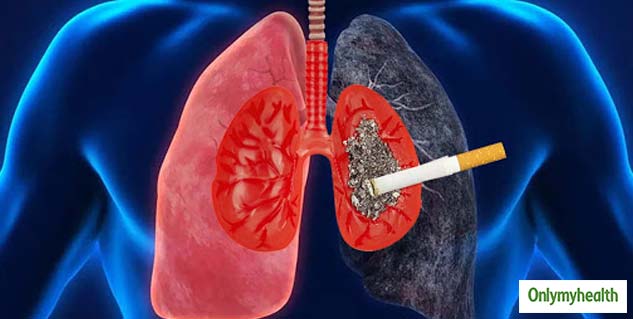 Also Read: Blood Cancer & Stem Cell Transplant: How Stem Cells Can Give Blood Cancer Patients A Second Chance
Tobacco Consumption & Cancers
Consumption of tobacco often results in worsening of lungs or lung cancer. But keep in mind that the consumption of tobacco does not give any cancer. Still, it can be a cause of around 9 types of cancer, including the cancers of mouth, liver, kidney, oesophagus, stomach, blood, Intestinal cancer, cancer of the pancreas, etc. In most cases, tobacco consumption cannot be the only reason for cancers. Still, its use can be limited by the person as regular consumption of tobacco can lead to the weakening of heart muscles, lungs, etc.
It depends on how the tobacco is being consumed. If someone has to habit of chewing tobacco, a white patch may appear on the inside of the cheek as an early symptom of mouth cancer, which turns red when it becomes severe and then becomes an ulcer. If oesophagal cancer, initial symptoms can be difficulty in swallowing food and even water in extreme cases. Also, the rising scare of COVID-19 is a concern for most of the cancer patients, and even the general public as cancer is a silent disease, which crept in without any notice. "COVID 19 cases are on the rise across the globe, and there is still a significant amount of cases which are yet unknown. Scientists have also attempted to correlate the lifestyle factors and the risk of infection with coronavirus. Early studies established the risk of lung infections, both bacterial and viral, increased requirement of ventilation, delayed recovery with cigarette smoking and pre-existing lung disease (COPD). A study conducted by the World Health Organization (WHO), observed increased COVID 19 infections in men with a possible link higher prevalence of smoking (47.6 per cent) in Chinese men.. China's Center for Disease Control and Prevention (CDC) also reported that more men were contracting and dying from coronavirus than women and was probably related to smoking. In a recently published study from the UK, it was observed that smokers are 1.45 times more likely to have complications as compared to never and former smokers. A similar observation was confirmed in a large combined study of over 2500 patients, published early this month. It is, therefore, reasonable to conclude that compromised lung function related to smoking could make people more prone to COVID-19," said Dr. (Col.) R. Ranga Rao, Chairman, Paras Cancer Centre, Paras Hospital Gurugram.
Stay Safe From Cancer, Quit Tobacco
The most primary stage of treatment is to quit tobacco. Secondly, its treatment depends on the stage of the person's cancer and is treated accordingly. Consumption of tobacco does not give anything other than problems in the body. Tobacco starts to damage the cells of the human body, further translating into serious diseases. This is the reason why global organisations like the WHO has taken up a specific day like to spread awareness about the various aspects of tobacco consumption on health.
Dr Piyush Goel, Pulmonologist, Columbia Asia Hospital, Gurgaon explains, "This day, which is the World No Tobacco Day, is a reminder of what remains to be done to get a healthy life. Most of the victims of tobacco use are young people who are easily impressed by the glitzy advertisements showing smoking as a mark of machismo than the gravity of its health impact as attempted through the photos on the packet of the cigarettes. One other major hurdle in abolishing tobacco from our lives is the social acceptance of smoking as a means to socialise, even at the cost of forcing others to get exposed to second-hand smoking and risking their lives. However, with smoking emerging as serious comorbidity in fighting off coronavirus disease, it may overcome the attraction of glamorous publicity around tobacco. According to the WHO, smokers are at higher risk of developing severe disease and death beside coronavirus, and is a major risk factor for noncommunicable diseases like cardiovascular disease, cancer, respiratory disease and diabetes."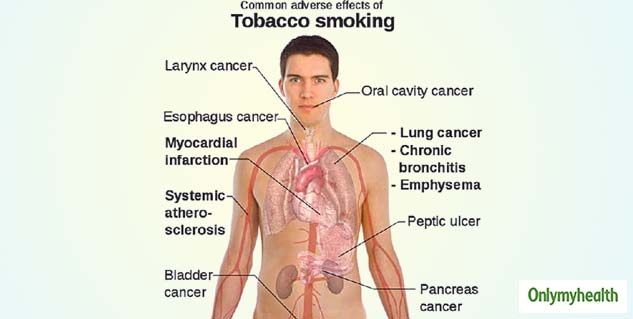 Other effects on the body due to tobacco consumption are:
Tobacco can cause lung cancer, as well as the person consuming tobacco, has a higher risk of other lung diseases like COPD, TB, pneumonia etc.
Tobacco consumption also causes type 2 diabetes, acidity problems, visual impairment, and reduces calcium from bones leading to an increased risk of osteoporosis.
In addition to these risks among women consuming tobacco, there is a risk of premature menopause, spontaneous abortion, cervical cancer.
Also Read: Cancer Patients Need To Take Extra Care During COVID-19. Here Are Some Doctor-Verified Tips
Lastly, it all comes to how to stop its consumption. Here are some tips:
Nicotine replacement therapy is often advised to get rid of tobacco consumption. Consult your respective doctor on the subject.
Gradually reduce the amount of tobacco consumed, make a distance from the group that accompanies the consumption of tobacco, and motivate them to quit.
If you feel like smoking or cigarette or eating tobacco, then immediately eat something or start chewing gum to divert your attention.
Prepare yourself mentally, focus on any favourite activity, focus on exercising etc. Apart from all these, you can get rid of this habit with the help of a psychiatrist.
Read more articles on Cancer