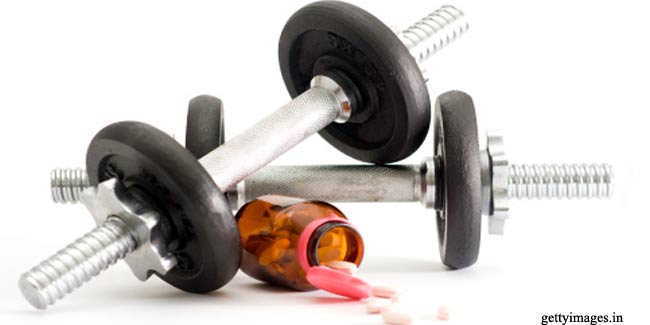 Gaining weight can be a difficult task and one may turn to weight gaining products to help pack on the pounds.


Weight gaining products (weight gainers) are either protein-based shake mixes or a combination of proteins, carbohydrates and essential fats that increase calories and catalyse muscular weight gain. The formulations provide one carbohydrates and fats in the quantities to boost the calorie count.

These days, you will find big sections lined with weight gaining products in the supermarkets. These are marketed to lure you and may hide the underlying practicality. These may not always turn out the way you want them to. Many time health risks related to them are overlooked.
Excess fat
Weight gainers don't make one gain muscular weight, unless you take the supplement in conjunction with a resistance training routine. If you don't all you'll gain is fat, which is the root cause of heart disease, stroke and diabetes.
Stomach problems
Ingesting large amounts of calories may cause gas, bloating and other stomach problems repeatedly.
Effect on insulin levels and headaches
Weight gainers may contain excess amounts of sugar, as it increases calories substantially. The excess amount of sugar in the body could cause an insulin spike, and one may also have headaches owing to this.
Prostate cancer risk and sexual problems
Weight gainers that have testosterone could put one at the risk of prostate cancer or an enlarged prostate. According to The Mayo Clinic, users may experience sexual problems such as testicle shrinkage and a decrease in sperm.
Kidney problems
Intake of weight gainers makes body hormones susceptible to kidney problems.
Cramps and muscle pull
With unrealistic supposition and exhaustive training may sometimes cause lack of sufficient fluid supply.
Other health concerns
The users of weight gaining products are at a greater risk of health problems such as sleep apnoea, acne and breathing problems.
Weight gain supplements work -- they make you gain weight but vary in calorie content. The one that seems to work for another may not work for you. It has to be one that meets your needs.

Most of the weight gainers need one's dedication and promise to follow a weight gain fitness regime besides the investment in cash. If you don't adhere to the workout regime or fail to comply with doses as per your instructor, you might have health concerns. It is advised to use only when its usage has been recommended by a health care professional.

The quickest way is not always the safest, therefore, it is better that your try natural methods to gain weight.
Read more articles Weight Gain.