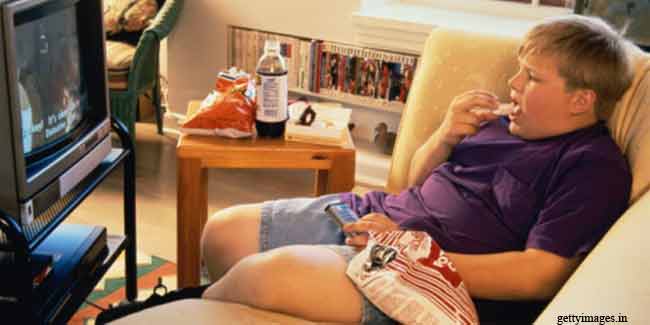 Childhood obesity builds a ticking time bomb of health hazards later in life and therefore, action to avert ill-health must start at the tender age.


Every parent wants their kid to be healthy, but sometimes ignorance related to food tends to make kids obese at a very young age. Parents underestimate weight gain in children and overlook it.
How to know if your child is overweight?

If you figure out that your kid has been putting on lately or his/her lifestyle is such that he/she has a tendency to put on weight, get them evaluated. Ask a doctor to compute his BMI (Body Mass Index). If the BMI is high in your child compared to his height, age and growth patterns, your kid is overweight.
Reasons behind Childhood Obesity

The reasons for childhood obesity can be many; some of the common causes (alone or in combination) include unhealthy eating habits, lack of physical activity, hormonal imbalance, genetic factors.
Lack of activity: In the electronic age, many children spend a lot of time being inactive. Their activities are limited to studies, playing video games, watching TV for hours and being stuck to computers. With the increase in inactivity, your child is at a high risk of packing on pounds.

Eating enticement: Children cannot be solely blamed for battle against obesity, as they are always being enticed to eat. Eating a poor diet filled with calories and fat laden foods is one of the foremost reasons of childhood obesity.

Whenever they see brightly coloured vending machines or commercials on the TV, they cannot stop themselves. Nowadays, children only wish to fill their tummy with junk food rather than nutritious homemade food. Junk food joints such as pizza and burger stops have become a hot spot for all kids.

It is extremely crucial to draw the child's attention towards healthy food. There have been studies in the past to suggest that children eating junk food daily have an impact on their cognitive ability and growth. An American study, published in the Journal of Epidemiology & Community Health in 2010, showed that children who consume junk food such as pizza, chips and biscuits before the age of three may end up having lower IQs than children who ate home-cooked meals with fruits and vegetables.

Genetic factors: The children born into families with overweight members are more likely to gain weight than others in their age group.

Emotional problems: Emotional problems may lead to weight gain in children. Those who cope with unpleasant emotions such as sadness or loneliness turn to unhealthy lifestyle and habits and gain weight over time.

Environmental factors: When children are growing up in an environment where unhealthy food choices are readily available, they are more likely to have weight issues.


It is a parent's responsibility to intervene when they see a child gaining excess weight. They shouldn't ask them to exercise, eat less and stick with nutritious food choice, but teach them to focus on changing their lifestyle for good.
Read more article in Weight Gain.