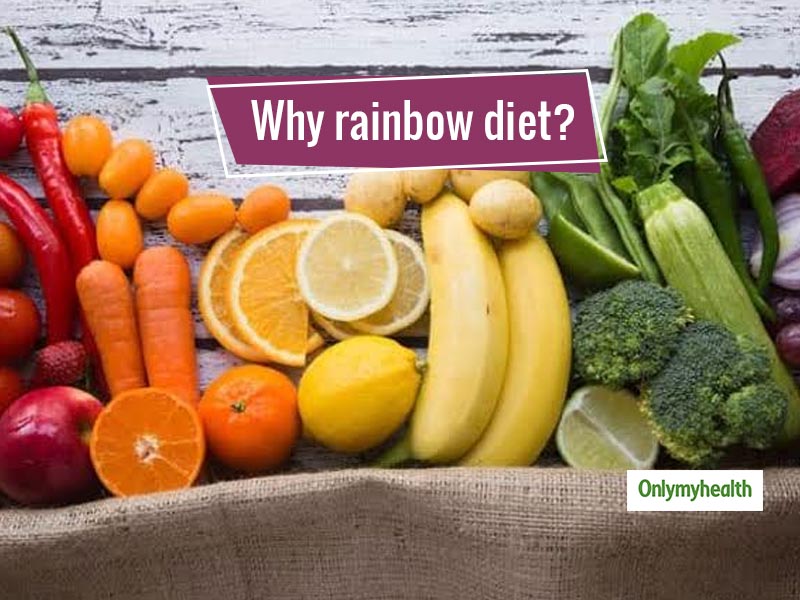 Rainbow diet includes all the colourful food items in your daily schedule. Check out what all varieties come under this type of diet and why.
To lose weight or to adopt a good healthy system of life, a person has to quit his/her habits of munching junk and not working out. Only a nourishing diet and physical activity combined together can contribute towards leading a tip top conditioned lifestyle. People go for different types of diet to maintain a healthy lifestyle. From keto to intermittent fasting, individuals go for many alternative to get yourself on a diet schedule. Since earlier times, Rainbow diet has also stayed in fashion. Metaphorically, you just have to eat a rainbow by following simple tips and tricks. Read further to know all the details you need to know about this type of diet.
What is Rainbow diet?
A Rainbow diet is the type of diet that includes various foods of different colours by adding a number of fruits and vegetables in your meal. Not just decent quantity of fruits and vegetables, but there are other coloured items too that are necessary for your body to obtain nutritions. Therefore, rainbow diet has proved to be very healthy and wholesome for our body nourishment. It is difficult to motivate yourself to include all the food items in your diet, but once you do, consuming rainbow diet on a regular basis might not be so tough.
Also Read: Prebiotics And Probiotics: Why Are These Essential For A Healthy Gut?
Food items/colours in rainbow diet and their benefits
1. Red (Tomatoes, apples, pomegranate, onion, beetroot, cherry, red pepper, strawberries, watermelon etc)
We all know that every red coloured fruit and vegetable is beneficial for our body, especially for the heart. Red food items are healthy for our heart as they contain powerful nutrients like cytochemicals. You should include items like tomatoes, beetroot and apples in your meals.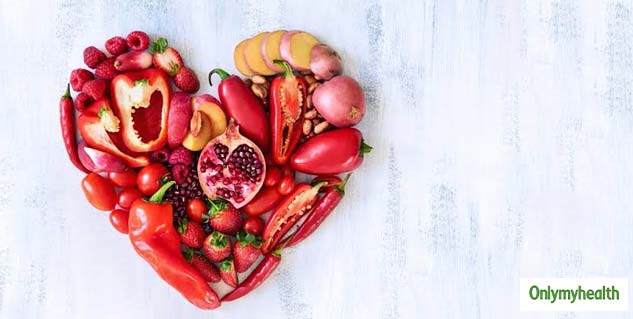 2. Green (Spinach, cabbage, beans, peas, capsicum, fenugreek, broccolli, lettuce etc)
It's a stated fact that green vegetables are the healthiest for your body. Moreover, they contain the most amount of powerful antioxidants too. Maximum green vegetables are leafy and the leaves have chlorophyll present in them, which is a very useful ingredient. In fact, eating green vegetables can increase your immunity, prevent cancer and acts as a detoxifier too. Hence, include these green food items in your dishes like sandwiches, salad, poha etc.
3. White (Potato, cauliflower, Garlic, spring onion, banana, mushroom etc)
The vegetables that are white in colour also contribute in providing various nutrients to your body and building your inner system stronger. Food items like potato, banana, garlic etc can help you prevent heart diseases, cholesterol and high blood pressure. Don't forget to include these in your meal! They are super tasty and healthy.
4. Yellow (Corn, lemons, yellow pepper, mangoes, pineapple etc)
Rainbow diet also covers yellow fruits and vegetables like corn, lemon, mango that are very beneficial for you as it contains elements like bromelain and papain. These elements keep your digestive system safe and working, and prevent inflammation. These fruits and vegetables are also good for your eyes.
5. Orange (Carrots, oranges, squash, pumpkin, papaya, sweet potatoes etc)
Orange coloured ingredients such as carrots, oranges, papaya etc have keratin present in them, which improves your eyesight. In fact, it is also beneficial for your hair and skin health too. This colour can easily brighten up your plate, enhance your taste and nourish your body.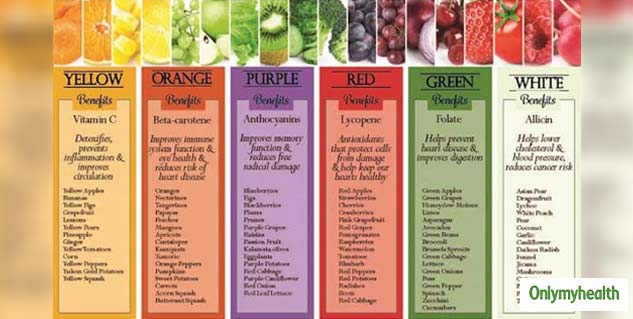 Also Read: Chicken Vs Fish: Which is Better For Your Health ? Explains This Nutritionist
6. Blue and purple (Blackberries, blueberries brinjal, purple cauliflower, passion fruit etc)
Blue or purple coloured fruits and vegetables are rich in the elements named anthocyanins and respitrol that keep your heart healthy. Food items like blackberries, brinjal, blueberries etc increase brain power and have anti aging attributes too.
These were the healthy benefits of having a colourful rainbow diet. Following this diet and consuming these everyday can set up your lifestyle and make you fit and healthy.
Read more on Healthy Diet