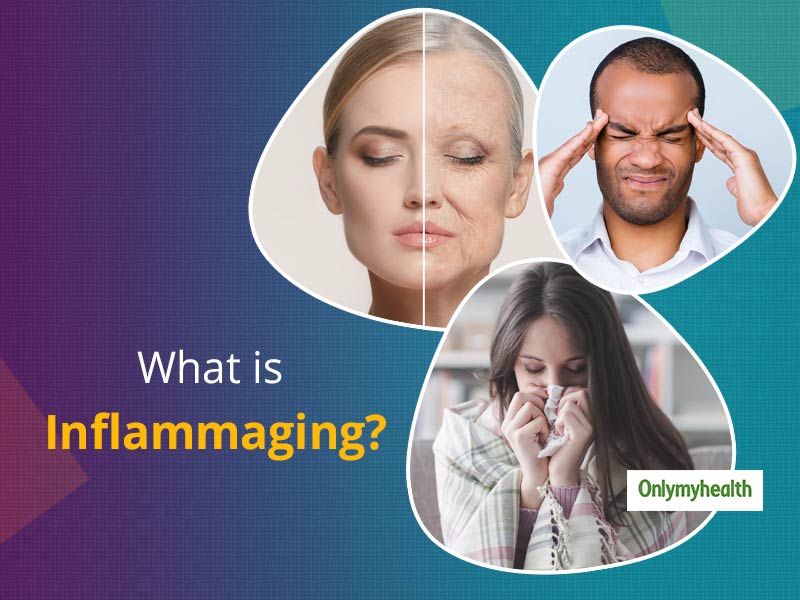 Inflammaging is a chronic low-grade inflammation that can cause myriad age-related diseases. Know all about inflammageing in this article.
Growing older is something that we do not have control over. Increasing age brings a lot of changes in the human body besides physical changes. But aging is not the same for everyone. While some people age like a fine wine, for others, aging is all about diseases, wrinkled face and unsightly appearance. The main reason behind this is inflammation. This can cause premature aging which is also referred to as inflammaging. Not many people know about this concept and so we contacted Dr. Jay Kirtani, Senior Consultant, Internal Medicine and Geriatrics, Max Hospital, Saket to know more about inflammageing and factors associated with it.
Aging not only deteriorates the immunity but there is another condition closely linked to ageing and that is inflammageing. It is a chronic condition that hampers the physical, psychological and emotional well-being of a person and increases the risk of age-related diseases. It also inhibits the struggling immune response of the body. Read ahead for more details.
What Is Inflammageing?
'Inflammaging' is low-grade chronic inflammation in aging associated with increased morbidity and mortality in the geriatric population. Chronic systemic low-grade inflammation is a hallmark of obesity and insulin resistance associated with aging. Inflammation is also a risk factor for COVID-19.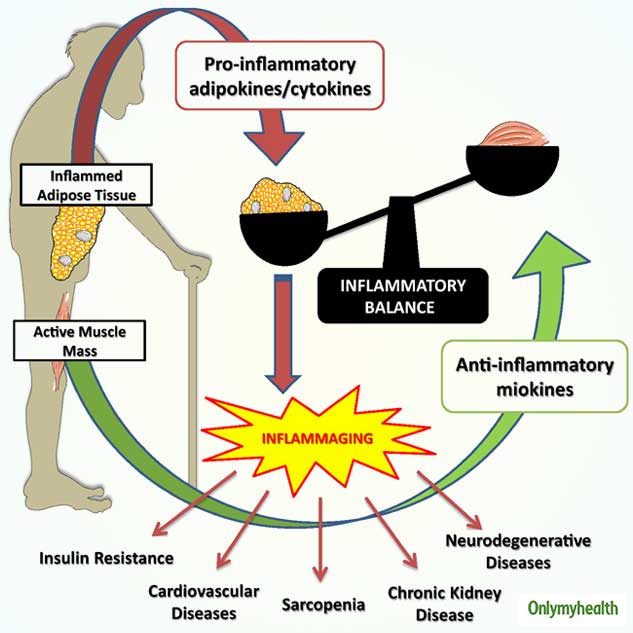 What factors are associated with inflammaging?
Factors associated with inflammaging are endogenous host-derived cell debris (damaged organelles, cells, and macromolecules) that accumulate with age, senescent cells, immunosenescence ( gradual deterioration of the immune system associated with ageing) aggravated by persistent infections by viruses such as cytomegalovirus, HIV, and Epstein–Barr virus, accumulation of harmful products (pathogen-associated molecular patterns) and metabolites having local and systemic effects produced by the gut and other microbiota (oral) that undergo profound changes with age, increasing activation of the coagulation system associated with aging.
Also Read: Anxiety Could Be Due To Thyroid Gland Inflammation
Core Inflammatory Components
IL-6 is the most prominent cytokine having a strong chronic inflammatory component associated with multiple chronic geriatric illnesses. Other inflammatory mediators are IL-1β and tumor necrosis factor-α. These inflammatory components are also associated with cytokine storm in the case of COVID 19 illness and are associated with increased morbidity and mortality in geriatric population. You must have consume a diet to fight inflammation.
Are there any warning signs of Inflammaging?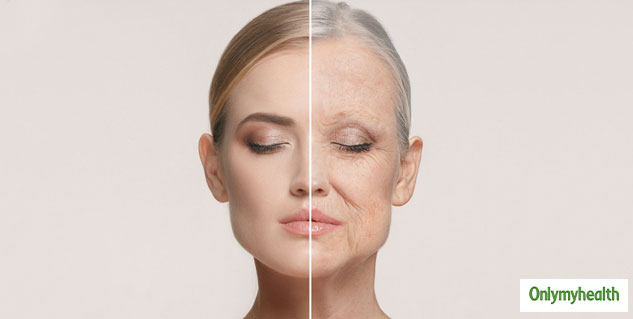 By identifying the initial signs of a condition, you can prevent it by taking necessary steps. Inflammaging also gives alerts that you should identify on time to stay preventive. Here are some warning signs of inflammageing:
Frequent Illness
Chronic Pain
Visible Wrinkles and Aging Lines
Brain Fog or Temperamental Issues
A noticeable difference between your chronological age(facial age) and internal biological age
Preventive and therapeutic Strategies for Inflammageing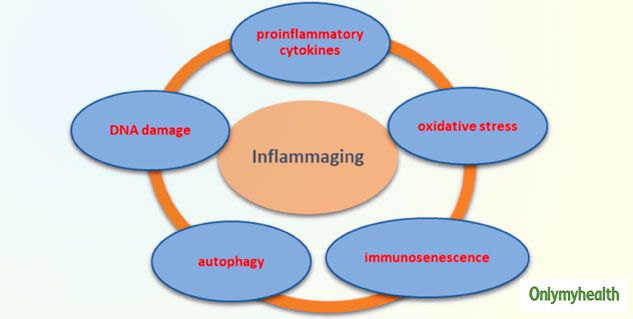 under research strategies are the agents that eliminate senescent (old cells) of the body, neutralization of proinflammatory cytokines such as IL-6, effective strategies are vaccines against aggravating viruses (CMV and HIV), steps to boost the immune function ( stop smoking and eat a diet rich in fruits and vegetables), healthy lifestyle (age-appropriate physical exercise and elderly tailored diet, including pro- and prebiotics).
Inflammaging is not just about visible aging but also age-related diseases and degeneration. This can trigger various age-related diseases like hypertension or high blood pressure, cancer, arthritis, atherosclerosis, to name but a few. Thus, it is important to prevent inflammaging.
Read More Articles in Other Diseases