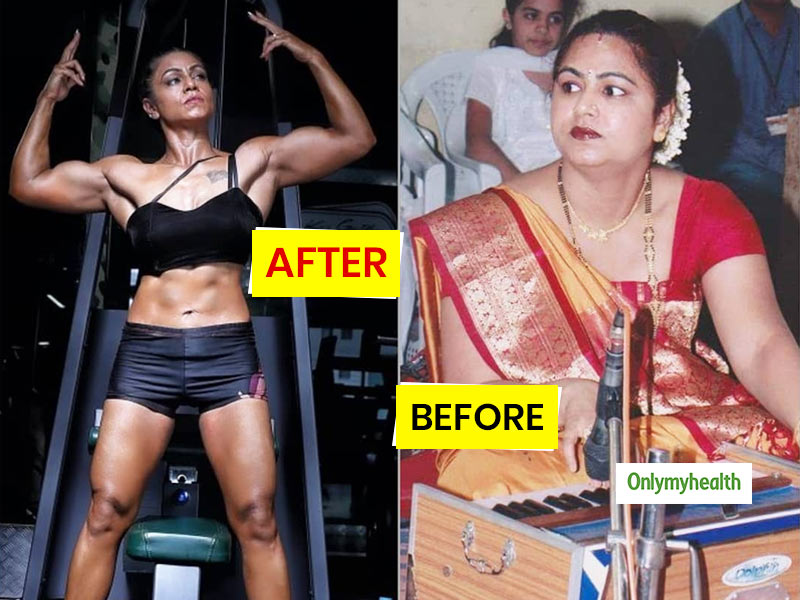 Kiran Dembla, A mother of two kids, lived quite a nonchalant life. She thought she was leading a perfect life with her family until one day she was diagnosed with a blood clot in her brain. In an interview with The News Minute, Kiran says, "My husband and I were shocked, and as I looked at the mirror, I realised how much I changed in the past decade. I felt nauseated by the medicines the doctor had prescribed."
She had studied music for 23 years and got married in the year 1997. She, along with her family, shifted to Hyderabad in 2006 and that's where her music career began. Little by little, Dembla started to step out of her comfort zone. Kiran says in conversation with Brut, "Even if you step out of the house, you start getting used to it. I started leaving the house to go to yoga, to go swimming, stepping outside the door itself is a big deal for a housewife. Especially for people who don't leave the house."
However, she overcame all odds, lost oodles of weight and is now is not just a bodybuilding champion, but also a celebrity fitness trainer and DJ. From being a 'simple homemaker' to a bodybuilder, she had come a long way. Kiran Dembla had a struggling life. She took a seven-month fitness course and worked out for another seven months to build her body.
Also Read: True Story Of Body Transformation: The Inspiring Journey Of Becoming Indian 'Arnold'
She Weighed 75 Kgs And Was Fat
During the time of her treatment, she did not realise that she had touched the weight bracket of 75 and looked nothing like what she did when in college. All added to the mental stress and torture, and she had nothing but only stress which took a toll on me. In 2007, started going for yoga classes and got hooked on to gyming. It took her 6-7 months of rigorous exercising that helped her lose all the weight. She lost 25 kilos and was motivated enough to open her gym. She completed a fitness trainer course and opened her gym in Hyderabad. This was just the starting for this yummy mummy in the world of fitness and bodybuilding.
Fitness & Dembla
Fitness helped Kiran Dambla become mentally and physically healthy, and she continues to inspire women that no matter how old you are, you can always dream and work towards it. There are no boundaries and limitations in life. Her story is a good tale, telling us to go for what our hearts desire. She, who gave up at the age of 30, now stands tall and bulked up at the age of 45, who is also giving tips to others to lose weight. She also represented the country in the World Bodybuilding Championship in Budapest, 2013 and secured the sixth rank.
Her everyday morning routine consists of heading to the gym at sharp 5 am and here's when she can proudly say that the gym is her drug. But it wasn't an easy task to convince her family when she finally started to see changes in her body. Kiran says to the Brut, "I'm a daughter-in-law, a mother, and for that mother to wear a bikini, that was a big task. I asked my husband, that I wanted to enter this championship, but he refused. I'd become stubborn about this. I told him I am going to enter this championship."
Also Read: From 102 Kilos To 68 Kilos: This Is How This US-Based Woman Lost 34 Kilos And Got Her Health Back On Track
Training The Stars
View this post on Instagram
The fitness routine and workouts not just helped Dembla shed weight physically, but also caught the attention of the Telugu Film industry. Her star-studded clientele now includes Tamannaah and Anushka Shetty for Mirchi and Baahubali. She had helped other clients like Rajamouli, Prakash Raj, Ram Charan, Upasana, and Prabhas get an instant transformation according to their roles in the film.
Read more articles on Exercise and Fitness