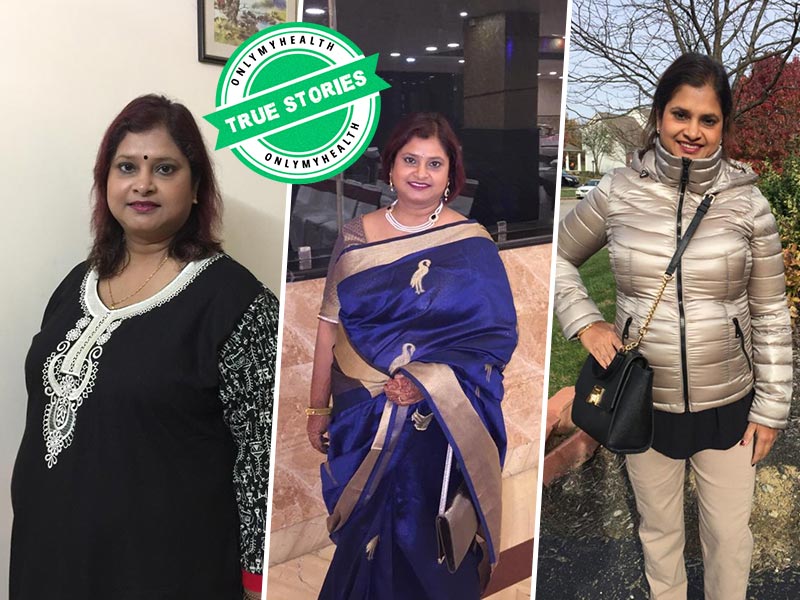 Health comes foremost, which we often take for granted due to various life cycles. On this World Health Day, we bring to you an inspirational story of Anindita Deogahria. Her story is not about overnight success. She did not achieve anything by just going in for crash diets. It took her 1.5 years to lose a chunk of weight and is still working on it. Meet Anindita Deogharia, a 47-year-old working mother of two boys and the President of a Pharmaceutical Regulatory Company, Global Pharma Consultants, LLC. It struck her hard when she saw the weighing scale touching 102 kilos. Her life came crumbling down when her Type 2 diabetes reached 11.4. Anindita was 44 and weighed 226 lbs when she decided to get serious about losing weight.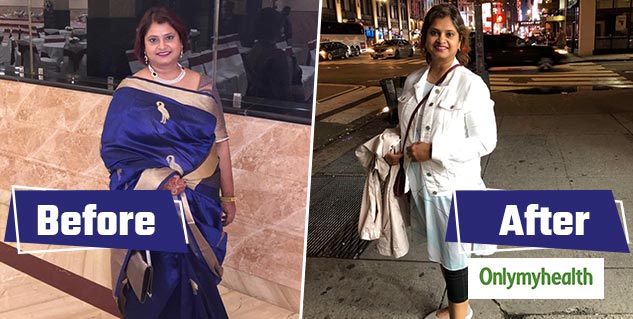 Anindita's mother was obese and had osteoarthritis. There came a point when she lost mobility in her legs and was confined to bed. The surprising fact over here was that her mother had no other illnesses and was in this situation only because of her weight. That's when she realised to shed the excess weight for a quality life.
Anindita's Diet
Losing all that weight was nothing less than an emotional journey for Anindita. Initially, she started with a vegan diet plan. "I read a book called "Eat to Live" by Dr Joel Fuhrman. I followed that plan and lost 14 lbs (6kgs) in two weeks. That gave me the motivation to keep working at it. It was a healthy way to lose weight, and I felt great with that plan," shares Anindita.
Also Read: Get Fit Like Rishabh Who Lost 46 Kgs By Just Walking
Apart from all that extra weight, she also had chronic health issues like diabetes and high blood pressure. She was adamant about losing weight to get all her health back on track. If that hadn't happened, her doctor would have put her on insulin to control her diabetes. "That's when I decided to try the diet plan from my doctor's office, which was essentially a low -carb, high-protein diet," she adds.
One of the milestones that she achieved in this whole process was when her A1c was at an all-time low (5.8), which was at 11.4 at a certain point. Her happiness knew no bounds when she was taken off medication for diabetes and blood sugar.
Despite losing 34 kilos, she still maintains a low-carb, high-protein regimen. Her diet plan after losing weight comprises of:
She takes oats with lots of berries and cinnamon powder in the morning. She watches her portion sizes very closely.
She takes one protein shake for lunch. For dinner, she usually would have one chapati and lots of veggies and some protein.
In between meals, she takes a few nuts or one slice of apple or celery with peanut butter.
She strictly stays away from rice, potatoes, white flour and sweets.
She has stopped taking sugar in her tea for the last few years.
She also eats moong sprouts and other beans when possible.
Anindita's Fitness Plan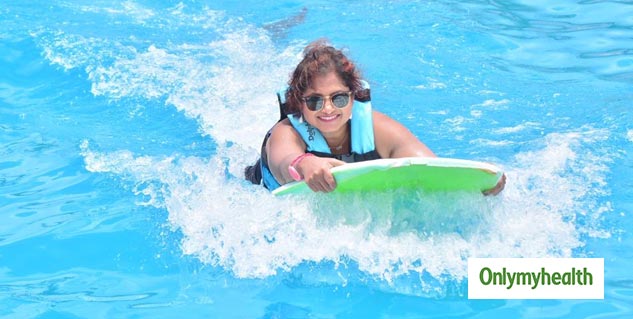 At the start of her weight loss journey, she joined Bollywood exercise classes. Reminiscing about those hard days, she shares, "Initially it was hard, but since I loved to dance, I just kept going to the class three times a week, and I started noticing the difference in my stamina. My weight started coming off. When I lost the majority of my weight, I had added strength training two days a week with a personal trainer."
Also Read: Here's How Carb Cycling Helps You Lose Weight
The Start Is Never Easy
She always had it in her mind to lose weight but quit after some time. She realised that everyone needs to have their motivation. For Anindita, it was her deteriorating health. She explains that it is never easy to start, " One becomes cranky, irritable. That's why you need support from people around you to help you through this. My husband started the vegan diet plan with me to support me but eventually stopped. Once you get to see the results, you get motivated on your own."
Her goal was to get her health back and be there for the kids. She believes that one has to be consistent in whichever program you choose. "Don't give up. If you fall out of the track, try to get back on it as soon as you can and keep at it. Weight loss is not just about shedding pounds; it is about getting healthy and fit," shares an elated Anindita.
Message From Anindita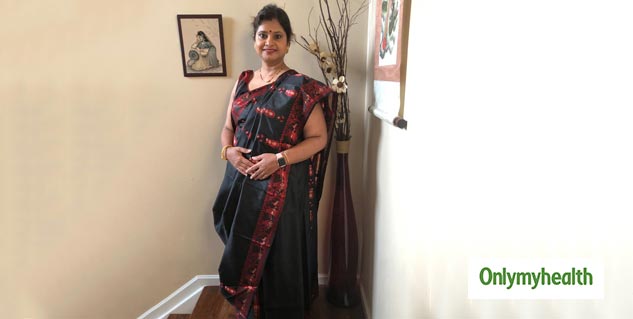 For all the women suffering from weight-related insecurities, Anindita has something to share, "You are not alone, and it is not impossible to lose the weight. Just pick one program and stick to it. Try to create a support system around you who will help you and hold you accountable. I am just trying to encourage women who feel hopeless that after a certain age they can't lose the weight."
Read more articles on Weight Management