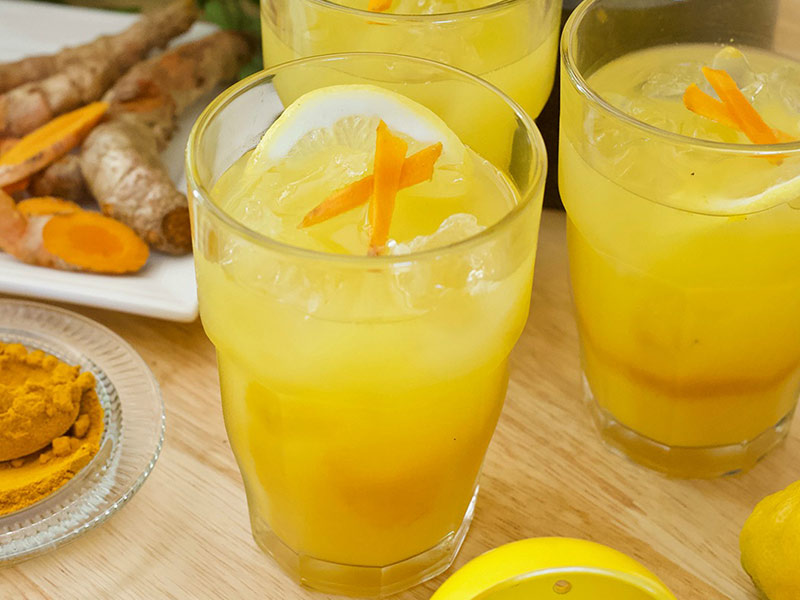 Lemonade is the king of summer drinks, agree? No other cocktail or mocktail can replace this conventional drink. Lemonade is refreshing, rejuvenating and revitalising. Whenever you feel low on energy, sip on this beverage and you'll feel reenergised instantly. But in this article, we will talk about another version of lemonade that is exceptional for stress relief and depression. Yes, this drink can heal some of the common mental health woes like stress, anxiety and depression. This is because apart from lemon, turmeric is added to this lemonade which increases the benefits. In these gloomy times, we surely need something that can uplift both our physical and mental energy. Scroll down to know the benefits and recipe of turmeric lemonade.
How to Make Turmeric Lemonade?
Let us first tell you how to make this turmeric lemonade:
First of all, take out the juice of 2 lemons and 1 orange.
Now add sparkling water to a jar and mix lemon and orange juice in it.
Now add one piece of raw turmeric root and keep it aside for an hour. After that sieve it.
Alternatively, you can also add half a teaspoon of turmeric powder and mix.
Now add a teaspoon of honey to this water. You can increase the amount as per your taste.
Keep it in the fridge or add ice cubes before consumption.
This lemonade tastes best when consumed chilled.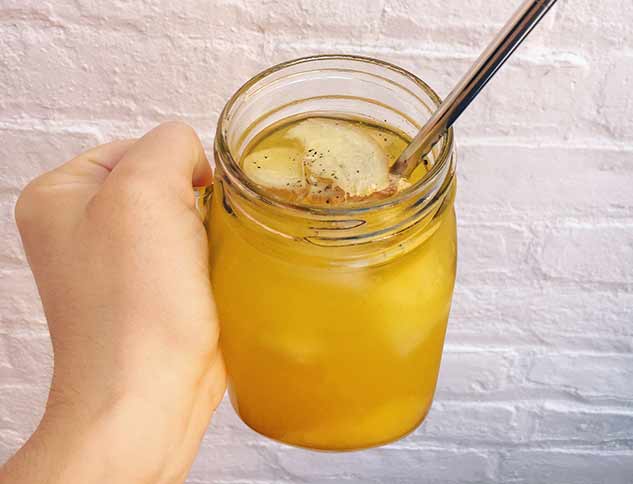 Turmeric Lemonade for stress and anxiety
Turmeric is an ayurvedic herb that holds potential benefits like boosting immunity to keep seasonal illnesses at bay. Turmeric is beneficial for your physical and mental health. It helps control your mood swing and release stress from the mind. In addition, turmeric has antidepressant properties as it has antioxidants that can potentially combat stress. Lemon, on the other hand, helps in increasing the effects of turmeric thereby making it more effective. Therefore, consuming turmeric lemonade helps in reducing stress and dealing with the symptoms of depression.
Other Turmeric Lemonade Benefits
Regular intake of turmeric lemonade has a positive effect on psychological health. It boosts mental health.
Consuming this water of turmeric and lemon also aids in weight loss. Even if you consume it daily, it won't cause any side effects on the body.
Turmeric has curcumin that increases essential protein levels in the brain. This protein helps in boosting cognitive functions including memory, focus and concentration.
Turmeric also helps in regulating neurotransmitters in the brain that are helpful in further improving mood, sleep and appetite.
Lemon in this lemonade is rich in vitamin C which is helpful in improving physical and mental health. Along with this it also improves your mood, hence regular intake of turmeric lemonade helps in fighting depression.
This special drink helps in reducing the cortisol hormone or stress hormone in your body.
In a nutshell, turmeric lemonade is a powerful drink that not only refreshes the body but also energises the mind. You must have this drink whenever you feel low, anxious or depressed. Also, since this is a healthy drink, it won't cause any weight gain. Instead, it helps in regulating weight.
Read More Articles in Healthy Diet