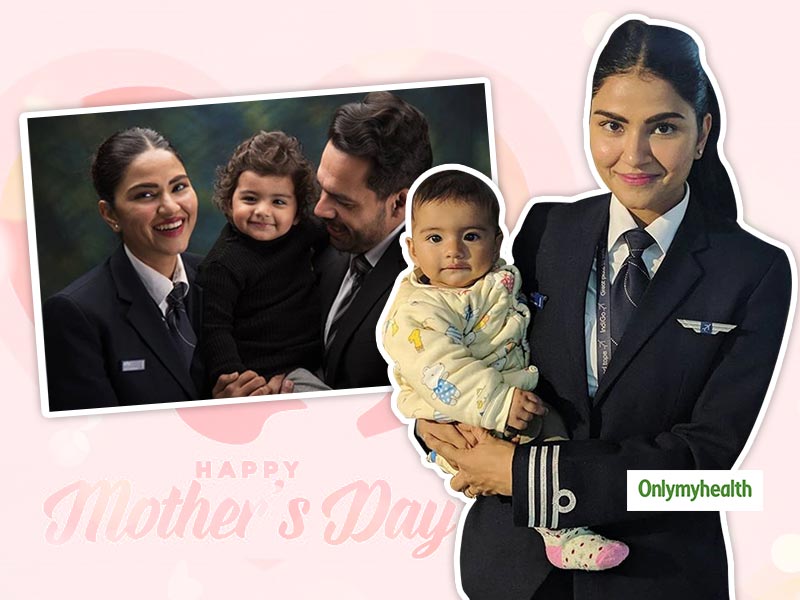 Motherhood is special and challenging and it gets tougher with a demanding job like that of a commercial pilot where you don't get to see your loved ones for days let alone be home. Captain Ritu Rathee Taneja, an Airbus A320 captain and mother of 2 YO Rasbhari is one superwoman who loves to fly but above anything else, she is her darling daughter's mother. Her idea of motherhood is slightly different from others and that is what makes her special. She has been through a lot of hardships in her life that made her stronger. This pilot family is popular on Youtube as 'Flying Beast' with over 2 Million subscribers. OnlyMyHealth spoke to Ritu Rathee and here's her take on motherhood and the problems faced by pilot mothers.
Giving up the captaincy for motherhood
It is not easy to let go of a promotion that Ritu Rathee did to embrace motherhood! These days where most women are career-oriented, Ritu and husband Captain Gaurav Taneja mutually decided to embrace parenthood. In Ritu's words, "My priority has always been family. We thought that was the right time and so we decided to hold captaincy and promote our personal life with becoming parents."
The Connection between Mother and Child is Divine
"Even when we don't meet for days, she comes rushing to me for a hug when I step inside the house. She can even feel when I am around and calls me." This shows that the bond between a mother and her child is beyond physical presence. No matter after how long we meet, the warmth is always the same. The mother-daughter duo Ritu and Rasbhari have a heart-to-heart connection.
Upon asking an unforgettable moment, Ritu said it has to be when she was in my womb. I could connect to her moves. The bond is now strengthening with each passing day. Presently, even if we don't meet physically for days, we are connected emotionally. Separation does strengthen the bond.
Also Read: Important Health Takeaways For New Parents
It gets frustrating sometimes
"Even though I was prepared for this since the beginning, it becomes frustrating at times to have such a life. It is easier for parents with a 9-to-5 job as they get to see their child at the end of the day whereas, in our profession, this uncertainty takes a toll on our emotional and mental wellbeing. At times, it pinches me because a mother is a mother and no one can take her place."
When I'm With my Baby, I am only with her
Many people believe that parents should be with the child in the growing years but Ritu has a different take to this. According to her, whatever time you are giving to your child, it should totally be theirs. Even if it is two hours, that time is more than enough to bond with the baby. You can cover up everything in just a few hours if you are willing to, that surely Ritu is.
Also Read: Worried About Your Child's Disinterest In Studies? Try These Remedial Options
Want to raise my daughter as a strong person
"I have been faced a lot of struggles in my life to reach where I am. I was resilient enough to pave my way and I want my daughter to be stronger than her mother. We don't want to restrict her but we want her to see things, explore and learn. We travel a lot and that helps. I am preparing her how to be happy even if when I am not around."
Is it tough to make your daughter understand why her parents are not always with her like others?
For six months she was only with me then I realized that someday, I won't be here and she must learn to adapt to this. I made her spend time with her Dadi-Dadi so that she understands about family and that someone is always there to take care of her.
It is very difficult for a toddler to gel up with others but my daughter is very easy in that case. She is extremely accommodating and that's something she's born with it.
Also Read: Important Tips For Couples For First Pregnancy
Taking care of her during the lockdown
Ritu tells, "Honestly, she is enjoying this time to the fullest. She knows that this time is special as she is 24*7 surrounded by parents and grandparents. She loves to go outside and play in the park, still, she is being very calm to being locked inside the home. We take her to the terrace and do yoga, walk & play to get some fresh air. She does playing with fellow kids but she loves to be with us more. I am utilizing this time to teach her. She is a quick learner and loves to read, write, and all thing creative just like her parents."
Read More Such Articles On Parenting