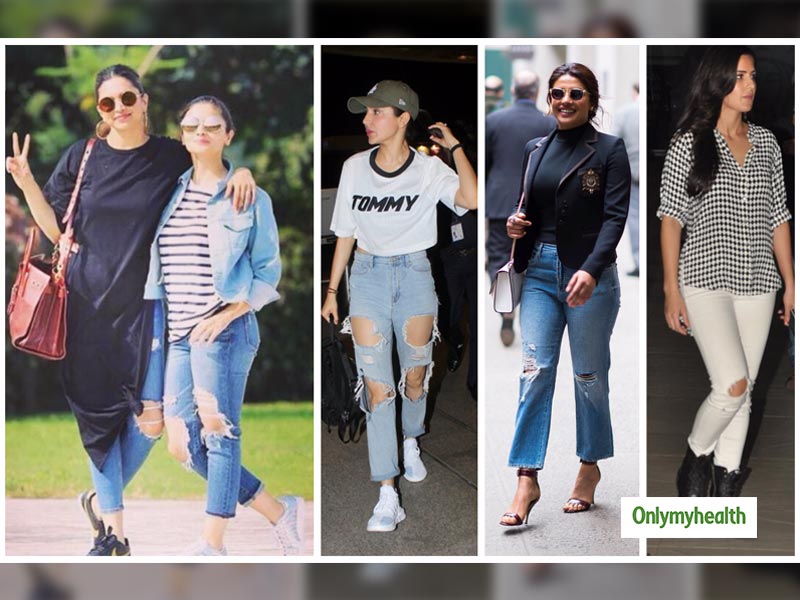 Be it sunny, rains or dark winters, denim is classic and never go out of style. It looks chic as a casual garb and can look equally semi-formal if paired well with accessories. Denim trend never goes out of, but it surely has its variations every season. Despite the heat, we all love to wear denim as a part of every outfit. Be it in the form of lowers, tops or even jackets, denim is one of the most versatile outfits and can be styled in many possible ways. Keeping up in line with the recent fashion trends, here are some of the latest denim trends that are seen everywhere from celebrities to social media influencers this season!
Distressed Denim
Rugged is the new in! Distressed or torn denim is very much in fashion and can be paired for a casual as well as a semi-formal event. Wear it with a peplum top or a casual crop top; it surely gives outfit goals. Taking inspiration from the bubbly Aliaa Bhatt, she has paired her denim with a crop top and white sneakers. One can also throw in some accessories to add some glam to your everyday dressing. One tip for all: There is nothing as 'too much of denim' on anyone.
View this post on Instagram
Buy Online: AKA CHIC Women's Relaxed Jeans, MRP Rs 1,999, Offer Price Rs 639
Denim… Everything
As we said, there is nothing as 'too much of denim', the outfit inspo given by the 'Student of the Year 2'rising star Ananya Pandey in a denim on denim look is every bit to kill. Throw in a denim skirt, a denim crop top and a jacket to go with it. Denim on denim is very much a trend and never goes out of style. Also, the other way of styling double denim trend is to pair an open denim shirt with a pair of skinny jeans and a black tee. Denim looks versatile and to add a touch of sparkly, just put on some bling boots.
Also read: 5 Ways to Style Palazzos this Summer for every Occasion
Black on Black
Black is a colour, which never goes out of style, and black denim are a keepsake forever. Just pair black denim with a black tee, and you are good-to-go for a movie in no time. With not much ado, denim looks super chic and need minimal styling to be done. Rock this trend just like Anushka Sharma did and look your stylish best in no time!
View this post on Instagram
Buy Online: Red Tape Men's Slim Fit Jeans, MRP Rs 3,499, Offer Price Rs 1,154
Also read: 5 Styling Secrets for Men: Know how to look more fashionable
Printed Denim
Denim looks good in any form, especially if it has some prints on it. Be it floral pinstripes or just a splash of colours; printed denim are a great way to add some spunk to your summer style. Throw on a denim dress with some floral print or just a bootcut pattern with some detailing in the bottom. This style is also classic and looks chic in every form.
View this post on Instagram
You can always fall back on this versatile outfit for any occasion without giving it much of a thought. Rock it just like your favourite celebs or make a style statement of your own; the denim trend is here to stay and will be stylish forever!
Read more articles on Fashion and Beauty