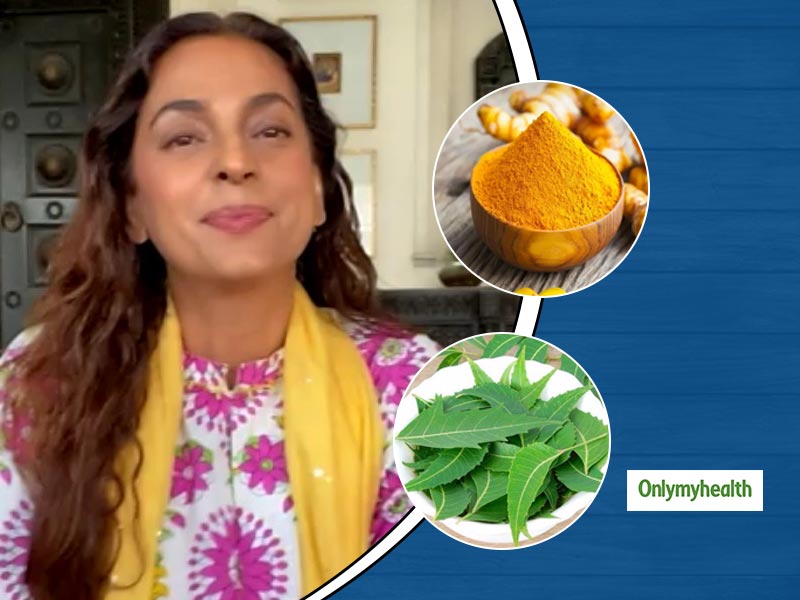 Did you know that you can make yourself an air purifier with neem and turmeric? Here's what actress Juhi Chawla has to share
The one thing that has undoubtedly become a part of your daily hygiene practices is using air purifiers and sanitisers to keep our hands and surroundings clean. But is hat safe to use alcohol-based sanitises and purifies all year long? We do not want everyone to keep sniffing alcohol particles whenever at home? For the same, we recently had Juhi Chawla taking to her Instagram telling her insta fam on how to make an ayurvedic air purifier from scratch from simple ingredients like Neem and Turmeric.
Ayurvedic DIY Purifier
Do you know that a purifier can make your surroundings pure and this is what we all had forgotten before the COVID-19 hit us this bad? Yes, the actress Juhi Chawla, along with putting out a recipe of making a DIY Ayurvedic air purifier wrote, "The room can be purified without even installing a purifier at home. One needs to look around and believe in Ayurveda. The COVID-19 has reinstated belief in Ayurveda and one such hack that sanitise your home and hands is right here."
Also Read: All You Need To Know About The Medicinal Benefits Of Parijat Or Night Jasmin
Wondering how to use neem leaves and turmeric for sanitising hands and home? Listed below is a DIY recipe to make a sanitiser and purifier sans alcohol:
Take neem leaves in a bowl. Make sure that those leaves are fresh and clean. To clean out the dust, dip them in water and clean leaves with soft hands.
To those leaves, add half a spoon of turmeric.
The next step is to fill the bowl with water and mix well.
This bowl can be kept anywhere in the room, which can help purify the air, and also the water can be a hand sanitiser too.
Health benefits of Turmeric are:
Beneficial for the skin, and used as an antiseptic on wounds and scars
Reduce the risk of heart attack
Best for Oral Health
Helpful to relieve knee pain
Great for people who have diabetes
Advisable for those who have insomnia
Turmeric milk before bedtime is a great way to enhance immunity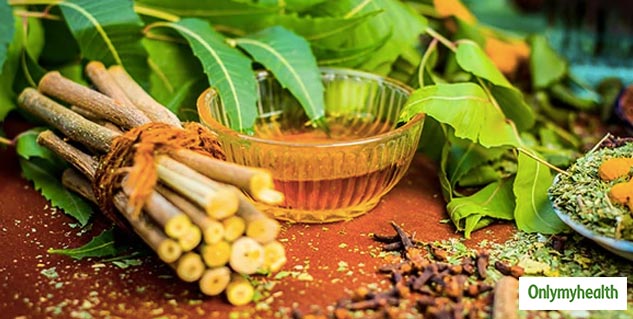 Health benefits of Neem Leaves are:
1# Anti-ageing agent: Neem leaves slow down your ageing process, and it keeps the skin young.
2# For burns and boils: Applying neem oil or ground leaves on the burnt area provides relief. Neem leaves have antiseptic properties, which make it apt for skin-related woes and wounds. For the same, make a paste and apply on the affected area to see results.
3# For Jaundice: Neem leaves is extensively used in curing jaundice. For the same, dry ginger power mixed in neem water is apt to clear the obstruction for the bile to reach the intestine.
4$ Stomach issues: If stomach issues are troubling you then having neem juice every day can help clear out the bacteria causing infection.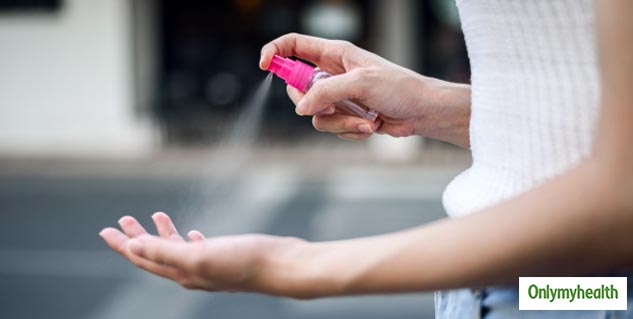 Also Read: Know The Innumerable Benefits Of Bathing with Neem Leaves Water
But more than anything, both these agents are great for the skin and have no side effects even if used in excess. Hence, ditch the alcohol-based sanitisers and make this one at home for a lush skin and clean surroundings.
Read more articles on Ayurveda