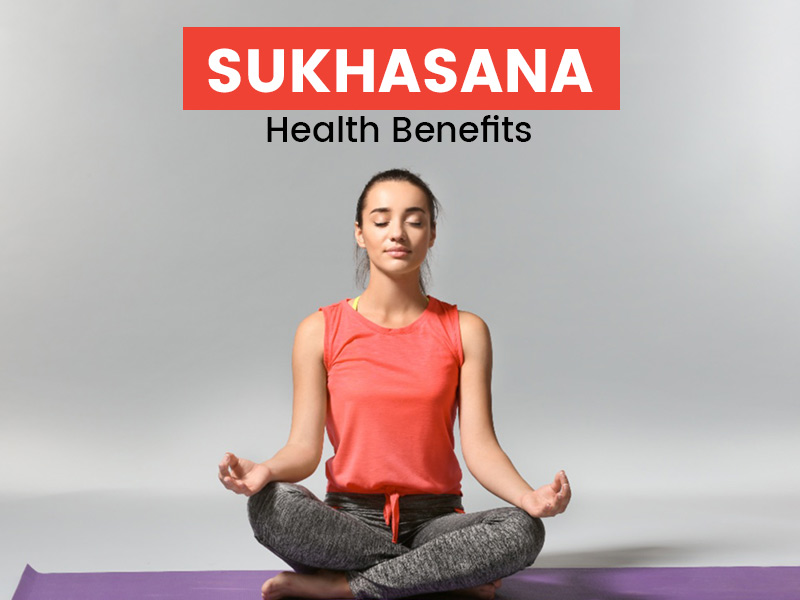 Yoga has gained a lot of popularity in the last few years and not just in the country but the people worldwide have started inculcating the habit into their daily life due to the various health benefits it has. Although yoga is a vast field and one needs proper guidance and some time to master the skill. Let us start with learning about the 'Sukhasana' which means position and peace. A yoga pose that can be practised easily and comes with a lot many health benefits.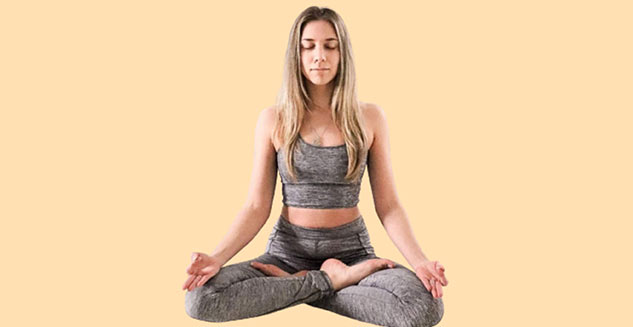 Image Crediyts- Fitzabout
Let's take a closer look at the benefits of sukhasana and the right way to perform this exercise and some precautions you need to take .
Benefits of Sukhasana
Sukhasana is something that at some point or the other is a part of many yoga exercise routines. A pose which comes with various names like the easy pose, easy seat pose, pleasant pose and decent pose, sukhasana is said to be the best alternative to the full or half lotus pose. This asana comes with a lot of benefits of its own and all these benefits can actually be burgeoned by combining it with some other asanas. Without a further ado let us learn about amazing benefits of practicing sukhasana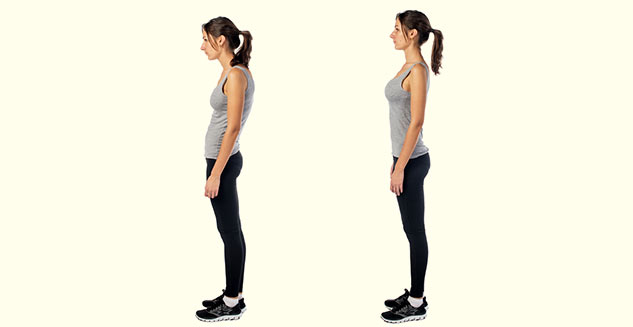 Image Credits- Ideafit
Also Read: Pre And Post Yoga Workout Routine For Optimal Health Benefits
Helps to improve concentration.
Helps the spine to align itself due to which the shoulders come into a proper position naturally and hence provides you with a good posture.
Helps in reducing stress and anxiety
It is good for the body's stability, strength and mobility and also helps to strengthen the lower half.
It has a relaxing effect on the mind and body which is helpful in reducing stress and anxiety.
Improves focus and automatically makes you more attentive.
It strengthens the back muscles and improves the overall body posture.
Lengthens the spine and back muscles.
Enables the blood flow towards the stomach and felicitates better digestion and assimilation of the nutrients.
Stretches the external part of the knees which becomes stiff after sitting for long hours.
Helps to broaden the chest and collar bones.
Improves blood circulating
Helps in weight loss if practiced while eating food.
Helps to improve one's sense of mind.
Helps to grow height in kids.
Is helpful for people with stiff or rigid body type
Things to know before performing Sukhasana
Here are a few things that you need to know and follow before jumping right into this posture to get better results, be safe and to reap the most benefits out of this exercise.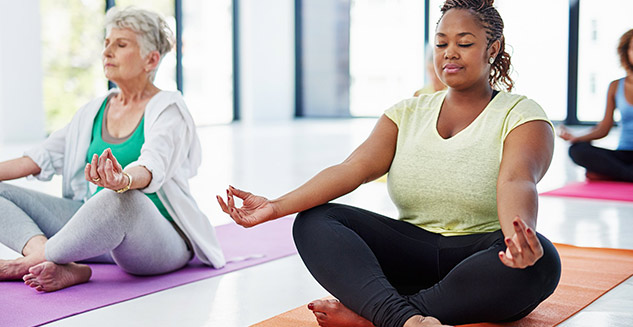 Image Credits- Femenism everyday
Also Read: Yin Yoga: Concept, Benefits, How To Do It
Obese people or the ones with a stiff body are advised to sit in 'staff pose' or dandasan for a while befire practising sukhasan as it will help to open up their body andd reduce the stiffness.
Do some micro exercising before following this yoga pose.
Perform this asana early in the morning as at this time the food is well digested and the body has the energy to perform exercises.
How to perform Sukhasana
As by now we know about various benefits that the easy pose or sukhasana has and several ways in which it can benefit our body. Here is a simple step by step guide which will help you to perform this exercise in the correct manner and help you to get a good posture if practised regularly.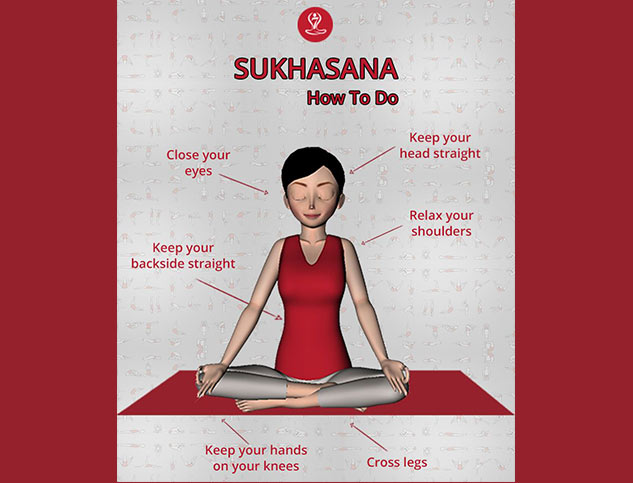 Image Credits- Pinterest
Sit straight and stretch out your legs in front of your body.
Bend your left leg a little and place your left foot under the right thigh.
Now bend the right leg a little and place the right foot under the left thigh.
Adjust your body a bit and make sure that the outer edge of your foot is resting on the floor.
Place your palms on your thighs or knees and keep the shoulders and spine straight.
Relax the shoulders, bend the elbows and close your eyes.
Take deep and slow breaths and relax your whale body.
Practice this for a minute and then interchange your legs.
Precautions to be taken while performing sukhasana
Although yoga is said to be safe when practised in the correct manner but can actually have adverse effects if not followed properly. We would advise you to perform exercise in the expert supervision to avoid any kind of injuries or discomfort, yet here are a few precautions that you should follow while practicing sukhasana-
If you are someone with a stiff body make sure that you do not stay in this pose for more than 39 seconds.
People suffering from backaches or any kind of spinal problems should not practice this for long.
Follow this yoga pose with utmost precaution and do not strain your back or over exert any part of your body while performing this exercise. If possible then practice this posture in expert supervision to be safe. Make sure that you go slow and do not overdo the exercise.
Read more articles on Yoga