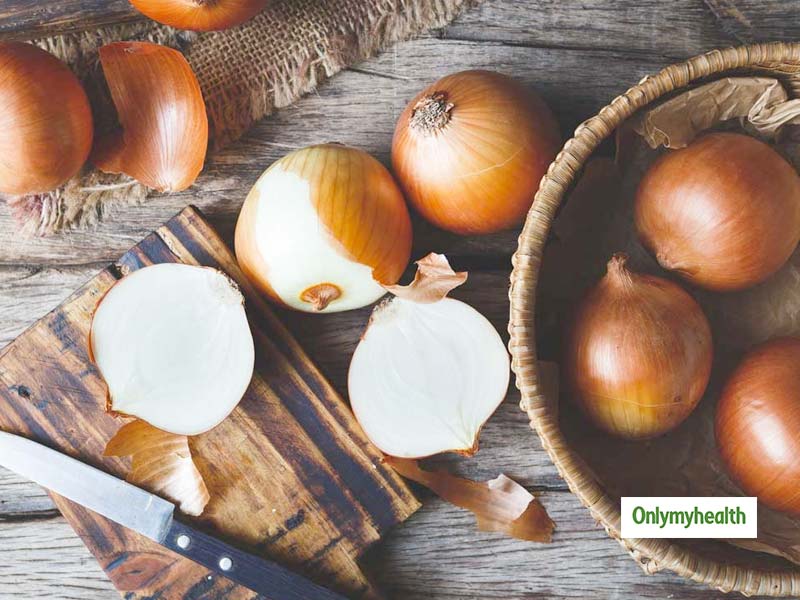 An onion a day keeps infections at bay. Yes, you read that right. There are countless health benefits of onion that you can gain if you eat onion daily. Do not mind the tears that come while chopping onions, just think about how it would benefit your health. Onion has antioxidants, Vitamin B, Vitamin C, Fiber, Sulfur, Potassium, Iron, Manganese and Calcium. Let us tell you some untold benefits of onion.
1. Lowers LDL or bad cholesterol
As per a study conducted by Chinese University, Hong Kong, onions can lower bad cholestrol. Consuming raw onion daily increases the levels of good cholestrol or HDL in the body by 30% to keep your cholesterol under control. The study also stated that shallots, garlic and chives also control the levels of bad cholesterol in the body.
2. Decreases pain of bee sting
Got stung by a bee? Just chop an onion and apply a slice on the affected area. This is proven to provide instant relief. Sometimes we don't get painkiller at that very moment and therefore this kitchen ingredient is of great help!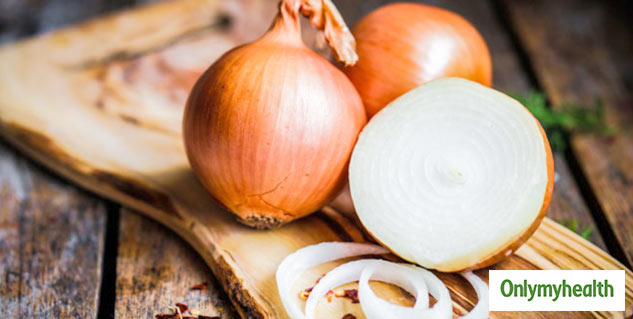 3. Eases cold and respiratory disorders
Onion has great expectorant properties to ease respiratory problems and treat cough & cold. A lot of us don't know but onions have been widely used for centuries to treat bronchitis, congestion, coughs, infections, etc. Thus, you must eat onion to combat cold.
4. Manages glucose
The best way to reduce glucose levels naturally is by eating one onion daily. The oil of onion balances the blood sugar levels in the body and improves glucose tolerance.
5. Helps in detoxifying the body
Detoxifying the body is a must to one and all. Onions have amino acids that help in flushing out harmful toxins from the body thus giving you a clean stomach and better digestive abilities. Another way to use onion for detoxification is by putting them in your socks overnight. It eill extract all the impurities from your body.
Also read: Infused Water For Detoxification: 7 Amazing Detox Water Recipes For You
6. Home remedy for pigments and freckles
If you are looking for a cheaper and safer way to reduce freckles and pigments, try this. Mix onion juice and apple cider vinegar in equal amounts and apply this liquid on the face twice every day. These balance the pH levels of the skin.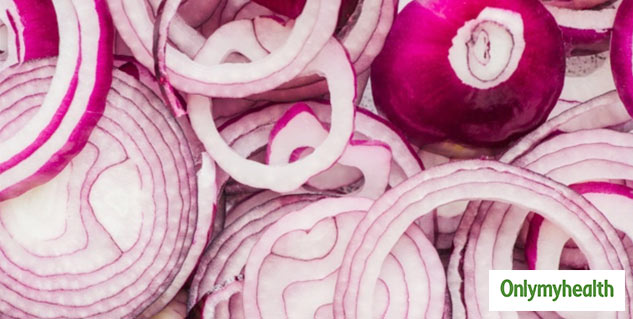 7. May prevent cancer
As onions have different types of sulfides in them, it acts as a protective layer against neoplasm growth. It is said that regular consumption of onions can reduce the risk of cancer in hthe body.
Also read: Edible Fruits & Vegetable Peels & Their Health Benefits
8. Betters cognition
Consuming onions daily can improve brain health. Onion plays a very important role in maintaining our brain functioning and therefore you must consume it daily.
9. Boosts immunity
Onions have quercetin, which is found to be helpful curing various types of allergies. The quercetin flavonoid gets easily absorbed through the body and thus helps in treating various health conditions like bronchitis, diabetes, hay fever, etc. Thus, consuming an onion can stall such allergies very easily and effectively.
Read more on Healthy Diet