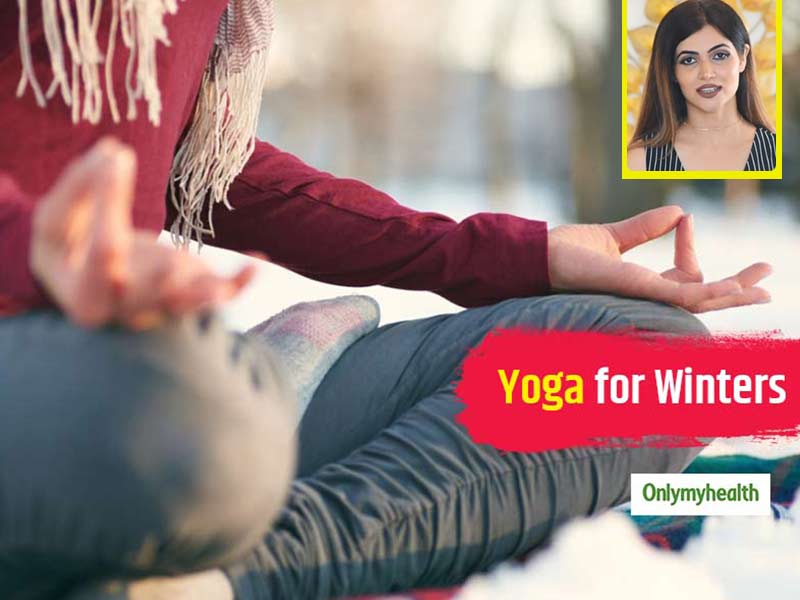 In these challenging times, Self-Care is of utmost importance. Especially during a pandemic, it can be so heartbreaking to see the world falling apart in front of your eyes. Stress-filled lives coupled with desk jobs, long working hours and prolonged state of inactivity make it difficult to maintain a healthy work-life balance. It seems next to impossible to maintain calm amongst the chaos. Why not give just 20-30 mins daily to one of the greatest Ancient Sciences to achieve Mental and Physical health benefits and stability. Let's start with 5 beginner asanas listed by Poonam Yadav, Yoga, Health & Fitness Expert for our complete health and try to feel the magic of Yoga.
Tree Pose or Vrikshasana
Stand straight, focussing on a spot in front of you for balance.
Breathe slowly and lift your left foot and place it against your right thigh, left knee pointing outwards.
When you feel stable, release your hands.
Inhale and slowly lift your arms above your head in a prayer position.
Hold the asana for few seconds then exhale and slowly return to the normal standing position.
Benefits: This asana improves balance, concentration and stability in the legs. Builds self-confidence and esteem. It is similar to mountain pose or tadasana.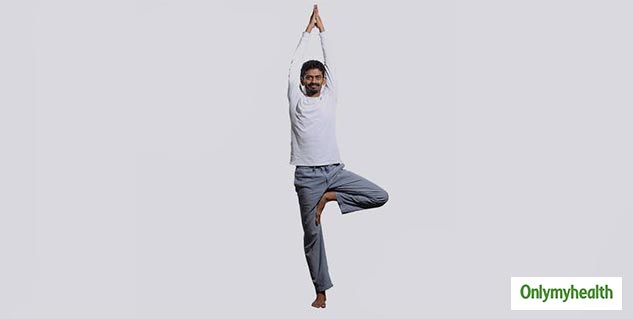 Cat Cow Posture or Chakravakasana
Begin with your hands and knees on the floor. Make sure knees are under your hips, wrists under your shoulder.
Inhale, raise your head so you are looking up, arch your spine downwards so that it is a concave shape.
Then exhale while lowering your head, round your spine up towards the ceiling, arching your back like a cat.
Repeat 2-3 times and then move back to the initial position.
It is said in Yoga, you are young as long as your spine is healthy, so you must practice this asana daily for complete spine health. It improves posture, stretches the neck and spine. Also massages organs in the belly like the Kidney and Adrenal glands. Relieves stress and calms the mind.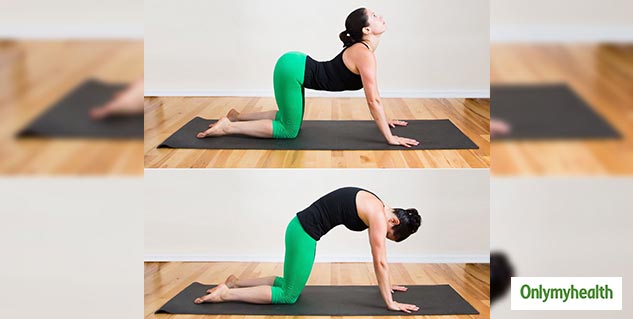 Camel Pose or Ushtrasana
Kneel up so that your trunk is off the floor as if you are standing on your knees.
Place your hands behind your hips, fingers pointing down as if you supporting your back.
Inhale slowly lean the body above the waist, outward and upward. Try to reach the ankles if possible and allow the neck to fall backward gently.
Hold for a few seconds and then exhale and gently drawback the torso, straighten the neck and return to normal position.
Benefits: Wonderful asana for thyroid, asthmatics, ovaries and other glands. Reduces fat on abdomen, thighs and arms. Perfect posture for releasing stress, anxiety and depression.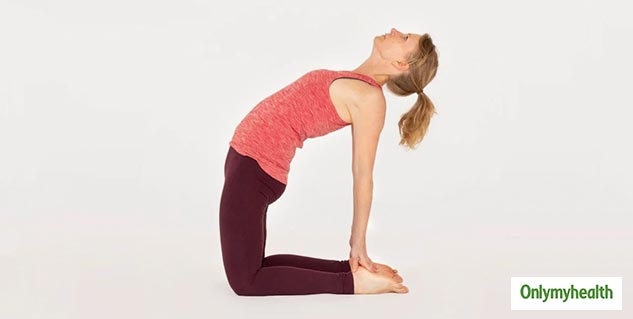 Downward Dog Pose or Adho Mukha Svanasana
Start in all four positions with your hips above your knees and shoulders above your wrists.
Spread your fingers wide and press firmly through your palms and knuckles.
Pressing your palms and feet nicely on the floor, slowly lift your body towards the ceiling.
Gaze towards your navel and Hold here for few seconds.
Exhale and slowly return to the starting position.
Benefits: This pose instantly energizes and rejuvenates the entire body. Deeply stretches your hamstrings, shoulders, calves, arms and shoulders. Relieves headache, insomnia, fatigue and improves digestion and is a therapeutic asana for sinusitis, menopause, flat feet and asthma.
Setu Bandhasana
Lie on your back.
Draw your feet inwards towards the buttocks.
Give a little gap between your legs and slowly lift your torso up towards the ceiling.
Chin and chest should be locked.
You can either clasp your hands under your back or engage them in supporting your back.
Hold here for few seconds then exhale and slowly get back to the starting position.
Benefits: Amazing asana for thyroid, diabetes, asthma, insomnia, osteoporosis, sinusitis. Stimulates the digestive system by massaging abdominal organs. Keep your lungs healthy, tone up your spine, shoulders and back muscles. Instantly calms down your mind and also provides healthy skin and hair.
At the end lie down in Shavasana for a few minutes.
If you wish to stay healthy and active this winter, you must practice these yoga asanas daily. These uplift overall well-being and improve flexibility. Yoga is one of the best tools for healthy living.
Read More Articles in Yoga