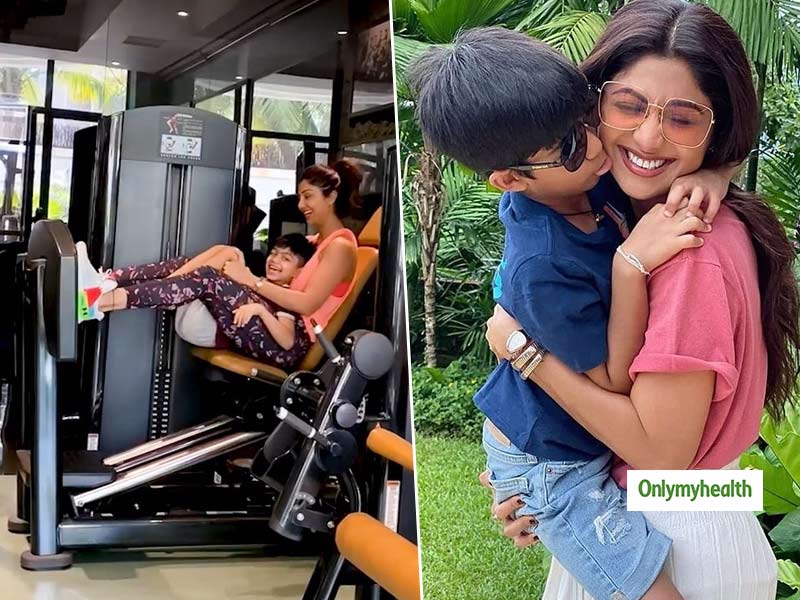 Shilpa Shetty's Son Viaan Raj Kundra Gym Workout Video: Bollywood actress Shilpa Shetty is concerned and confident about her fitness. From time to time, Shilpa continues to share pictures (from her social media accounts) of various yoga poses and nutritious dishes for her fans. Shilpa's passion for fitness is still intact! Age is just a number for her, as she looks so young and energetic at the age of 44!. Recently, Shilpa has shared a cute video on Instagram, in which she is seen doing a workout with her son Viaan Raj Kundra (7 years old).
Shilpa Shetty and Viaan's beautiful video
Shilpa Shetty is seen doing leg press workout with son Viaan. In the video, Viaan is sitting on Shilpa's lap and Shilpa is giving her workout classes. Viaan and Shilpa look happy while doing the workouts. The mother and son's love looked very cute, moreover, the fans commented, "Shilpa being their inspiration".
Also Read: Weight Loss True Story: Kiran Dembla, A Mother Of 2, Bodybuilding Champion And An Inspiration For Many
Shilpa wrote with the video, "Viaan watches me and his dad doing workouts every day, so today he wanted to do it too. He understands that we give importance to our health and in the long run it is beneficial for us... We are having fun doing seated leg press here."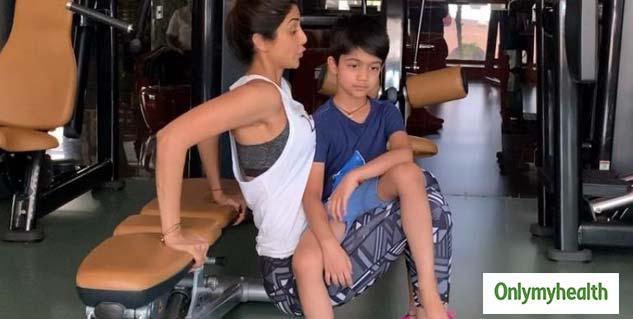 Along with this, Shilpa Shetty also explained the benefits of Seated Leg Press. She wrote, "This is a good exercise, which is beneficial for the quadriceps and hamstrings. By doing this exercise, your performance is better in other movements like jumping and running. How do you start your day?"
Also Read: Ace Cricketer Virat Kohli and Actress Urvashi Rautela's Unique Workout Video Gets Viral
Cute style of Shilpa-Viaan
People are loving this cute style of mother and son. This post of Shilpa has been liked by more than 18 lakh people. As a fitness connoisseur herself, she takes care of her son's health equally. In all the interviews and posts, she has told that she pays great attention to Viaan's health and food. They are given more and more natural foods, fruits and vegetables.
How is leg press workout done?
Leg press workouts are performed on a particular machine.
After sitting on this machine you have to place your feet on the front footplate.
The position of the feet is 90 degrees from the knees.
While staying in this position, the footplate has to be pressed with strength from the feet and then come back to its previous position.
Apart from this, it helps reduce abdominal fat, strengthening the knees, toning the lower body and keeping the pelvic area healthy.
Read more articles on Exercise and Fitness