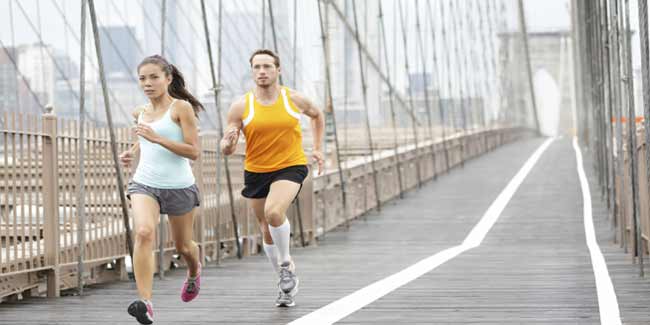 Running is one of the most vigorous exercises available for those trying to lose weight. An effective way to burn calories and drop the excess weight, here are some tips for you to lose weight.
Running is a very good workout for losing weight if you plan it well. You can get rid of your flab and unsightly bulges and get back into shape with a regular running schedule. Moreover, it brings a glow on your face and can help in managing or curing many health conditions. Bear in mind the essential elements of your running regime before embarking on it. You should be able to stick to your routine and that will come about only by careful planning.

Mental Preparation

You need to be prepared to go for a run; it will not happen easily but by all means stick to the plan. When you prepare a plan you will need to make sure that it is a realistic one, set a realistic goal. Start with very small targets and scale up only when you are comfortable with them and raring to aim higher. Moreover, resolve to keep at it despite no apparent results in the first week. Remind yourself that the results will show after prolonged effort.


Diet Plan
If you are running on a regular basis and training for long hours by covering long distances then proper nutrition is a must. This is important for your performance. You would also be able to greatly increase your chances of weight loss by choosing healthy lifestyle options and good diet plan is a part of it. By skipping meals and running for long distances you will not be helping your chances for an effective weight loss. Make a list of foods that contain complex carbohydrates, healthy protein and fats, lots of fibre and other nutrients found in fruits and vegetables. As was the case in the running regime, do not fix up a strict discipline to follow in your diet plan when starting out.
Make it Challenging
It is important to bring in some variation in your running routine, or else your body will get too used to the entire schedule. Incorporate speed work or interval training wherein you run very fast for short intervals of time. By speed running you can burn a lot of calories in a very short period of time. This way even your muscle mass would increase and your metabolism will high a new high. This will automatically cause you to burn more calories throughout the day.
Follow a Schedule
Sticking to a training schedule keeps you motivated to run and you know exactly what you need to do each day. A schedule is important as one run would build up to the next and this way you will find it harder to skip or postpone workouts. Also, by keeping to a schedule you will avoid a running injury by not increasing the mileage all too quickly.
Running technique
Focus on running with the right technique rather than covering long distances. By following the right way of running, you would be able to naturally cover more without feeling it. Push yourself off the ground instead of sliding your feet on the ground, the right way to run is to push yourself off the ground with each step.

Above all try to find ways or scenic locations where you find running enjoyable. An iPod may be handy or just a nearby picturesque spot. The more you enjoy running, the easier it will be to run long and lose weight in the process.
Read more articles on Weight Loss Exercises