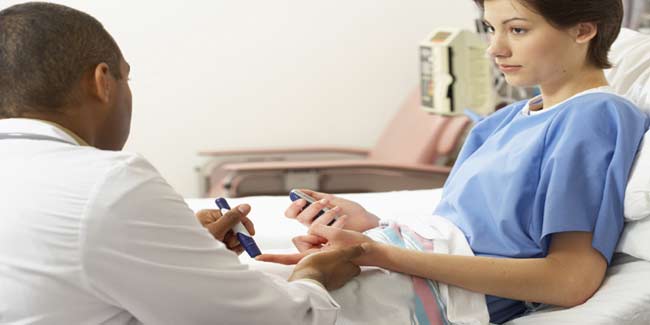 It is often seen that women who get pregnant get diabetes during the term, which is known as gestational diabetes. Diabetes during pregnancy could be a difficult thing to deal with because there is always the fear of risking the health of the unborn.
Gestational diabetes (GDM) is a type of diabetes that develops during pregnancy (that is the high blood glucose levels are first diagnosed during pregnancy). A woman who has had GDM in her first pregnancy is usually concerned about her ability to have another pregnancy in the future. The questions that pop up pertain to possible obstacles in the way of the progress of pregnancy, healthy development of the baby, etc.

You may develop gestational diabetes once again as it has been seen that a few mothers who had had GDM in their first pregnancy found themselves to be affected by it in the second pregnancy as well. There are certain factors that make it quite obvious for a womant to get gestational diabetes, such as weight, fitness and diet. Although, these factors can be altered, there are some that cannot be changed, like ethnic origins.

Ways to Prevent Gestational Diabetes
The more healthy habits you develop, the better chances you have to prevent the occurrence of gestational diabetes. So the risk factors leading to gestational diabetes need to be lessened so that you are less likely to suffer from this health metabolic problem during your pregnancy.

Healthy Weight
You have to make sure that you maintain a healthy weight before you get pregnancy, aim for a body mass index or BMI which is less than 25. Between your first delivery and second conceiving you will have to make sure that you do not put on weight. Try not to add more than three BMI points to your re baby score. By putting on weight you increase your chances of developing gestational diabetes.

Healthy Diet
Eat unrefined foods or whole foods, such as wholegrain breads and cereal foods, brown rice and wholewheat pastas. Also, make sure that you eat plenty of fruits and vegetables. Also eat those foods which are low in saturated fats and eat grilled meat rather than fried ones. If in case you have to fry then you need to use olive and sunflower oil. Eat complex carbohydrates like bread, cereals, rice and pasta.

Regular Exercise
You can make a difference by doing regular exercises in order to keep fit. Regular exercise before you get pregnant can reduce your risk of developing gestational diabetes to a great extent. You could simply, walk, run, do yoga, Pilates, or swim!

Don't Smoke
Smoking is a terrible vice, and it in fact doubles your chances of developing gestational diabetes. So here is another reason to quit smoking if you thought the other reasons are a tad bit exaggerated.

Lose the Baby Weight
Try to give sometime between your first delivery and second conceiving. This is necessary because you need to lose the extra baby weight that added on to you after the first time. The extra baby weight increases your chances of gestational diabetes. Consult with your doctor regarding baby weight and when would be the ideal time to get pregnant once more.
An Overview



According to experts women with gestational diabetes can plan another pregnancy in the future. But it is important to identify early those who are at risk and monitor them carefully through the prenatal period. Women with a history of GDM are at higher risk for developing GDM in subsequent pregnancies. In a recent study it was observed that the risk for GDM was 41.3% among women with a history of GDM in previous pregnancy as compared to 4.2% in women without previous GDM. The risk increases steadily with the number of previous experiences of GDM.

Remember that women with GDM can deliver a healthy baby and have a normal pregnancy with appropriate treatment and well controlled blood sugar. So follow up with your doctor regularly, make the recommended life­style changes and take your medications.
Read more articles on Gestational Diabetes