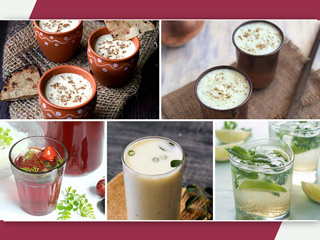 Summers are here and we all crave for delicious chilled drinks to soothe ourselves in this scorching heat as it leaves us sweaty, messed and fatigued. Sweating can make you dehydrated and feel low on energy hence it is important for you to keep yourself hydrated. What could be better than desi drinks which would not just save you from heat but are also packed with some health benefits as well.
Must-Add Indian Summer Drinks
Here are our suggestions on 5 summer drinks that you must not miss out on.
1. Lassi
What can be better than a glass of chilled lassi these summers. Lassi, a traditional indian drink made with yogurt which is packed with the goodness of vitamins and minerals can actually do wonders to your health. From aiding digestion to boosting immunity, a glass of lassi can do it all. Let's see how drinking lassi can improve your health.
Benefits of drinking lassi
Boosts immunity: Rich in Vitamin D and lactic acid, lassi can boost up your immunity and keep health problems at a bay. It has the power to fight infections, improve disease resistance, and regulate the absorption of phosphorus and calcium in the body in order to make your bones strong.
Improves digestion: Lassi contains lactobacillus bacteria which helps in breaking down the food, absorbing nutrients and lubricating the intestines which as a result can aid digestion. It is also known for its properties to prevent heartburn and indigestion.
Contains Probiotics: If you are someone who has been taking these probiotic drinks to keep your gut healthy, this one's for you. Lassi is rich in probiotics which would improve your heart health, immune functioning by lowering the cholesterol levels. Probiotics in it also promote the healthy bacteria in our gut and restores the natural balance.
Is good for skin: Drinking lassi can help your skin in many ways as it moisturises and gives your skin an internal glow. Enriched with lactic acid it can remove blemishes and give your skin a youthful glow. As it also has antifungal and antimicrobial properties it helps in preventing acne.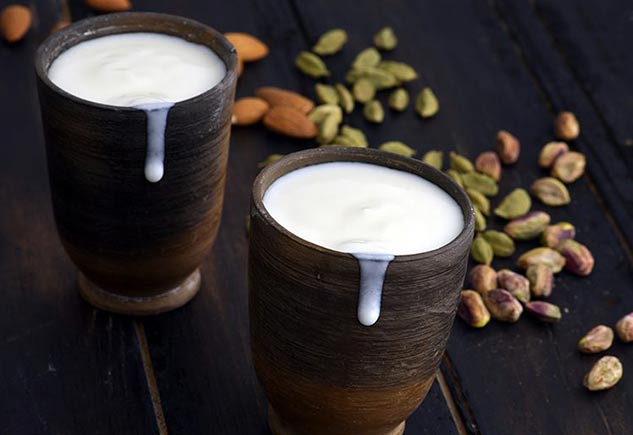 How To Make Lassi
After getting to know all the health benefits lassi has, I really think that you are going to give this recipe a try. Let's get started.
Ingredient
2 cups of fresh chilled curd
1 cup of water
4-5 tablespoons of sugar
1 teaspoon of cardamom powder
Ice cubes
Chopped nut to garnish
Method
In a blender add curd, water, sugar and cardamom powder.
Blend everything well.
Add some ice cubes to the glasses and pour in your blended lassi.
Garnish using chopped nuts.
2. Buttermilk
Popularly known as chaas, buttermilk is an indian summer drink which is the liquid that's left when cream is churned into butter. It is a light and refreshing drink which can save you from dehydration and has flavourful spices in it.
Benefits of drinking buttermilk
Prevents dehydration: The reason why buttermilk is considered to be the best summer drink is that it helps to keep you hydrated in the scorching heat of hot summers as it consists of electrolytes, potassium, and water which helps to maintain the body's water level.
Helps in weight loss: A cooling summer drink which is high in nutrients, vitamins, minerals, potassium, calcium, magnesium and is low in calories and fats. It would make you feel full and prevent overeating which in turn aids in weight loss
Provides nourishment to the body: Rich in vitamins, nutrients, proteins and iron but low in lipids, buttermilk is a complete meal which provides nourishment to the whole body. The astringent in it moisturizes and nourishes the skin while making it tight and firm.
Is good for digestion: With its probiotic properties, buttermilk prevents the growth of bad bacteria in the body which could lead to stomach infections. Spices used in making buttermilk are digestive agents which helps to soothe the stomach line after a heavy meal.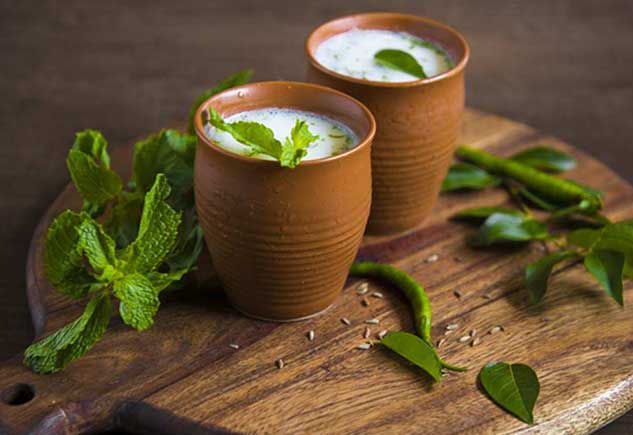 How To Make Buttermilk
Make this refreshing lightly spiced drink to keep yourself hydrated and cool during the summer season.
Ingredients
1 cup plain yogurt
2 cups of water
½ inch ginger
1 green chilli
1 tablespoon chopped cilantro
1/2 teaspoon cumin powder
1/2 teaspoon black salt
Ice cubes
Method
Add in all the ingredients to the blender.
Blend them well.
Add into glass and garnish with some cilantro.
Serve chilled
3. Aam Panna
It is always recommended to add seasonal fruits and vegetables to your diet and no one can resist the king of fruits. Aam Panna is a sweet and sour raw mango drink which is rich in nutrients and vitamins and will save you from getting dehydrated in a delicious manner.
Benefits of drinking aam panna
Is good for your eyes: As aam panna is rich in Vitamin A, it helps to improve eyesight and protect you from various eye diseases like cataract, dry eyes and night blindness.
Prevents liver problems: By aiding the secretion of bile juices, raw mangoes help in keeping your intestine clean and it helps to prevent various liver problems. It also helps to prevent cancer and cardiovascular problems due to the vitamin C and antioxidants present in them.
Helps treat gastroline problems: Raw mangoes rich in peptacin when mixed with salt and sugar helps to treat gastroline problems like constipation, piles and diarrhoea.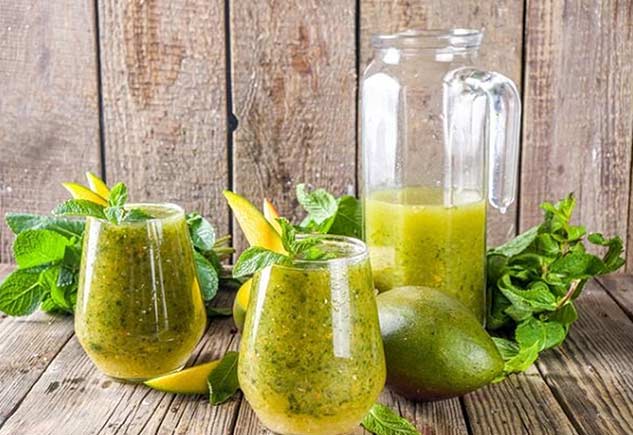 How To Make Aam Panna
Refreshing summer drink to keep you cool and to treat your taste buds, aam panna is best when served chilled along with some mint leaves.
Ingredients
1 raw mango
2 cups of water
3 tbsp mint
¼ cup sugar
½ tsp cardamom powder
½ tsp cumin powder
½ tsp pepper powder
¾ tsp salt
Ice cubes
Method
In a pressure cooker take raw mango and 2 cups of water.
Cover it and pressure cook for 5 minutes.
Once cooked, allow it to cool.
Peel the skin of the boiled mango.
Scrape off the mango pulp and add it to the blenger with other ingredients.
Blend it well into a smooth paste.
Add some cold water to this blended paste
Add some ice cubes to a glass and pour the prepared aam panna on top
Garnish with some mint leaves and serve chilled.
4. Lemonade
Easiest to make and most popular of all, lemonade is a refreshing summer drink loaded with the goodness of vitamin C which can help you lose weight, promote hydration and improve skin quality.
Benefits of drinking Lemonade
Has powerful antioxidant properties: Loaded with the goodness of vitamin C, lemon water has some antioxidant properties which reduces the risk of cardiovascular diseases, cancer, obesity and diabetes by reducing the risk of health damage. By keeping the free radicals created by oxidative stress in the body, these antioxidants prevent your body from getting affected from any harmful disease.
Prevents kidney stones: Lemon water works to block the calcium accumulation and prevents kidney stones by binding citric acid, salt and citrate. It can also increase the urine citrate which in turn is likely to reduce the risk of kidney stones.
Keeps your skin clear: By flushing the body toxins, lemonade helps to attain clear skin as it is rich in Vitamin C, it rejuvenates skin and heals the skin. In addition to that, the collagen produced by the body is essential in smoothing out lines in the face and for healing wounds and acne scars.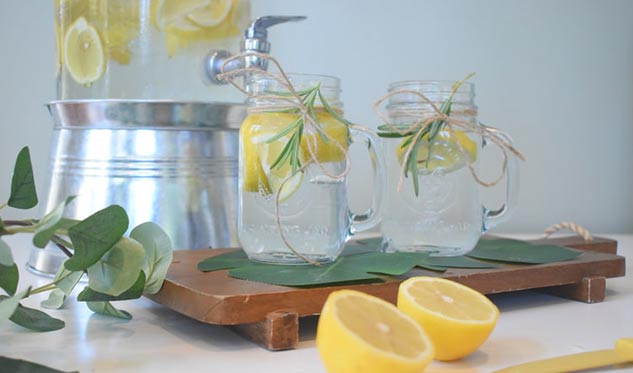 How To Make Lemonade
An easy drink prepared with minimum ingredients which helps you to flush out the toxins and have a healthy body.
Ingredients
1 lemon
2 tablespoons of sugar
A pinch of salt
1 glass of water
Ice cubes
Method
Squeeze some lemon in a glass of water.
Add sugar and salt to it.
Add in a small amount of water and mix it well.
Pour some cold water and add ice cubes to the glass
5. Thandai
A delicious, traditional indian drink which is associated with the festival of holi can be a part of your summer essentials as well. Loaded with the goodness of dry fruits this drink can energise you quickly when you get low on energy in hot summers.
Benefits of drinking Thandai
Helps with constipation: Thandai can help with constipation as it has poppy seeds in it which are known to relieve gastrointestinal irritation which causes constipation. The rose petals used in thandai helps to cool the body and improve digestive health.
Provides Energy: Pumpkin seeds, pistachios, almonds and watermelon seeds in thandai work as an instant energiser which helps you to regain the energy lost due to the heat waves.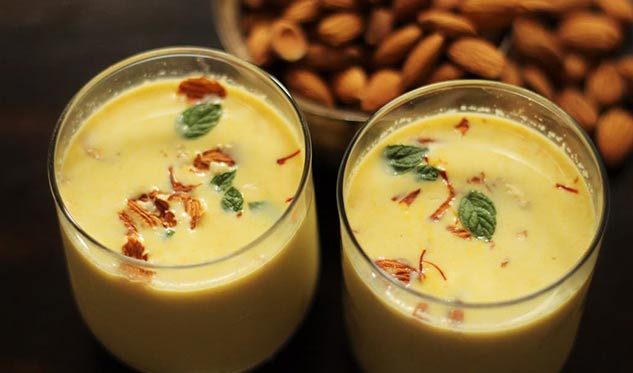 How To Make Thandai
2 spoons grated jaggery in powdered form
3 cup toned milk
2 saffron strands
2 to 3 black pepper cons
8 to 10 roasted almonds
2 teaspoons khus-khus (poppy seeds)
2 teaspoons saunf (fennel seeds)
A pinch of elaichi (cardamom) powder
2 to 3 white peppercorns
2 teaspoons Watermelon seeds
2 teaspoons pumpkin seeds
5-7 pistachios
Method
Take all the dry ingredients in a grinder and grind them to make a fine powder out of them.
Add this powder to chilled milk and garnish it with some saffron strands and chopped dry fruits
Read More in Healthy Diet