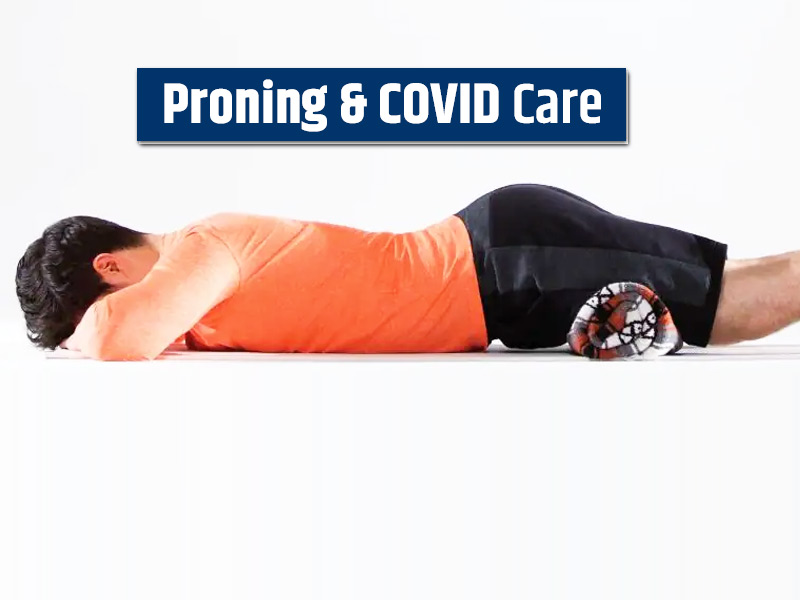 The stage of pandemic is such that every little help can prove more. Patients, admitted or home isolated, along with diet and medication, keeping track of oxygen level is also an important precaution. The awareness rate is increasing day by day, which is a silver lining. Proning is one such suggestion given by many doctors to the covid patients, with its effectiveness over the crisis through reduced mortality. A maintenance of the oxygen rate is important for survival, which occurs in the serious or deteriorating stage of covid infection. Hence, proning- which includes a series of steps including maintaining a few body posture and positions, has been suggested as an effective preventive way to keep the oxygen levels up.
What is Proning? Relation with increase in oxygen level for Corona Patients
Simply stating, Proning means a lying face down position- a body placement such that ventilation and oxygen levels can be improved. Before Corona, this position was advised for some respiratory syndromes such as Acute Respiratory Distress Syndrome (ARDS. Its proven effect on improving oxygenation in case of Covid has been of great use now. The Ministry of Health and Family Welfare (MoHFW) has themselves advised the Covid 19 patients to practice proning for its benefits on breathing.
Dr Anita Mathew, Infectious Disease Specialist, Fortis Hospital, Mulund has shared her valuable suggestions and recommendations related to proning for dealing with Covid.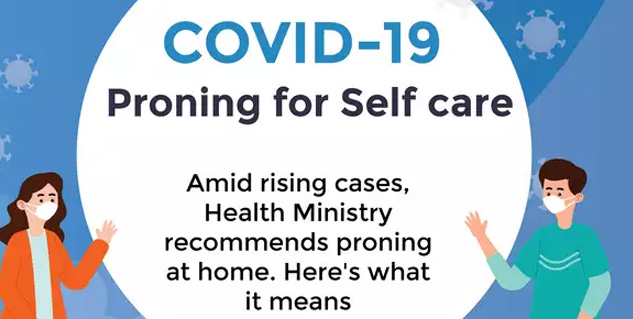 Also Read: 4-7-8 Breath Relaxation Exercise: Follow This Technique For Healthy Lungs
The volume and distribution of air in the lungs is dependent on the physical positions we are in. This can affect the exchange rate of carbon dioxide and oxygen. Hence, the patient is asked to change their postures and positions, from back to the abdomen, using simple and safe steps that improve breathing.
Now that people have learnt enough about home isolation or quarantine, mild symptoms can be prevented from going beyond because people being aware of the risk of low oxygen levels.
Proning- Sleeping Position for Corona Patients
A simple and safe method to help maintain oxygen demands, proning can be practiced at home with some easy and comfortable positions.
4 to 5 pillows would be required for self-proning-
One pillow should be placed below the neck
One or two below the chest through the thighs
Two pillows below the shins (the front of the leg below the knee)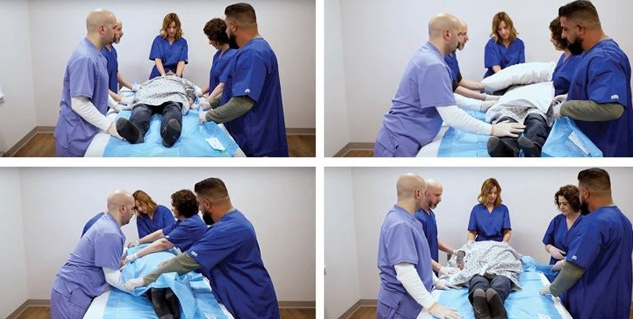 STEPS OF PRONING
Begin with lying on your belly, sit up, lie on your right, sit up with legs extended in the front, lie on your left, back to lying on your belly
If you Do Not have a caretaker, remember-
Alternate your positions regularly
Do not spend more than 30 minutes in each position
After every 30 minutes, lie on each side
Before going back to newer position, sit up
Points to remember while practicing proning-
Proning is not recommended for pregnant women
Do not practise proning at least for an hour after meals
Maintain the proning positions only till it is tolerable; do not push yourself
Keep a check on sores or injuries
Avoid it if you have cardiac related issues
If you have an unstable spine, femur or fractures that affect posture, avoid proning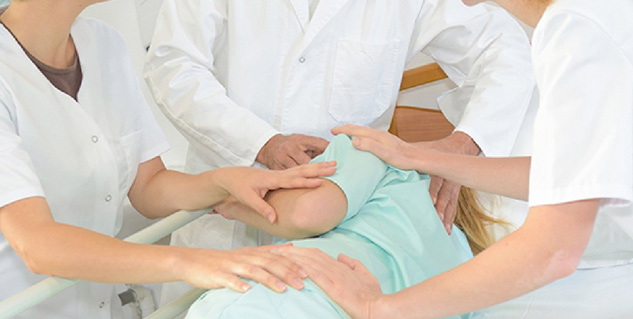 Also Read: Naturally Improve The Oxygen Levels In Your Body With These Simple Hacks
We all know, the mortality rate is very much at risk once oxygen level starts to fall, and hence the recommendation of proning has come into picture. With home quarantines as a resort of many patients, keeping up the oxygen levels has been one practice most recommended in these times.
With inputs from Dr Anita Mathew, Infectious Disease Specialist, Fortis Hospital, Mulund
Read more articles on Miscellaneous