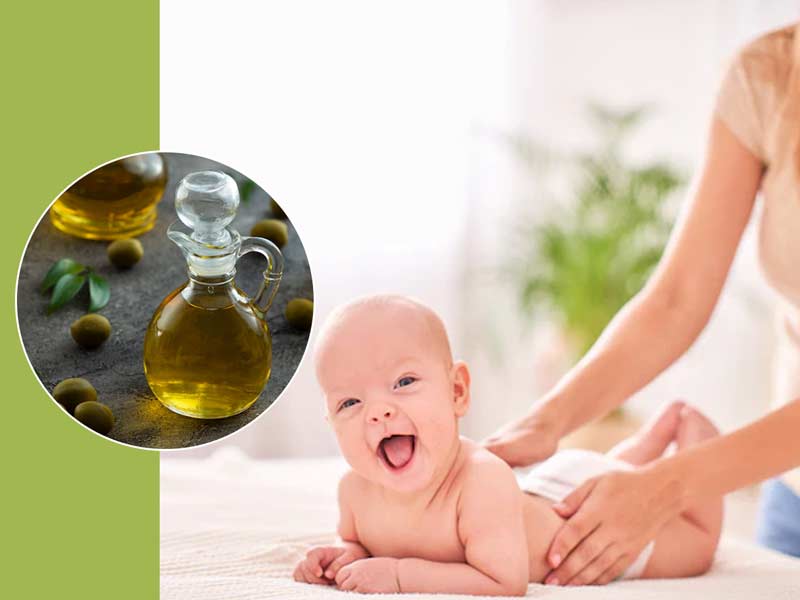 Massaging a baby is important to stimulate his muscles and help them grow stronger. You must have heard grandparents emphasizing massaging an infant which is solely to strengthen their weak and growing bones and muscles. Now comes another important aspect of baby massaging which is best oil for baby massage. It is not that you can use any oil for massaging but select one that provides needful nourishment to them. Massaging with a good oil makes baby's skin soft. These days, most mothers use baby oils manufactures by various baby care companies as these are easily available and touted as beneficial. But we suggest using natural oils for increased benefits. Olive oil for baby massage is great because firstly, it has vitamin E in abundance and secondly, it can be used in all seasons without worrying about side-effects on skin. Scroll down to read more.
Olive Oil For Baby Massage Benefits
Olive oil is a potent natural oil that can be extremely beneficial for skin including a newborn's amateur skin. Here are some of the major benefits of massaging babies with olive oil:
Moisturization
Baby skin is very soft and to maintain that, using olive oil is best as it is rich in moisturizing properties. Olive oil has hydrating agent named squalene that ensures skin hydration. Baby's skin remains soft and supple after olive oil massage.
Also Read: Benefits of Massaging Babies With Sweet Almond Oil
Olive oil for baby massage in summer
Summers are known for hotness and so, many parents avoid oil massaging babies during this season. This is wrong as massaging is extremely important for baby growth. Olive oil is great for summer use as it doesn't make the skin very oily. However, the quantity of oil used for massaging depends on the season. Use lesser quantity during summers and higher quantity during winters. Skin become dry and dehydrated during winters more as compared to summers.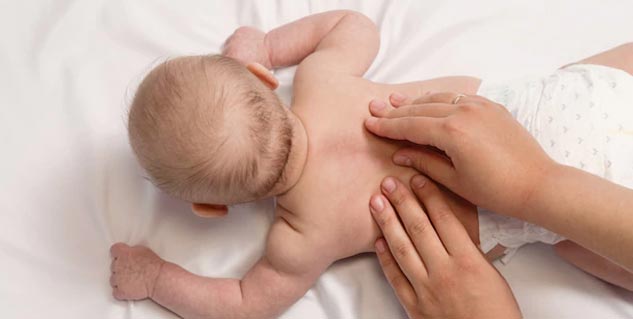 Aid Diaper Rash
This is a common problem in infants and toddlers as using diapers for a long time cause rashes. Since you cannot avoid diapers as these are very convenient in handling babies, you can soothe diaper rashes with olive oil. There are many medicated rash creams in the market but why use them when you have a natural solution for the problem.
Cradle Cap
Cradle cap is a skin condition in which the skin on a baby's scalp becomes dry and flaky. If you see flaky scalp of your child, massaging it with olive oil can aid the problem. Olive oil is helpful in loosening the crust that forms from the cradle cap. Massage baby's head with olive oil and leave for an hour or so. Bathe the baby, shampoo and comb to eliminate flakes.
Also Read: Notable Benefits Of Massaging Your Hair With Peppermint Oil
Helps Get a Good Sleep
It is very important for children to get good sleep as this boos their overall brain and body development. We all know that body massaging is supremely relaxing as it opens up the tension in muscles. Just like how adults enjoy massaging and fall asleep peacefully post that, babies also get into a sound sleep after oil massage session. Olive oil being a mild oil doesn't feel heavy and so, it puts your baby to deep sleep.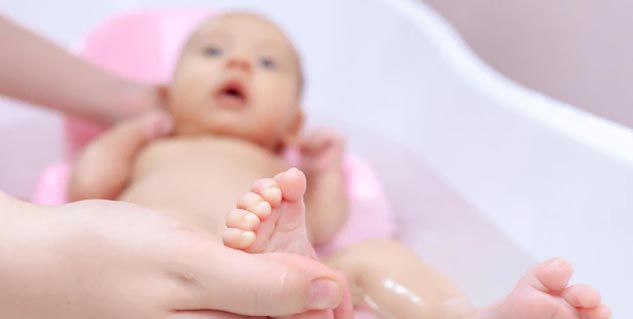 Beneficial for Hair
Lastly, when you massage your baby with oil, you also massage their hair, right? There is nothing as good as olive oil for hair. Due to abundant vitamin E found in olive oil, it helps in hair growth and rejuvenation. So parents, if you want your baby to have healthy and shiny hair, massage them with olive oil right from the beginning.
Conclusion
You have learned about live oil for baby massage uses and benefits but we also need to point out certain precautions that need to be taken. If your baby feels irritated after applying olive oil, do not use it. Consult a paediatrician regarding allergy or any other issue that is rare but possible with olive oil application.
Image credits- freepik