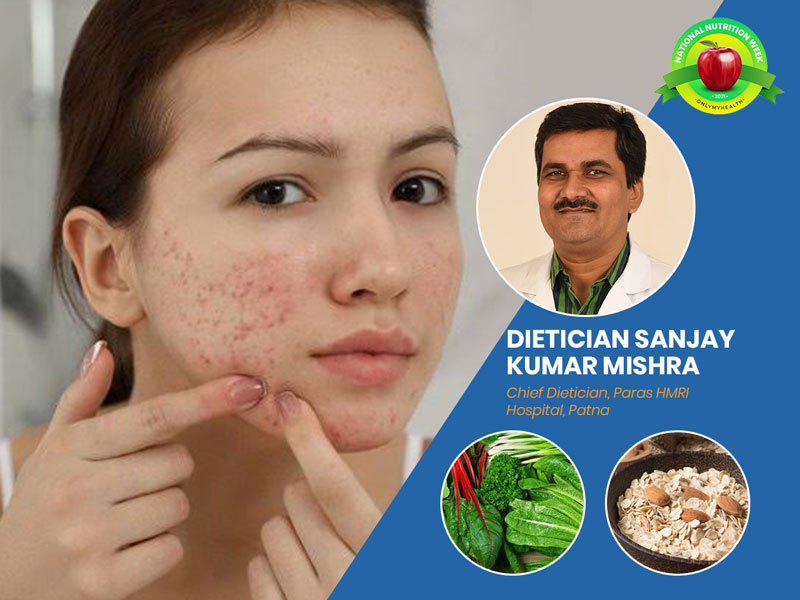 Acne is the most common skin condition that develops in teenagers, adults as well as the elderly. There are many factors that can influence acne, but the main causes are excess sebum, hormonal imbalance and bacteria. Your diet affects the functioning of your body and the skin is also a part of this. Acne usually develops on the parts of your body that have sebaceous glands. Sebaceous glands are oil-producing glands that can get affected due to hormones. Acne can occur on your face, back, chest and neck.
National Nutrition Week is celebrated from 1st to 7th September. The main goal is to spread awareness about healthy nutrition and diet. On the special occasion of National Nutrition Week 2021, we bring to you some essential diet tips for different health concerns and lifestyle-related problems. In the previous stories, we talked about the diet for hair fall and post Covid recovery nutrition and now we will discuss about the nutrients and diet for acne. Onlymyhealth editorial team talked to Dietician Sanjay Kumar Mishra, Chief Dietician, Paras HMRI Hospital, Patna, about the nutrition and diet for acne.
Foods and drinks for acne on your skin
Acne is the most common skin condition that develops in teenage but it can even continue in adulthood, and some people even experience it for their whole life. Diet can play a major role in influencing the severity of acne on your skin. As per Dt. Sanjay, here are 5 foods and drinks that you should consume to reduce acne:
1. Green vegetables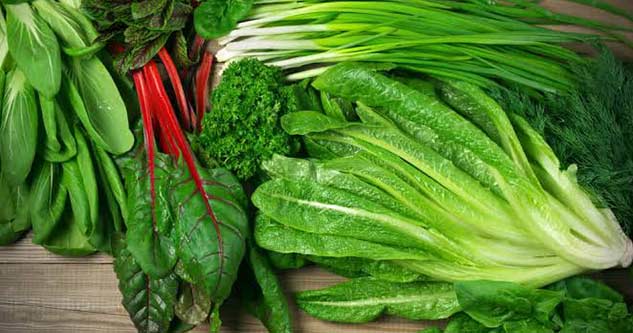 Green vegetables including cauliflower, broccoli, cucumber, lettuce, kale, peppers and spinach can help in providing a clearer and healthier skin. Green veggies contain many acne friendly vitamins and minerals and carbohydrates that are extremely beneficial for your skin.
2. Fruits
Fruits also have certain antioxidants and vitamins that can reduce acne and promote skin health. Fruits, such as pumpkin, blueberries, papaya, kiwi and oranges can treat skin inflammation caused by acne. You can include a bowl of fruits and vegetables in your diet easily.
3. Nuts and seeds
A habit to eat handful of nuts and seeds daily is beneficial for both physical health and skin. People with acne mostly have a deficiency of Vitamin E and selenium, which can be fulfilled with almonds and peanuts. Seeds such as pumpkin seeds, sunflower seeds, flax seeds and chia seeds can be consumed in the morning.
Also read: Hormonal Acne: What It Is And How It Can Be Cured
4. Avocado
Basically, we have to provide vitamin E rich food to our body and vitamin A is also important for the skin. Avocado is a rich source of both these nutrients and a friend for our skin. It can repair your skin effecfively. Avocado can also help in preventing and treating acne.
5. Tomato soup
Tomatoes are also a superfood to reduce acne on your skin. It contains vitamin A, C, K and acidic properties that can help in reducing and cleaning the acne from your face. You have to apply the tomato pulp on your face and rinse it off after 10-15 minutes to get positive results. You can include it in your diet through tomato soup and consume a bowl in the evening.
Diet plan to reduce acne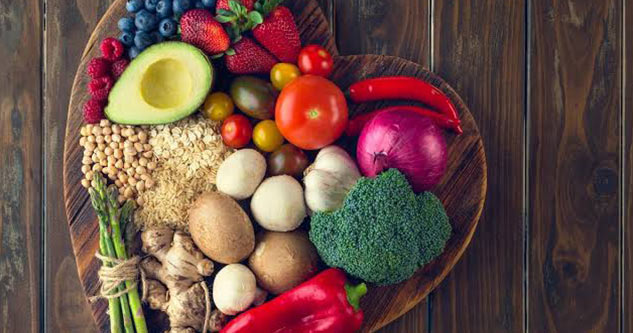 Bed tea: Eat fiber rich biscuit with tea
Breakfast (complex carbohydrates): Oat meal, daliya, quick flakes, corn flakes, whole wheat flour chapatti with curd and egg white
Lunch: Whole wheat chapatti or phalguna rice with whole pulse like rajma, chane ki sabzi, green vegetables. If not vegetarian, fish is also a better option and also plenty of salad.
Dinner: Chapatti and dal or green vegetables and salad
Drink more water but not just after eating or during eating, drink before 15-20 mins of eating
BONUS TIP: Drink a lot of water throughout the day to tackle the problem of acne
Also read: Skincare Guide: 7 Best and Worst Foods For Acne-Prone Skin
Foods to avoid to manage acne
According to Dt. Sanjay, here are some foods that you need to avoid to manage the problem of acne:
Junk food
Refined food
Processed food
Too much sugary foods
Read more articles on Healthy diet
Image credits:
Scmp.com
Cookinglight.com
Foodandnutrition
Classpass.com