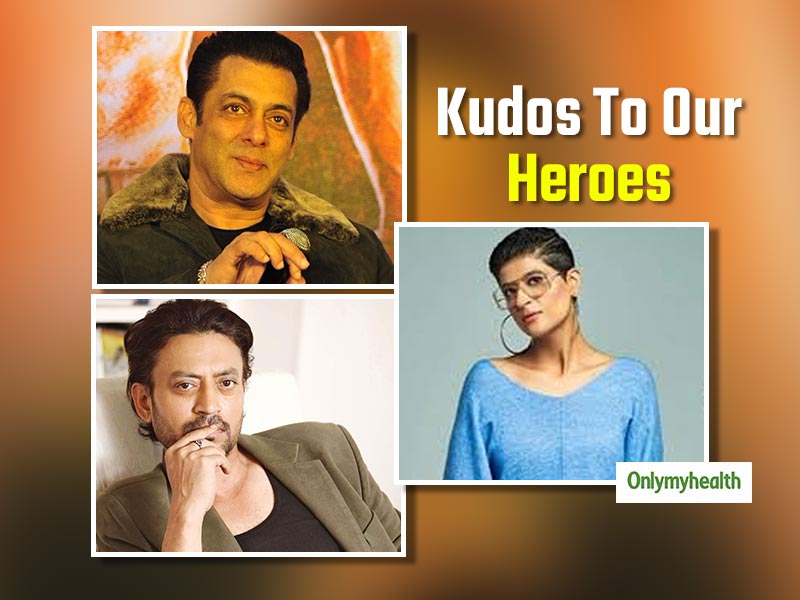 When we think of Bollywood, what comes to our mind? It's the glamour that we see. But everything is not as glitzy as it seems. The heroes of our films are sometimes asked to entertain their fans even if they are in the worst of their health. And, yes! Some actors have shown great courage by performing for their fans despite battling severe health concerns. There are many actors in the film industry who not only fought through severe illnesses, but also came out stronger than never before. Listed below are a few names who battled some dangerous diseases:
Salman Khan
While working for his film 'Partner' with co-star Govinda in the year 2007, he experienced the symptoms of a disease named Trigeminal Neuralgia which leads to facial shocks at certain time intervals. This health concern is grave as there is no specific cure to this and only surgery can be a solution for relief. However, despite surgery, these facial shocks can continue to happen. Severe temperature can trigger the facial shocks, leading to excruciating pain. Salman has undergone many surgeries for the same, but he lets nothing come in between his fans when it comes to performing in front of the camera. Our favourite Chulbul Pandey continues to be 'Dabbang' and goes about his daily routine typically.
Also Read: Juuling, The Addictive New Vaping Trend In Kids
Sonali Bendre
In a shocking turn of events, Bollywood actress Sonali Bendre took to Twitter to reveal about her suffering and being treated for metastatic cancer. This type of cancer is high-grade cancer. The 44-year-old actress has shown immense courage and strength during her fight with cancer through her motivating social media posts. She has emphasised on how parents should be open to their kids about their health by making them understand the nuances of the illness.
View this post on Instagram
Irrfan Khan
2019 started with the shocking news of star actor Irrfan Khan revealing himself to be diagnosed with neuroendocrine cancer. The 51- year-old actor took to Twitter, by posting a series of posts informing his fans and well-wishers about his treatment in London. Stating about his fight with cancer, the 'Lunch Box' actor revealed, "It's been quite some time now since I have been diagnosed with high-grade neuroendocrine cancer. This new name in my vocabulary, I got to know, was rare, and due to fewer study cases, and less information comparatively, the unpredictability of the treatment was more. I was part of a trial-and-error game."
Hrithik Roshan
Primarily known for his dashing looks and robust personality, Hrithik also suffered from a deadly brain clot on July 7th 2013. He underwent successful brain surgery in Mumbai. As per reports, he sustained injuries during the shoot of his film 'Bang Bang'. After the release of his film Krrish, In a media interaction, Hrithik said, "I am fantastic. Even with the hole in my brain, my spirit is intact."
View this post on Instagram
Also Read: Madonna Drinks Cow Urine Every Day
Tahira Kashyap
A renowned filmmaker and wife of Bollywood actor Ayushmann Khurrana, Tahira Kashyap was diagnosed with stage zero cancer last year, a time when Ayushmann's Andhadhun and Badhai Ho were hooping praises from the Indian audience. Tahira has always been a real star. She never stopped posting her photos with scars and pictures of her bald head with messages that carried hope for many women around the world who go through breast cancer silently, to avoid embarrassment and judgment.
Read More on Miscellaneous