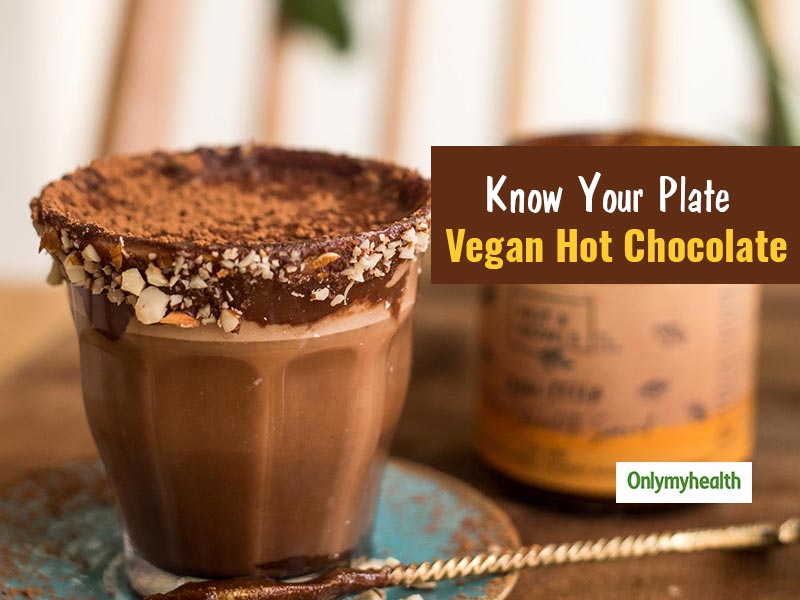 Sitting on the couch just beside the hearth, reading a novella, and taking a warm sip hot chocolate at every pause and comma make a winter evening not just special but picturesque, too. The luxurious taste and feel of drinking hot chocolate which reinvigorates the whole body is a wholesome retreat for gastronomists around the world. Although the relationship between a hot chocolate and the winters has a deep connection since long, though the art of consuming it more tastefully varied over the years in various cultures and civilisations.
Veganism - the latest buzz of the town – is gaining momentum in India quite smoothly for the last couple of years. Many people are adopting this trend to reboot a healthier life without being cruel to animals. The cup of hot chocolate in vegan menus has become quite ubiquitous around the world. The brewing hot cocoa is a much-welcomed trend for all the chocolate connoisseurs around the world. Further, the part which makes a mug of hot vegan chocolate satisfying is indeed full of health benefits that are garnered with vegan philosophy.
Ingredients
Who doesn't like chocolate? Starting from kids to young generation or old age people finish chocolate in a moment without thinking how many calories it contains. Now coming to the ingredients, it can be prepared with Almond milk (as vegan diet consists of a plant-based diet and excludes animal protein and dairy), cocoa powder, dark chocolate, Raw sugar and Coconut whipped cream for topping.
Also Read: Drink Without Ruining Your Body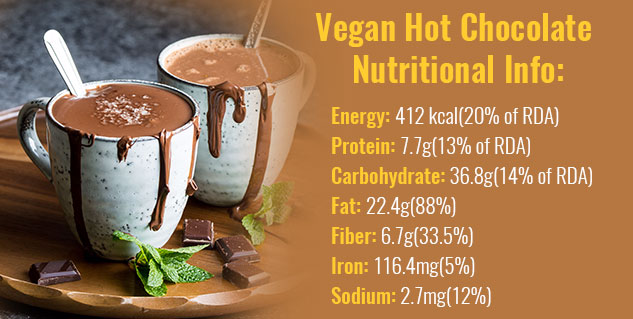 Recipe
The sip of a nice vegan hot chocolate, either with soy, almond, coconut, oat milk or solely with warm water, is pure bliss for every hot chocolate enthusiast around the world. Putting together with a precise perfection of ingredients that are freshly prepared from Almond Mylk (dairy-free, vegan), Rawtella (Vegan Nutella), and Raw Organic Cacao (40 Times the Antioxidants of Blueberries) for a cup of vegan hot chocolate will surely help in boosting the energy, immunity, and taste pretty well. Plus, drinking a thicker, richer and vegan based chocolate is en vogue.
Consumed calorie vs Burned calorie would impact in weight management.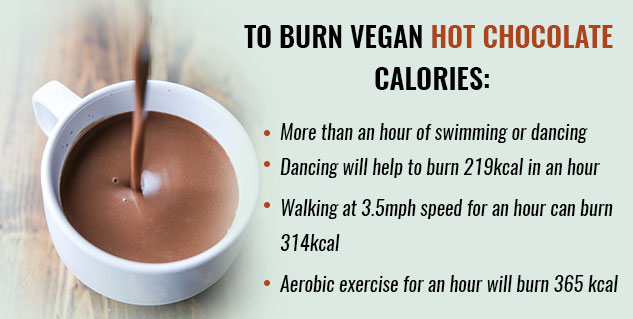 Consuming more calorie takes a few minutes but burning the same calorie takes a lot of exercises.
Not to mention, brewing hot cocoa can be a refreshing alternative to a cup of coffee and holds a slight stimulant effect in several people. While it may go without saying that a bar of good chocolate yields a good hot chocolate to drink in the cold days especially, even if there's a little variation in the chocolate, it still brings a tasty flavour to the tongue. The vegan chocolate's more unique flavours come through the addition of warm milk (soy, almond, or rice) or water.
The thickness of hot chocolate with high-quality ingredients is worth the splurge during the winters. To elevate the taste of the vegan hot chocolate, sprinkle the almond powder, cinnamon powder, maca powder, dry ginger, coconut sugar, or even a splash of dark rum just before serving can add an extra level of depth. Likewise, there are countless possibilities of things to add, from marshmallows to whipped cream that works well on top of vegan hot chocolate.
Also Read: Top 5 Vegan Foods To Reduce Fat From The Body
Facts
It is tasty, easy to prepare and rich in calorie
The high calorie will lead to weight gain in accordance with less exercise
Poor source of fibre and micronutrient especially iron and calcium
Its High sugar content will lead to weight gain as well as hyperglycemia for diabetics
Ingredients are costly, not affordable by all.
(Inputs by Ms Surruchi Joshhi, Founder of Nut & Bowls Café)
(With inputs from Ms Soumita Biswas, Chief Nutritionist, Aster RV Hospital)
Read more articles on Healthy Diet