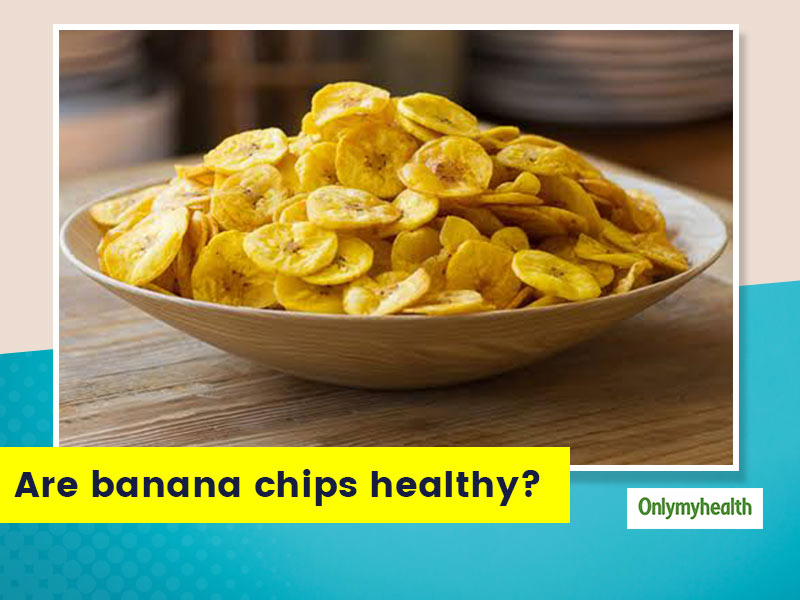 There might be a confusion if banana chips are healthy or not. Here is the calorie count of one bowl of chips. Read on.
Before eating, a lot of times you think if the food item is healthy or not. Well, we have all the answers for you. Munching chips is preferred by many as it is convenient and tasty. Talking about banana chips, they are traditionally made and used in South India. They are dried, crispy and tasty slices of banana. It is an interesting deep fried snack that is not recommended as a healthy one, especially for people who are trying to lose weight.
It is a good snack for an athlete or people in the sports field, as it is a good source of energy. It can become a post workout or post run snack for them to increase energy levels. It is better to have a whole fruit banana rather than consuming fried chips form. Onlymyhealth editorial team spoke to dietician Swati Bathwal about the calorie intake, nutrition facts in banana chips and how they are made. Read further to know everything about banana chips.
Calorie intake in one bowl of banana chips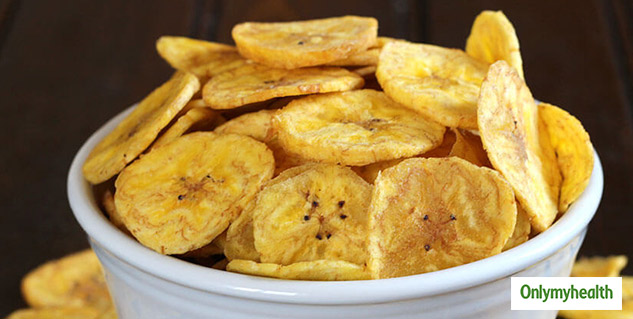 Even if you are consuming this huge amount of calories sometimes, it is important to keep a balance by walk or exercising. Working out can shed a few pounds and help in avoiding calorie intake. Dt. Swati said, "Depending on body weight, size and age, a normal average woman needs to do exercise twice a day to burn that 500 calories, as in hour you can only burn around 250 calories through brisk walking. For general population, go for the dehydrated version of banana chips instead of fried ones."
Also read: Do You Know Green Bananas Can Aid Weight Loss? Read Other Health Benefits
Nutritional facts
Banana chips don't have a very high nutritional value. It contains potassium and fiber in average amounts. However, during the processing, they add a lot of sugar, which is not very good for your body. In fact, it is rich in carbohydrates and is not advised to consume for people with diabetes. As it is gluten free, banana chips can help you during fasting. Do not munch banana chips if you are on a weight loss journey.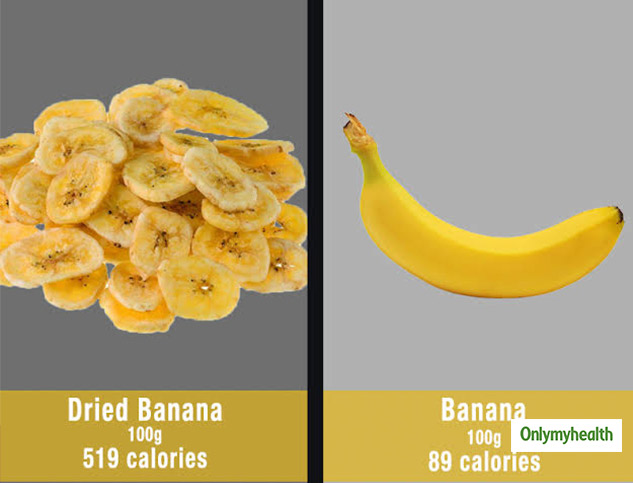 How are banana chips made?
As dietician Swati said that, "Earlier, the people used to sundry or dehydrate the banana slices. So at that time, it used to be healthier, because they never added oil. But now, when they make banana chips, it is either fried in vegetable oil or coconut oil. In fact, when they are produced in bulk, the best quality is also not getting used. If they get it, the chips become crispier, while that doesn't happen if they are sundried. They tend to get very soft when dehydrated. So, that's the difference between how people used to make and what is in trend now."
Also read: Think Before You Throw A Banana Peel In The Dustbin. They Are Edible, And Healthy Too
Healthier alternatives for banana chips
In conclusion, you should choose the dehydrated version of banana chips, instead of fried ones, for consumption. If you are avoiding the intake of banana chips, you can go for healthier alternatives like makhana, apple chips, slices of pineapple, dehydrated chips and baked chips. To enhance the taste, the people fry it and add sugar and salt. But, this leads to the food item being unhealthy for your body.
Read more on Healthy Diet