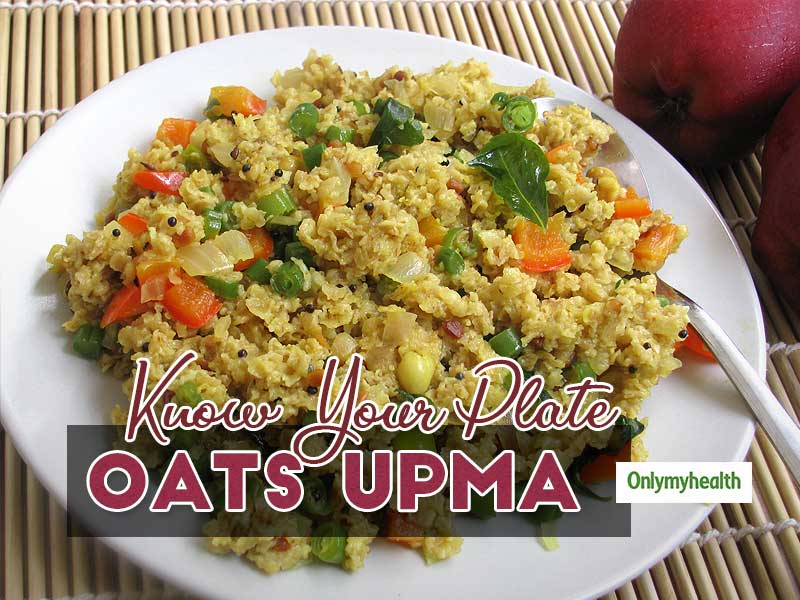 Oats is one of the grains which is denser with soluble fibre beta-glucan and also gluten-free. The Fiber content of oats increase the intestinal transit time and reduce glucose absorption and keeps the blood sugar under control. The beta-glucan content of the oats also acts as a lipid-lowering agent and reduce cardiac disease. The Fiber content also helps for weight loss. Oats also contain a good amount of vitamin, minerals and they are rich in calcium and iron. Oats has anti-inflammatory effects it contains saponins which act as a natural cleanser. Oats helps in curing digestion problems including irritable bowel syndrome (IBS), diverticulosis, inflammatory bowel disease (IBD), diarrhoea, and constipation. They are also used for preventing gallstones, colon cancer, and stomach cancer.
Ingredients
Oats 150gm
Oil 20 ml
Urad Dal 2 gm
Channa Dal 3 gm
Mustard Seeds 1 gm
Curry Leaves 1 gm
Onion 15 gm
Green Chili 1 no
Carrot 20 gm
Beans 20 gm
Tomato 10 gm
Coriander leaves 4 gm
Turmeric Powder A pinch
Peanut 10 gm
Salt 10 gm
Water 600 ml
Method of Preparation
Dry roast oats for about 5 minutes in a wide pan. Set this aside to cool.
Heat a pan with oil, add cumin, peanuts, mustard, chana and urad dal and fry till golden. Add chilli, curry leaves and fry till the leaves turn crisp.
Add onions, chopped veggies and fry till they turn transparent. While the onions are frying, rinse the oats in a Strainer under running water.
Drain up the entire water & add turmeric & coriander powder. Add the rinsed oats, sprinkle salt.
Mix well, reduce the flame to low, cover and cook for about 4 to 5 minutes.
Stirring occasionally till fully cooked. Add coriander leaves and lemon juice. Mix and serve.
Tip: If you are looking for some flavours in Oats upma you can add vangi bath powder, best bele bath powers which will give different taste from the regular one.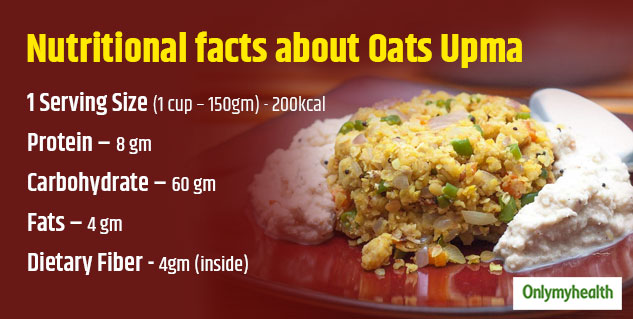 What Does an Oats upma Contain?
Oats
Vegetables
Salt
Spices
Oil
Peanut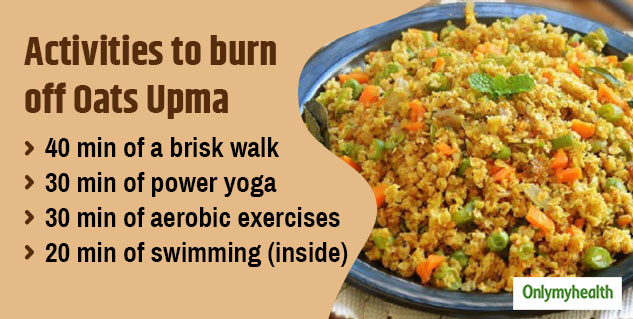 (With inputs from Ms Pavithra N Raj, Chief Dietician, Columbia Asia Referral Hospital Yeshwanthpur)
Read more articles on Healthy Diet