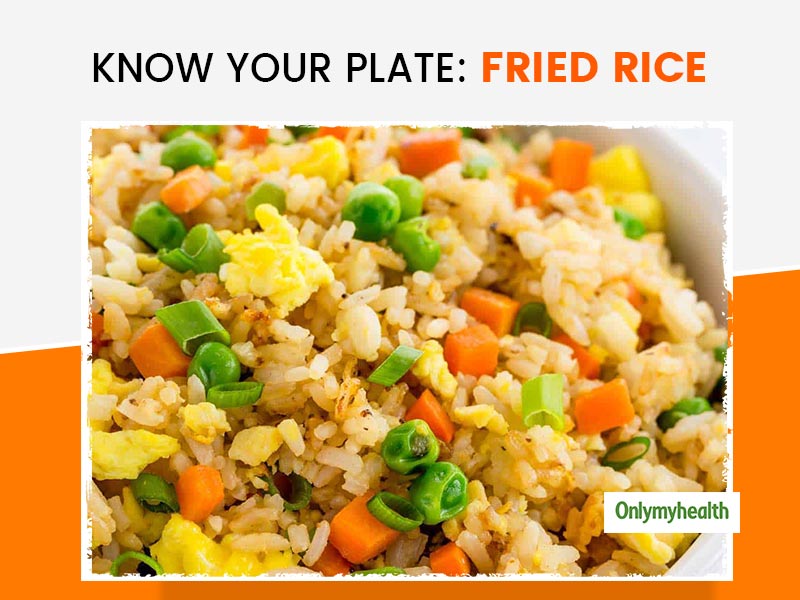 How healthy is it to eat fried vegetable rice at lunch? Know its nutritional value by Dr Anuj Chaudhary.
Know Your Plate: People often avoid eating calorific foods at lunch. But if you invite someone for lunch, you may have to prepare something unique and scrumptious (even if you do not want to). In such a situation, most people consider fried vegetable rice as a good and easy option. A large number of Chinese spices and meat and vegetables are added to Chinese fried rice. Fried vegetable rice is a little different from this. Fried rice is a dish of long-grained cooked rice that combines ingredients such as eggs, vegetables and spices mixed all together. This is usually the Indian version of fried rice. It does not use many herbs, and vegetables are also kept slightly raw. But at the same time, high amounts of carbs in it can cause weight gain! Also, it is not healthier for diabetes patients to consume it. Although it is a portion of comfort food, we share some tips to make it more beneficial for everyone.
INGREDIENTS FOR VEGETABLE FRIED RICE
Vegetables (carrots and beans), finely chopped – 1/2 cup (use any desired vegetable)
Onions, thinly sliced – 1 medium
Biryani masala – 1 tbsp optional
Whole Garam Masala – to taste
Ginger and Garlic Paste – 1 tsp
Oil /ghee/butter – 2-3 tbsp
Cinnamon - one-inch stick
Green cardamom – 3
Salt – to taste
Water – 2 cups
Peas – 2 tbsp
Rice – 1 cup
Bayleaf – 1
Cloves – 2
RECIPE FOR VEGETABLE FRIED RICE
The initial stage is to wash and dry the rice after soaking it in for 15 minutes. Dry by draining it.
In a pressure cooker, add ghee/spread/oil & add cove leaves and the whole garam masala. Mix well.
Add the onions, fry till shading changes and gets clear.
Add the ginger-garlic glue and blend well in with the onions.
Frying for 3 minutes is to be done after adding finely chopped vegetables.
Mix the drained rice and vegetables thoroughly
Add 2 cups of water, salt (according to taste) and Biryani masala (optional). Blend well.
Pressure cook till cooked (4-5 whistles or may fluctuate).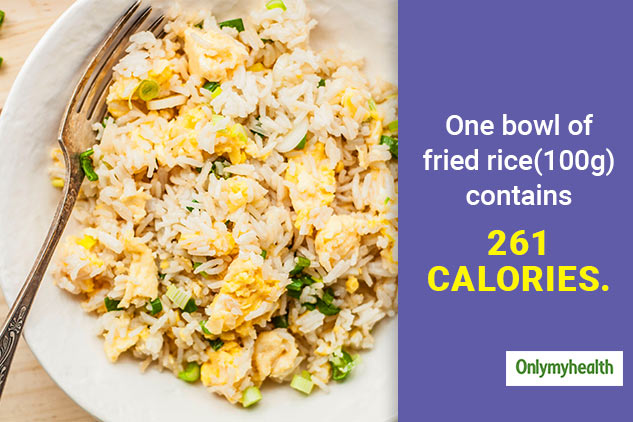 INGREDIENTS FOR EGG/CHICKEN FRIED RICE (1-2 servings)
1 tablespoon Garlic (finely chopped)
Salt and black pepper as per taste
1/2 cup Cabbage (long chopped)
1/2 cup Carrots (long chopped)
100 grams marinated chicken
1 teaspoon Corn starch
1 teaspoon Soy sauce
Two tablespoons oil
Two green chilli
1/4 cup onion
2 cups Rice
2 Eggs
RECIPE FOR EGG/CHICKEN FRIED RICE
Cut the marinated chicken into small pieces and add corn starch, one teaspoon oil, soy sauce and a pinch of soda to keep it aside for 30minutes.
Whisk two eggs in 1 bowl. Take one pan and make an omelette in it and cut it into small pieces.
Add some more oil in the same pan and let it heat up. Once the oil is hot, add chicken to it. Stir it well for 1-2 minutes.
Now add all the vegetables in it, let them cook well for 2-3 minutes, now add salt to it. Just leave the rice and put it in the pan of vegetables, let it cook for 2-3 minutes, then add soya sauce, black pepper and salt and mix it well.
What is the nutrient value of fried rice?
Nutritional value and total calories in one bowl (100g) of fried rice: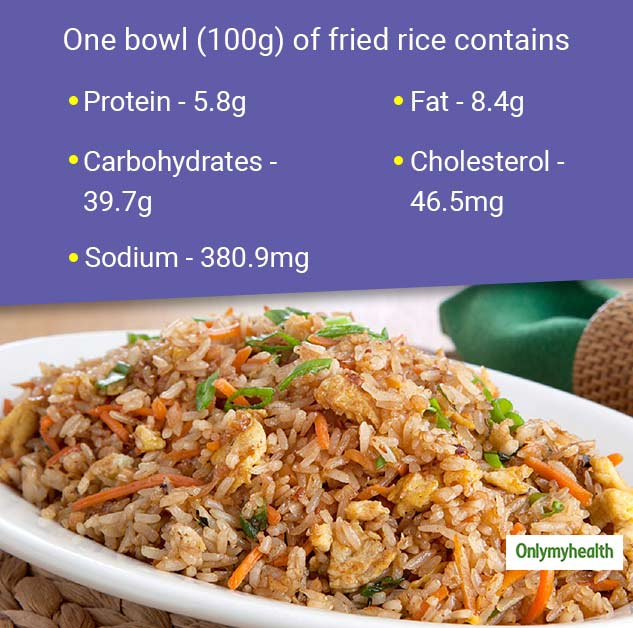 Carbohydrates - 39.7g
Cholesterol - 46.5mg
Sodium - 380.9mg
Calories – 261
Protein - 5.8g
Fat - 8.4g
Here is a healthier alternative to make fried rice at home
Home-based fried vegetable rice, roasted in desi ghee or olive oil makes it healthier. Several types of vegetables are used in different oils. Along with this, people also fry Basmati rice and use it spicily. Let us now look at the nutritional value of the ingredients used in fried vegetable rice before elaborating.
Healthier Fried Rice is super easy and cheap to make. It can be done by cooking the veggies such as sweet corn, mushroom, beans, spring onion, carrots, broccoli, capsicum etc. first, then adding the traditional cooked white rice with a little stock until everything is cooked well and it is ready to serve.
What are the health benefits of eating fried rice?
If vegetable fried rice is prepared healthily, it can be very beneficial for health. Health Benefits of fried rice are:
Contains Powerful Antioxidant: Many types of vegetables like carrots and capsicum are also used in it, having the right amount of antioxidants and helping the body fight against many harmful bacteria. Fried rice contains antioxidants that can boost immunity.
Muscle Formation: Fried rice is recommended to consume for muscle formation. Simultaneously, having 77 per cent of carbohydrates can be beneficial for giving weight gain to people and children at lunch.
Maintains Healthy Skin: Do you know you can keep your skin healthy just by eating fried rice? Vitamin C in this food is also beneficial to make your skin healthier.
Good for Bones: Simultaneously, it also contains the right amount of calcium and iron in milk and dry fruits, which is considered very beneficial for your bones health.
Energy Source: The compound of calories and carbohydrates in fried rice is a valuable energy source that lowers your blood pressure.
Good for Eye Health: Vitamin A in this food is also perfect for your eyes' health. The fibre in fried rice is also good for your stomach.
Health hazards by consuming excessive fried rice
You consume 261 calories or more by eating about one bowl of vegetable fried rice. It also means that you have gained a large part of your entire day's calories by eating it. At the same time, it has a fair amount of fat and carbs. All these things may not be entirely healthy for you, and it could make you fat. Also, it becomes quite unhealthy for people suffering from diabetes and blood pressure. For those who are losing weight, it is entirely harmful to consume fried rice. Therefore such people can switch to a healthier alternative of fried rice by following these tips.
Also read: What is the Importance of a Balanced Diet and How It Can Enhance our Health
Instead of frying rice and vegetables separately, make a mixture of cooked brown rice and cooked vegetables using two tablespoons of oil at a time.
Do not deep fry the vegetables, instead keep them half-raw or slightly boiled.
Try high-protein vegetables instead of potatoes or any high-carb vegetables.
Use cooked brown rice instead of basmati rice.
Use vegetable oil instead of canola oil.
What exercises are required to burn off one bowl of fried rice?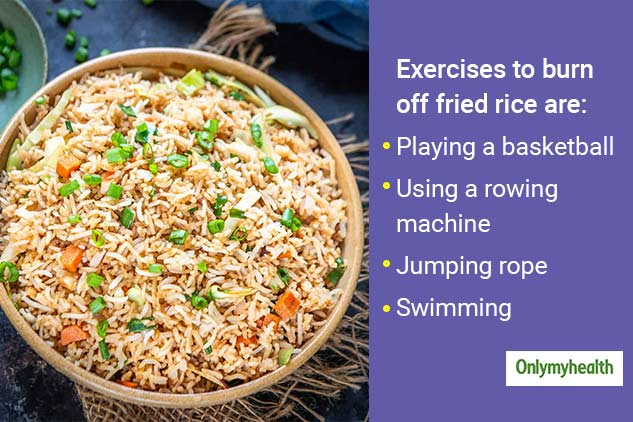 Exercises to burn off 100g of fried rice are:
Running at five mph – 298 calories (16 minutes)
Using a rowing machine (vigorously) – 316 calories
Bicycling at 14mph – 372 calories (24 minutes)
Playing a basketball game – 298 calories
Jumping rope – 372 calories
Swimming – 223 calories
FAQs related to the consumption of fried rice
What is the difference between pulao and fried rice? The principle distinction between them is that 'fried rice' is produced using pre-cooked rice while pulao is made immediately by the typical method of making rice. Again relying on the ingredients, you can have various or several names to the pulao/fried rice.
What is fried rice best eaten with? It is best eaten with hot and sour soup, schezwan sauce, gravy Manchurian etc. You can add anything as long as it is fried.
What is the right time to consume fried rice? As per studies, lunchtime around 1 PM - 3 PM is the best time to consume fried rice.
(With inputs from Dr Anuj Chaudhary, Founder - Animal Nutrition Booster Company)
Read more articles on Healthy diet