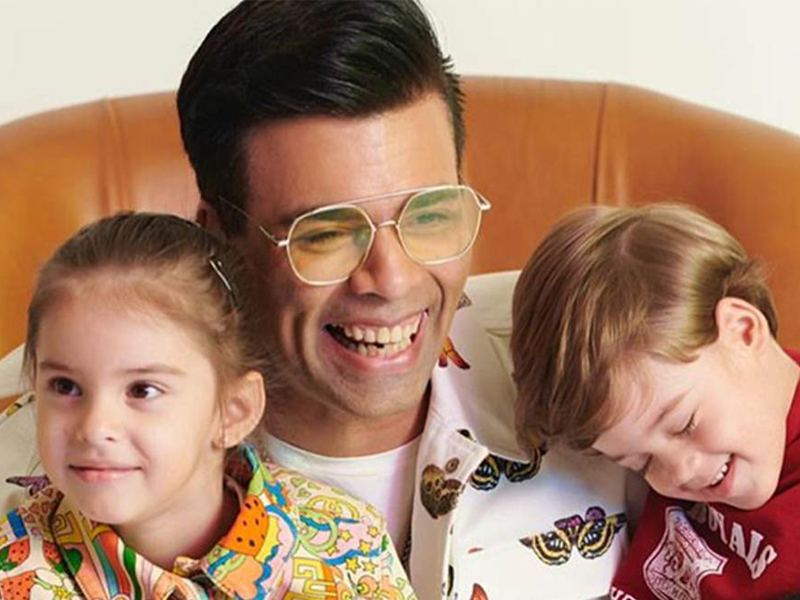 Happy Father's Day: Karan Johar on how parenting and single fatherfood can make no difference when it comes to raising kids with all the love and care
Father's Day Special: While all the celebs this while have posted pictures of their cooking, cleaning and exercising schedules, we have had our celebrity fathers who made every time worth it by spending time with the kids. For single fathers, where they have to play the roles of both the parents, it becomes extremely important to make all the time for the kids. Hence, what better father than Karan Johar who tries his best to spend every minute of the day with his twins Yash And Roohi Johar. We know how Karan Johar loves to post videos of his kids on social media every day. On this Father's Day, we are going to reveal several secrets about Karan's parenthood and parenting tips as to how he plays a wonderful role of both the parents to his kids. In wake of recent events before his birthday, Karan Johar in Arbaaz's chat show 'Quick Heal Pinch by Arbaaz Khan' talked about his parenting life..
View this post on Instagram
Children were born with surrogacy
Karan Johar (on raising his children) said that he could give his children the love of both parents. Taking a dig at those who spoke about raising their children, he said, "How do those people know whether I am a good parent or not. Giving the love of both mother and father to a child would have been a new phase in my life."
In 2017, Karan became a father through surrogacy and had two children, son and daughter. He named his children after combining the names of his parents' names with Yash and Heeru's name, YASH AND ROOHI JOHAR.
Arbaaz Khan read many comments on social media related to Karan Johar in the chat show. It was written in a comment that how does he take care of their children Yash and Roohi if Karan considers himself a mother then how does he give love to a father? Talking about the look of the children, Karan said, "First of all, the people who are raising this question do not know about surrogacy. Egg donor depends on what your children look like, and it is not necessary. If it is outside the country, it can also be an internal genetic pool. " Karan further said, "When it comes to taking care of my children, I can give the love of both my parents to my children. My mother lives at home, and the children call her a mother. I take care of them with my mother, and I think it's quite good."
Karan Johar's Little Champs
Recently, Karan Johar's celebrated the third birthday of both the children Yash and Roohi. On the auspicious occasion of the birthday (February 7) of both his children, Karan shared an adorable post on social media. Karan Johar shared his family photos on Instagram. In this picture, Karan is seen in the picture with his mother, son Yash and daughter Roohi. While sharing the photos, Karan wrote the caption that, "according to social status I am the mother and father of Yash and Roohi, although it is not that my mother along with me helps me in raising these children without caring for them. Because it was complicated to handle these two together. Yash-Roohi has turned three today and has always been happy like this. I want to thank God from the bottom of my heart, thank you for giving me fame and happiness…"
Also Read: Know Parenting Tips From A Working Pilot Mother
'I am ready to play my father in films'
Recently, Karan Johar has announced that he is ready to play the role of the father in films. Karan Johar has shared a stunning photo of him, in which he is seen in a different avatar. Along with this, he has also told that now he is ready for the role of the father in films.
Karan has shared a photo of himself on his Instagram account, in which his hair looks white. He is seen looking clean and has glasses. Sharing the picture, he wrote in the caption, "I know that my acting has been more frightening than the virus currently spreading, but there is nothing wrong in expecting another chance." So I have an announcement to make for all entertaining casting directors, all risk-taking filmmakers! I am available for father roles! (At age 48 with a poor track record).'
Let us tell you that despite all odds, KJo has always proved how his parenting life is all about running behind his kids just like for any parent in regular jobs. Hence, examples like these still are a ray of light for single father who are always under the brunt of constant criticism when it comes to raising a child without a lady in their life..
Read More Articles in Tips For Parents