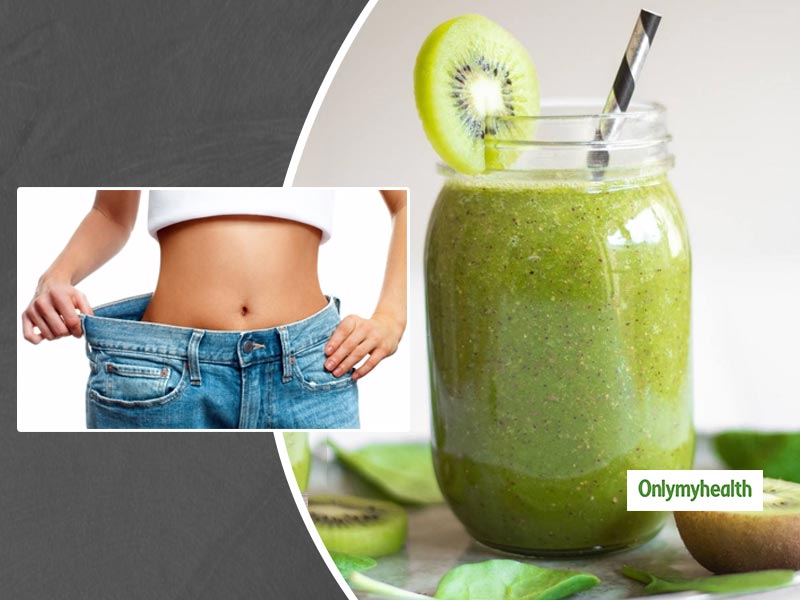 Dried fruit kiwi smoothie recipes for weight loss: Weight gain is usually a common problem in today's bustling life. 3 out of every ten people are suffering from obesity. Most people exercise (earlier they used to go to the gym) and take several other measures to keep themselves healthy and fit. Besides, some people even give up their food to keep their weight under control. This makes your body very weak, and you can also fall prey to diseases. But no worries as now you can adopt these natural remedies for weight loss, which will help you get rid of obesity. Yes, we are talking about Kiwi Smoothie, it is delicious and is also helpful in reducing weight.
Kiwi nutrients: Kiwi is rich in many nutrients that not only keep your body healthy but also help in reducing weight. Vitamin K, folate, potassium and vitamin E are found in abundance in kiwi. Besides, it contains an enzyme called actinidine, which acts as a digestive protein and breaks down fat molecules into smaller pieces. Eating kiwi increases blood platelets, improves digestion and keeps you away from various diseases.
Also Read: Replace Your Breakfast With A Green Smoothie To Lose Weight
Kiwi smoothie helps reduce weight: If you are troubled by obesity, and due to lack of time, you are unable to go to exercise, then you should drink kiwi smoothie regularly. Drinking kiwi smoothies does not increase excess fat on the body and keeps your weight under control. If you wish, you can drink Kiwi Smoothie even after exercising.
How to make kiwi smoothies? Here we are telling you an easy way to make kiwi smoothies. First, peel off the fresh kiwi and mash it. After this, add curd, honey and almonds and some other dry fruits of your choice to the mashed kiwi. Mix all the ingredients well in a pot, and your kiwi smoothie is ready. Drinking kiwi smoothie regularly in the morning makes one feel full for a long time, and there is no desire to eat anything again and again (which causes weight control).
Try these tips for weight loss
Eat small frequent meals, instead of large, heavy meals. Remember that both snacks and, meals count towards the balance.
Eat enough food with precise portion control to maintain ideal body weight. Follow mindful eating practices during this period.
Use moderate amounts of salt in cooking. WHO recommends 5-6 gms of salt per day in the daily diet? Avoid adding salt to food at the table.
Do not eat sugary foods and deep-fried foods, as they contain empty calories and will cause weight gain.
Flax seeds are loaded with a high amount of omega-3 fatty acids, MUFA, Folate, Vitamin B1 and B6, fibre and plant compounds such as lignans which have innumerable health benefits for the Gastro-Intestinal Health.
Therefore, we need a steady and a balanced intake of the 'Immune boosting nutrients", such as proteins, phytochemicals, antioxidants, bioflavonoids, Omega -3 fats, vitamins such as Vitamin -C, D, A, E, B12 etc. and Minerals such as Zinc, Iron, Magnesium, Chromium, Selenium etc.
By understanding the above principles' of holistic nutrition and knowing what nutrients you need, you can improve the state of health, ward off disease, and maintain a harmonious balance in the way nature intended.
Read More Articles in Weight Management