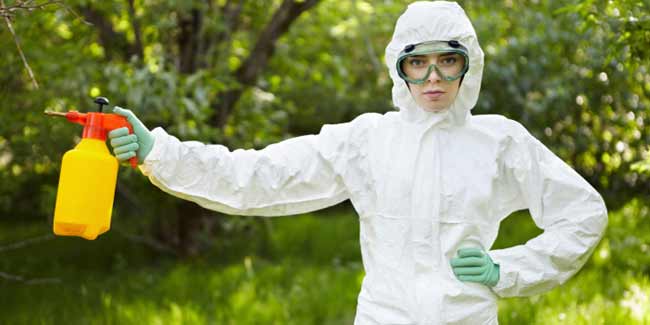 There is no need to suffer long-term health problems to ward off the pesky bugs. You can easily make your own- completely natural insect repellent at home.
Summers= bugs. And a bug spray becomes practically a crucial item for every household to keep. Of course we don't want to be bothered and bitten by the unwanted pests.

But most repellents contain harmful chemicals, which according to various studies damage brain cells, can cause behavioural changes, and can have harmful interactions with some medications. They may also cause brain cell death in animals.

Additional research found that up to 15 percent of these chemicals is absorbed through the skin directly into the bloodstream. The toxic effects of these chemicals include: reproductive disturbances, genetic material mutations, and central nervous system disorders.

But, there is no need to suffer these health problems to ward off the pesky bugs. You can easily make your own- completely natural insect repellent at home. These natural alternatives can be as effective as and sometimes more effective than the commercial repellants.




There are a few different formulations you can make for your natural insect repellent. These repellents involve diluting essential oils that the insects find distasteful or which confuses them.
The Essential Oil Bug Spray
Ingredients-
Choose your favourite essential oil from Citronella, Clove, Lemongrass, Rosemary, Tea Tree, Cajeput, Eucalyptus, Cedar, Catnip, Lavender, and Mint.
Natural Witch Hazel
Distilled or boiled Water
Vegetable glycerine (optional)

Recipe-
Take distilled or boiled water in a spray bottle; but do not fill it till the top.
Add natural witch hazel to fill it to the top.
If you choose to use vegetable glycerine, add ½ teaspoon of it.
Now add 30-50 drops of your chosen essential oil. This oil will give your repellent its smell.

The more oils you use, the stronger the spray will be. You can also mix various oils for a great smell.


The Herb Bug Spray
Ingredients-
Distilled water
Witch hazel or rubbing alcohol
Dried herbs: peppermint, spearmint, citronella, lemongrass, catnip, or lavender (it is a good idea to use at least one herb from the mint family.)

Recipe-
After boiling 1 cup of water, add 3-4 tablespoons of dried herbs to it.
You can use these herbs in combination. You could use 1 tablespoon each of peppermint, spearmint, catnip, dried cloves and lavender.
Cover and let this water cool after mixing the herbs well. Covering the liquid will ensure that the volatile oils are absorbed well in the water.
Strain the liquid and mix 1 cup of witch hazel or, rubbing alcohol to this water. Pour this water in into a bottle and keep in a nice and cool place like refrigerator.

Use it as and when you need. This spray is refreshing to the skin along with smelling great.


The Vinegar Insect Repellent
Ingredients-
1 litre bottle of Apple Cider Vinegar
2 tbsp each of dried Sage, Rosemary, Lavender, Thyme and Mint
Quart size glass jar with airtight lid

Recipe-
Mix vinegar and dried herbs in a large glass jar.
Seal it tight and place it somewhere you can see and shake it daily for 2-3 weeks.
After all these weeks, strain out the herbs and store the liquid in a spray bottle, preferably in a fridge.
Dilute this liquid to half with water and apply on your skin as and when you need it.

This mixture is very strong and has antiviral and antibacterial properties. You must use it carefully and in limited quantity.

Other than these natural repellents, you can also save yourself from getting bitten by bugs by rubbing lavender oil on your skin, especially your neck, underarms and behind the ears. This will effectively repel the insects.
Read more articles on Home Remedies for Daily Life.