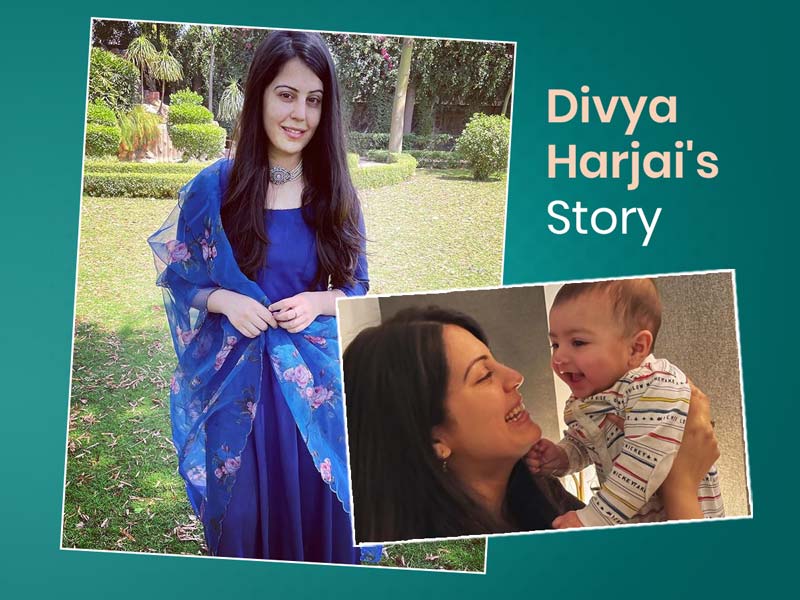 Postpartum weight loss is challenging because of many restrictions in terms of diet and physical activity for the new mom. It is easier to lose weight for a normal person as compared to a woman who has recently delivered a baby. On the other hand, intermittent fasting is an effective medium for weight loss but with that comes a lot of limitations too. Divya Harjai who is a mother to 9-month-old Avyuktha is following intermittent fasting to lose postpartum weight. In an exclusive interview with Onlymyhealth, Divya spilled beans on her weight loss. If you are interested to know more about her journey, scroll down to read.
Intermittent Fasting After Baby's Birth
Upon asking how long has she been practising intermittent fasting and how successful it has been for her, Divya says, "I started IF after five months of my baby's birth as he didn't take my feed for long. I was 72-73kgs the day I delivered Avyuktha, my son. And today after over 4 months of intermittent fasting my weight is somewhere around 62kgs. I would say this has been a great experience so far and has really worked for me!"
View this post on Instagram
Meal planning for intermittent fasting
Divya follows the 16:8 Intermittent Fasting regime. She makes sure that most of her meals are a healthy balance of carbohydrates, proteins and healthy fats. The major part of her meal is daal and Sabzi in good proportion and she accompanies it with either roti or rice and some salad. Divya tries to make meals fun and healthy by cooking them herself most of the time. She likes experimenting with her food pallet and cooking.
Also Read: Don't Eat Before Bed, This May Delay Fat Burning In The Body
Is intermittent fasting okay when you have a newborn who you breastfeed?
"No, breastfeeding mothers are advised not to follow any kind of major lifestyle modification, intermittent fasting being one of them! It might affect their milk supply. I did speak to a relative who happens to be a dietician before starting the diet and also had an in-depth talk with my cousins and friends who followed the IF and showed remarkable results! Also I do not have any medical conditions or history so it was easier for me to start with confidence."- Divya Harjai.
View this post on Instagram
Weight loss tips for fellow mothers
"Please remember to be gentle with yourself. From experience, I know and can say that you've been a part of a miracle and you and your body have gone through a lot to bring a new life, a new existence to the world! Kudos to you, Mumma! Just remember to take it easy. I know it's easier said than done but we all know that everybody is different."
Once your breastfeeding journey is established properly and in fact when it's time to wean off your baby, it's better to get in touch with your gynaecologist and dietician to know if you are ready to start your weight loss journey.
Till the time you can actually begin it will be better if you can avoid extreme amounts of sugar and refined flour and have naturally available foods in plenty like vegetables, fruits, etc.
Different homemade sugar-free teas at different times of the day also create a huge difference! Also, don't give up if you are not able to do follow the fast for a meal or a day! It's important to get back on to the journey as soon as you can!
Even though it may be difficult to initiate the fasting and set a pattern, you will get used to it and start enjoying it soon! Just put in the hard work and give your body a chance and it will not disappoint you ever!
View this post on Instagram
More Recommendations
What are the other things that you might follow for postpartum weight loss apart from the diet? Yoga and exercise are a great help in losing those extra inches that still remain despite the balanced diet! It's important to consult your gynaecologist before starting any form of exercise especially if you have had a c-section and even otherwise. "I've started to take walks, jog and do some basic workouts at home, to begin with, but I really need to find time for Yoga as well as it's the most befitting both physically and mentally. It's in my to-do list somewhere between tending to my teething infant and his needs, household chores and work commitments!" says Divya.
Also Read: Love Eating Rice But On A Weight Loss? Try These 11 Rice Substitutes
It's also extremely important to tend to your mental health! Becoming a mother might be the most beautiful experience in the world but not everyone will tell you how daunting it could be! It's important to make sure that you talk about your postpartum feelings with your partner, family or friends or even a professional especially if you think it's affecting your mental peace. Family and societal expectations, largely interrupted sleep patterns, breastfeeding and milk supply issues, body image are some of the various factors that affect most new mothers and it's important to deal with these issues in time before they become more problematic. Remember it's your journey, it's your baby and you instinctively know more than you think you do so trust yourself and do what your heart feels is right and take professional help if in doubt!
If you want to lose weight safely and effectively after delivery, consult your doctor about when can you start. Every woman has a different journey. If the doctor gives you a green flag, you can begin your weight loss plan. Intermittent fasting is a great way to lose weight but it is important that your doctor approves of it. Take cues from Divya and lose weight safely!
Read More Articles in Weight Management