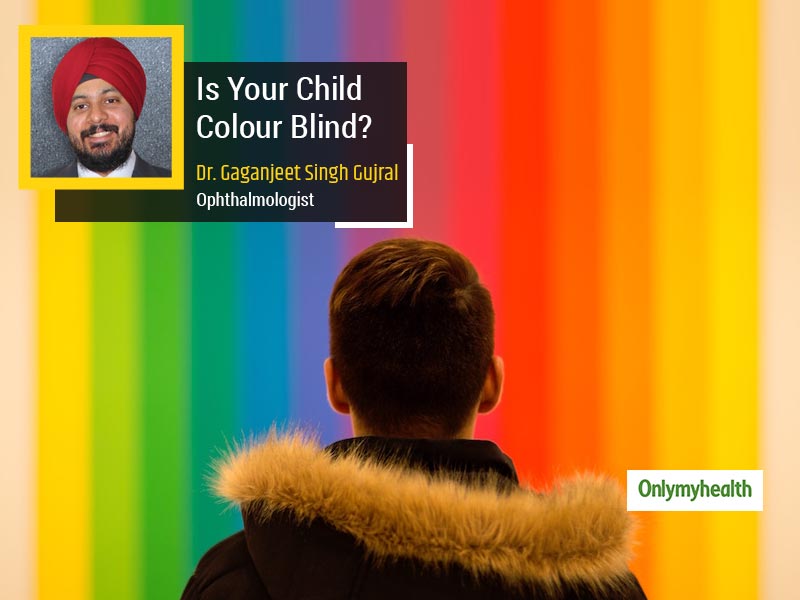 Inability to differentiate between colour is the first sign of colour blindness in children. Know more details from an Ophthalmologist.
Colours add meaning to our otherwise dull and boring life. They have the power to affect our emotions and psychology. We also use colours to interpret information such as signs and lights. Abnormal colour vision may affect virtually all facets of modern human life. Such individuals with colour vision deficiency or colour blindness find it difficult to see or identify some colours. Even though the condition is called colour blindness, technically it is not a form of blindness. Instead, it is a deficiency to see colours such as blue and yellow or red and green.
What are the symptoms of colour vision deficiency in children?
Generally, colour blindness that's inherited can be diagnosed during childhood itself. Basically, when your child is unable to identify or recognise blue and yellow, or red and green colours, it is the first sign that your child may be colour blind. The child may have an inability to separate things by their colour. So, as a parent, you should look for signs of colour vision deficiency when your child is still learning to name the colour of objects. You can take these tests to identify colour blinddess.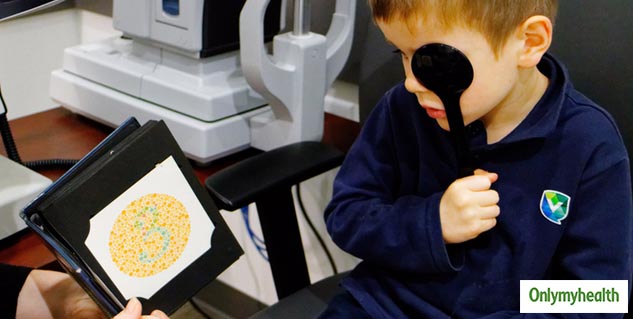 Other than that, sudden or gradual loss of colour vision can indicate an underlying health problem, such as cataracts.
What causes colour blindness?
Conor blindness is mostly a genetic condition, meaning it is passed down from parents. However, in few cases, colour vision problems can also be acquired later in life due to diseases such as Alzheimer's, Parkinson's Disease, etc., or trauma that causes brain or optic nerve / retinal damage or exposure to toxins.
As mentioned above, red-green colour vision deficiency is the most common inherited type and is generally found in men as the vision deficiency gene is linked to the X-chromosome.
Also Read: A Teenager Went Blind After Eating Only Fast Food For Around A Decade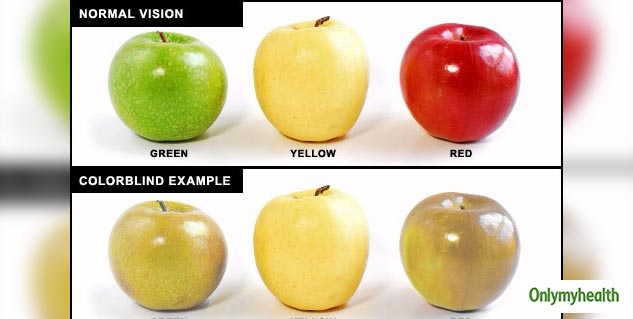 Diagnosis of colour vision deficiency
Colour blindness can be diagnosed by ophthalmologists (eye specialists) and optometrists, using a specially designed chart that has a circle made of different coloured dots. People who are colour blind have a hard time identifying shape inside the circle.
If an individual is found to be colour blind, it may require further testing to tell exactly what the nature of the deficiency is.
Also Read: Can Blue Light Glasses Prevent Digital Eye Strain? Know From Ophthalmologist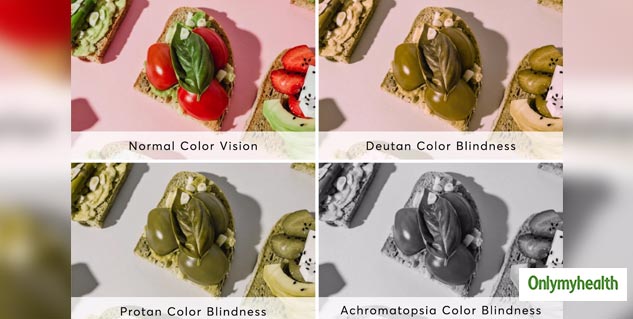 How To Treat Colour Blindness?
If the colour blindness is genetic, there is no cure for this problem rather you have to adjust to the problem for the entire life. Children with colour blindness may require assistance in school activities.
If you're taking a medicine that's causing colour blindness as a side-effect, speak to your doctor as he may adjust or change your dose of medicine.
There are special glasses and contact lenses that can help in distinguish between the colours. People who are facing troubles in their day-to-day life due to the colour blindness shall get these glasses.
Besides, you can also rely upon visual aids, apps, and other technology to help you live with colour blindness.
It is important for children to be included in all sorts of activities suitable to them and the impact of this sensory change to be decreased or treated in a way that would reduce the detrimental impacts. Proper counselling for a career suited to them is of paramount importance.
Building knowledge on the subject of the impacts of abnormal colour vision is essential to guide the development of further assisting technologies for those who deal with this sensory condition on a daily basis.
(With inputs from Dr. Gaganjeet Singh Gujral, Senior Ophthalmologist, Sharp Sight (Group of Eye Hospitals), New Delhi)
Read More Articles In Other Diseases