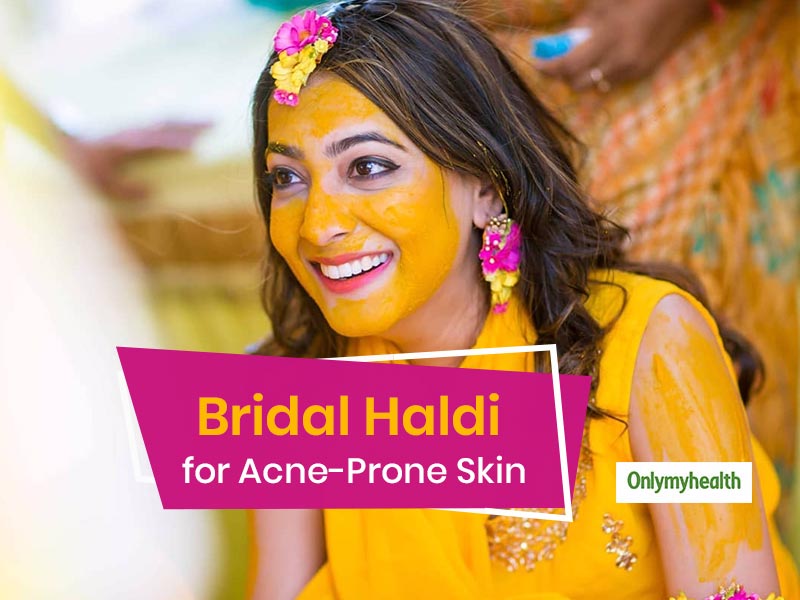 Girls who have acne-prone skin and are all set to get married, here is a skin-friendly haldi paste that you must try.
Wedding season is here and the families must be busy preparing for the wedding functions like Mehendi, Haldi, sangeet, wedding and reception. Mehendi and Haldi have cultural significance and thus, they are the most important events in an Indian marriage. While the ceremonies are done differently in all cultures, Haldi and Mehendi functions are there irrespective of the religion or culture.
Haldi ceremony is a fun-filled event where the bride is applied a turmeric paste on her body. Initially, this ritual started with 'ubtan' that's made with turmeric and sandalwood to enhance the bridal glow. Different brides have different skin types. Brides with oily & sensitive skin fear about breakouts and acne on their wedding and some of them even do get a pimple on the D-day!
If you're a bride with acne-prone skin, worry not. We have a solution for you that would prevent acne without skipping on the haldi.
Here's what you need to make the acne skin-safe haldi paste
Turmeric powder or haldi
Sandalwood powder or chandan
Green gram powder or powdered moong daal
Basil or Tulsi leaves
Mint leaves
Cucumber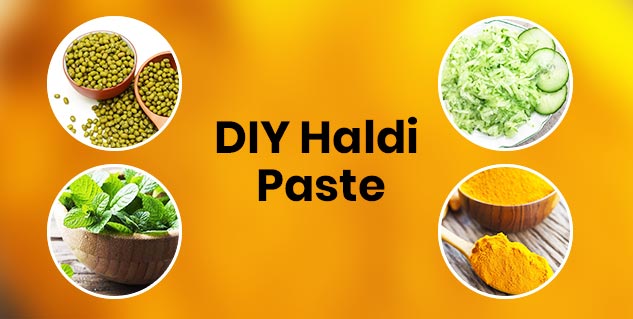 Method
In a large bowl, add turmeric powder, green gram powder and sandalwood powder. Mix them.
Grate a cucumber and extract its juice.
Add cucumber juice to the powdered mixture.
Alternatively, you may blend cucumber, basil leaves and mint leaves to make a paste.
Add this green paste to the bowl.
Mix everything well.
Your herbal haldi paste is ready.
NOTE:
Use the ingredients as per the requirement as you have to apply this all over your body.
There is no ratio thing with this paste which is an advantage.
All the ingredients are herbal and won't cause any side-effects on the skin.
Using this paste for your haldi ceremony would not only prevent acne or breakouts but also bring a natural glow to complement your bridal glow. However, it is better to test this on your skin days before the haldi day to ensure that your skin is not reacting to this herbal paste.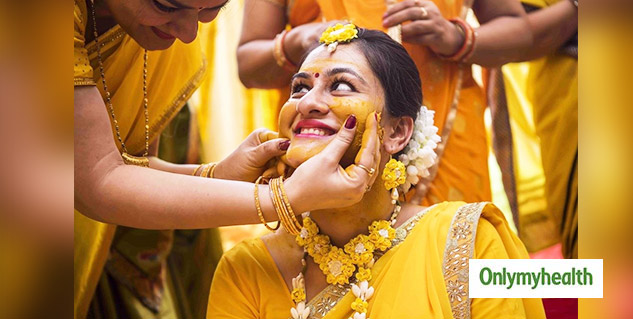 Also Read: Bride To Be? 6 Superfoods To Eat A Month Before Wedding
Why this Haldi paste works?
You must be wanting to know why this paste would not harm your skin. The ingredients used in this paste are natural and good for the skin. Check out their individual benefits:
Turmeric- Turmeric is a boon for the skin. It has antiseptic and antibacterial properties to ward off any bacteria on the skin.
Sandalwood- It has anti-inflammatory properties which help in protecting the skin from harmful environments.
Cucumber- Cucumber has great cooling and soothing properties. It cools the skin to prevent acne breakouts.
Green gram powder- Moong daal contains vitamin C which is an antioxidant. It prevents aging to allow rejuvenation.
Mint and Tulsi leaves- Both of these leaves are packed with essential vitamins and minerals. These prevent acne or pimples while keeping the skin cool. It will also soothe the irritated skin to restore its fresh and youthful glow.
Make this paste and use it for your haldi to leave everybody in awe!
Read more in Skin Care