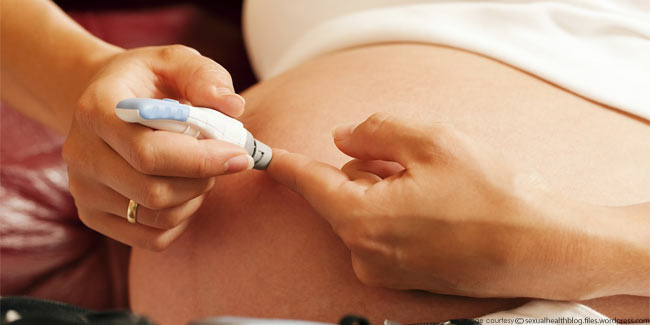 Gestational diabetes is not good news for expecting mothers, as it can be scary, never the less it is reassuring to know that women who have this give birth to healthy babies. You are the one who can alter this, as you are the person who is at risk, and you must start with making healthy choices.

It has been found that most women who make changes in their eating habits and do appropriate exercises regularly are able to keep their blood sugar level within a target range. You must already understand that the key to preventing problems during pregnancy or birth is to controlling the blood sugar levels.

There needs to be a treatment plan for you, a subtle change in the food habit, a shift in what, when, and how much to eat, and some basic exercises like walking. Just by walking several times a week you can help you blood sugar level to a great extent.

[Read: What Triggers Gestational Diabetes]

We have listed some ways in which you can treat your gestational diabetes here below:
Balanced Diet

Get in touch with a dietician after you have found out that you have gestational diabetes. This is important as you will need a diet plan so as to suit this new development. Remember to limit the intake of carbohydrate as this will control your blood sugar. If you happen to be overweight or obese then your doctor will recommend you to eat less so as to gain lesser weight. Doctors say that most women gain 11.3 kg to 15.9 kg during pregnancy.
Regular Exercise

You are recommended to do at least two hours of exercise every week. You really do not have to hit the gym for this; instead you can simply be active 30 minutes a day for five days a week. By exercising regularly and moderately you will help your body to use insulin better, thus helping your blood sugar level. You must however consult your doctor if you had never exercised before. Try low impact activities like walking or swimming, as they are especially good for pregnant women.
Check Blood Sugar Levels

You must get your blood sugar levels checked on a regular basis at home. This is very important as it gives you an idea about your blood sugar levels, and hence you can change the plan of treatment. You must consult your doctor about how often to test your blood sugar.
Insulin Shots

If in case you find out that your new diet and exercise regime isn't helping your blood sugar levels then you may need to take insulin shots. Insulin is very helpful and is common among diabetics, as it lowers your blood sugar level without actually harming the baby. Also, some doctors are using pills called glyburide and metformim to treat women who have gestational diabetes.

[Read: How Insulin Works in Diabetes]

Monitoring Foetal Well-Being

In such a situation, the development of the foetal should be your primary concern; hence it is important that you monitor fetal movements which are also called kick counts. Let your doctor know if you think that your baby is moving faster than it should.

Stay safe and have a blessed pregnancy.


Read more articles on Gestational Diabetes.