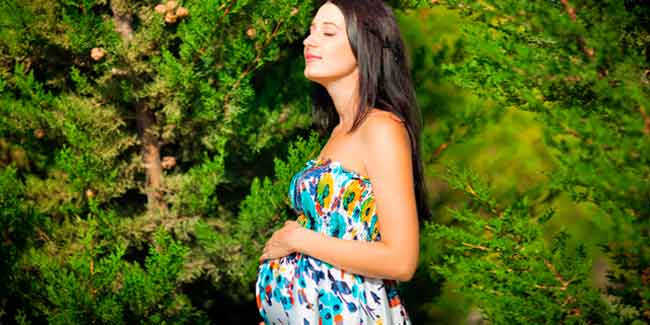 It is very important to gain the right amount of weight when you're expecting, as it has a direct impact on babies' weight and health. Health experts advocate on gaining about 2 to 4 pounds during the first three months of the pregnancy term. Thereafter, expectant mother should gain 1 pound a week during the rest of the pregnancy.
How much weight should a pregnant woman gain?

The weight a pregnant woman should ideally gain during pregnancy depends on what her weight (and BMI) before she became pregnant. According to American Pregnancy Association:
Those who have a normal weight before pregnancy, a BMI of 18.5-24.9, can gain 25-35 pounds during pregnancy.
Those who are underweight before pregnancy, a BMI of less than 18.5, should put on 28-40 pounds.
Women who are overweight, a BMI of 25-29, should gain not less than 15 pounds and not more than 25 pounds.
Women with a BMI of over 30 or more should aim for a weight gain of 11-20 pounds.

On a trimester basis, a woman with a normal pre-pregnancy weight should ideally gain 1 to 4.5 pounds during first trimester, 1 to 2 pounds per week during second and third trimesters.

How to Gain the Right Amount of Weight during Pregnancy
When you are pregnant, you should always consult your health care provider on how much weight you should gain. The following tips will help you gain the right amount of weight during pregnancy.

Healthy Eating: Eating healthy meals is elementary to pregnancy fitness. A pregnant woman should use fats in moderation for healthy weight gain during pregnancy.

Rather than three big meals a day, it is advisable to eat five to six small meals every day.
Fats you can have during pregnancy include cooking oils, butter, sauces, mayonnaise, salad dressings, sauces and cream cheese, but in moderation. Try lower-fat alternatives of these.
For quick and easy snacking, munch on nuts, raisins, cheese, dried fruits and yoghurt rather than fast foods.
You can gain extra calories by spreading a peanut butter on toast, apples, bananas or celery. Similarly, butter or margarine, cream cheese, gravy, sour cream and cheese are the extras you can add to meals for extra calories.
An expectant mother needs at least four servings of milk products every day, however, they should always choose low-fat or fat-free dairy products.
Sugary drinks have lots of empty calories. Therefore, choose water to skip extra calories. Similarly, foods to avoid that have abundant calories but little nutrition include cookies, candies, donuts, cakes and potato chips.
Cook Food the Healthy Way: Baking, broiling, grilling and boiling are healthier preparation methods than frying in oil or butter. Moreover, salt shouldn't be added to foods as it makes one retain water.

Physical Activity: During pregnancy, an expectant mother must engage in moderate exercises to help burn excess calories. Walking, swimming or prenatal yoga are some of the exercises health care providers suggest to expectant mothers.
Read more articles on Pregnancy