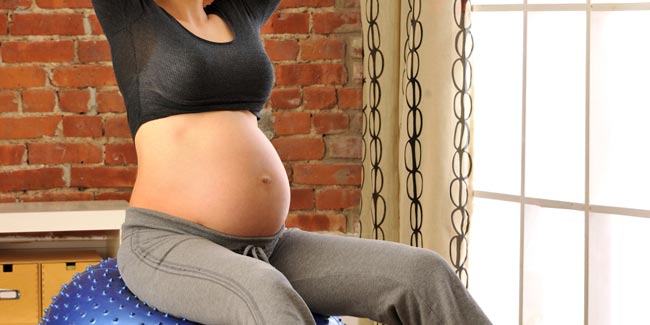 Worried about exercise during the last weeks of pregnancy? Health experts recommend moderate maternal exercises in the third trimester of pregnancy due to increased uterine activity. In fact even the moderate exercises must be done carefully due to third trimester complications, keeping in mind certain precautions.
Last Month Pregnancy Exercises
Exercising during pregnancy is the most important part of pregnancy fitness, essential for healthy being of expectant mother and her baby. Before choosing exercises during last few weeks, consult your health care provider to make sure if you are exercising safely and that it is not causing any harm to your baby or you.
Exercises that increase body temperature should be avoided, as they could affect the foetal development. Try not to exercise in hot and humid environment. Steam baths and sauna should also be avoided.
Abstain from working out for a longer span of time and wear appropriate attire so that you can breathe properly. Make sure you keep drinking water to prevent dehydration. Never exercise when you are out of breath or exhausted. It is a definite sign that your body is not getting enough oxygen supply.
In case you experience any discomfort while exercising, stop exercising immediately. Don't compel yourself to land up in complications such as nausea, palpitations, pelvic pain, blurred vision, vaginal bleeding and shortness of breath.
All the exercises should be paced moderately during last few weeks of pregnancy. The exercise shouldn't be complicated so that overall fitness does not suffer when you try something new.
The pregnancy hormones help ligaments and joints to relax while getting ready for childbirth. The relaxation of joints makes them susceptible to strain. Health experts recommend exercises that aren't of high impact. Intensive sports or activities such as rock climbing and horse riding should be avoided at all costs owing to the risk of high impact.
Exercises that involve lying on back should not be done after the first trimester. These exercises exert pressure on blood vessels and reduce blood flow to the heart.
Warming up before fitness exercises and cooling down later are as important as exercising. Warm up should be slow steady.
Wearing comfortable shoes is advised as they lower the exertion on heels and helps you maintain a good posture.

Exercises during pregnancy should never be considered as a medium to reduce weight. If pregnancy fitness is combined with weight loss, it can create a lot of pregnancy concerns. Be extra cautious while performing exercise during the last trimester as body's centre of gravity shifts due to foetal development.
Read more articles on Pregnancy Exercises.