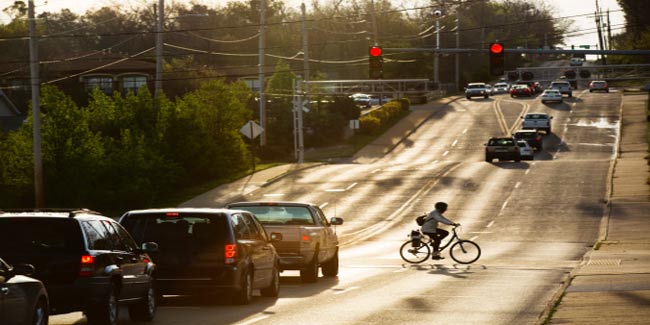 Cycling is a fun exercise which is a far cry from all the other form of cardiovascular exercises. You do not have to be Neil Armstrong to cycle, it is simple, and all that is required from you is balance and a presence of mind.

Cycling has been found to improve one's physical and mental health to a great extent. But, we have seen how cyclists have often been injured due to carelessness. There is no immediate threat to cycling, but the only concern every cyclist should have is about the fact that cycling on road can cause trouble from time to time. Cycling is a cheap form of transportation, and it does not have any impact on the environment too. So, just by being a little cautious you can benefit yourself and your surroundings. So, here is a look at how you could make your cycling experience even better, and safer. Simply follow basic cycling rules, and abide by the traffic laws.
Obey traffic rules
Riding a cycle can make you feel invincible; you can make your way between vehicles and clearly avoid traffic rules. But doing this can be dangerous. One of the primary reasons for injuries during cycling is disobeying traffic rules. You cannot ride on the wrong side of the road; you should always adhere to the traffic lights, especially the red lights, and always ride your cycle at a distance from vehicles. These simple rules could help you to avoid a cycling accident.
Keep your back straight
This is a very simple way in which you can avoid a lower back pain. Most cyclists are prone to back aches, and this can be very well avoided if you have a good posture when riding your cycle. If you are a cyclist then you are bound to have very good leg muscles, but the force with which your leg moves can get a little taxing on your back, especially your lower back. Always, you must keep your back straight, whether you are sitting or standing.
Avoid knee injuries
A cyclist may get injured on the knees due to overuse, and this may also happen if you are riding too much or too fast. You need to build your strength slowly over a period of time through training so as to minimise the strain that your knee comes under. Also, by pedalling in high gear for a long time can stress your knee joints and this is why you should be switching to lower gears as and when you can. You must adjust your saddle's height so that you can keep your knee straight as the ball of your foot sits over the pedal axle at its lowest position.
Safety tips
You can reduce the risk of an injury while cycling in many ways, and it is always better to follow some safety tips. You must always make eye contact with car drivers when you are trying to make a turn in order to have a better understanding. You must also apply your brakes more smoothly as a hard brake can cause cycling injuries. Also, you should avoid wearing headphones while cycling so as to remain alert at all times.

Finally, you should, by all means, get your bike checked by a professional mechanic, and get all the nuts and bolts set straight. Additionally, you must also wear bright coloured clothes so as to be easily visible, and have lights fitted to your bike, from and back.

Image Source: Getty