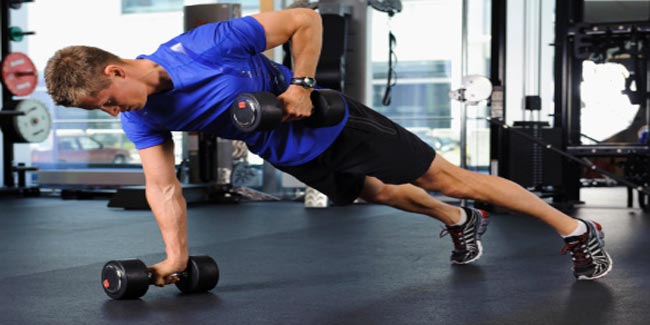 Exercise is great, but the real deal is consistency. It isn't easy to stick to your workout and this can make consistency go for a toss. But, you can make exercise easy and still get the best out of your workout with a 2-minute exercise routine.
For starters, you need to learn bear crawls, bear rows and donkey kick for the routine.
Bear crawl – Bear crawl stance is similar to a runner's stance. In this stance, your hands and toes must touch the ground with your hips in the air. Move one leg forward like a crawling bear. In the next step, bring your arm forward. In the next rep, move the opposite hand and leg. Your hips should be high and your back flat.
Bear row – Stand in the bear crawl stance with light weight dumbbells in each hand. Now do dumbbell row with the hand you have put forward.
Donkey kick – Get in the bear crawl stance, tighten your abdominals and use the strength of your toes and legs to lift the lower body off the ground.
How 2-minute routine works
Set a two-minute countdown on your smartphone.
Do a bear crawl, two bear rows and one donkey kick.
Do the moves until the time gets over.
Just make sure you don't break your form for the entire duration of 2 minutes. If your form starts to break, stop and start over again. It will be difficult initially but will be easy once you get a hang of the activity.

Doing this activity improves stability, strength, endurance, power and cardiovascular heath. Another benefit of doing it is the involvement of multiple muscles at the same time. Every muscle is switched on. You can also do this towards the end of your workout.
Image Source: Getty